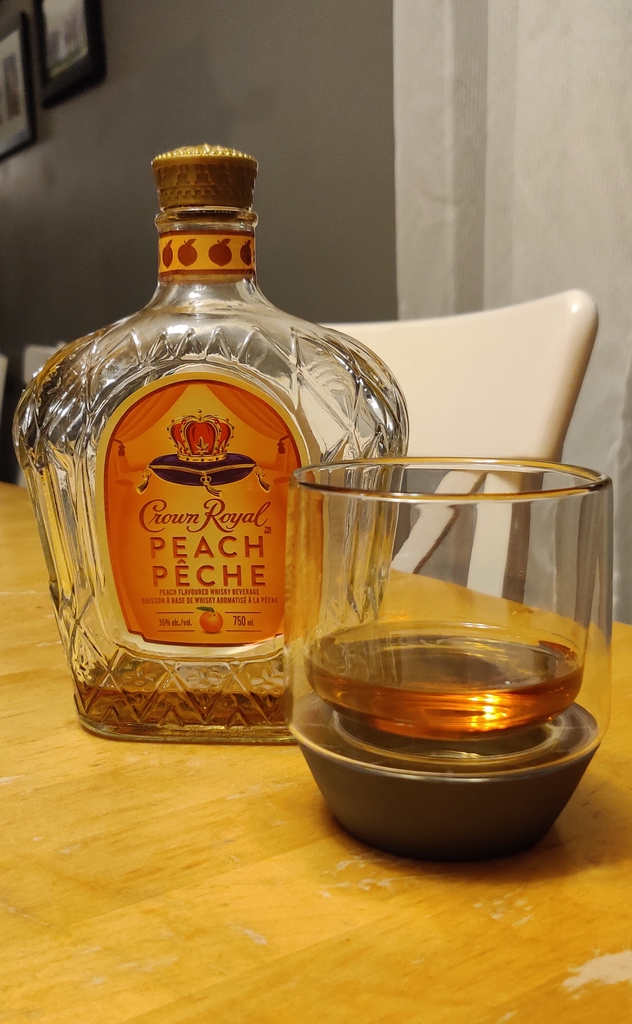 Tasting Date: 2021-05-20
Region: Canadian whisky
Type: Flavoured
Age Statement: NAS
Size: 750ml
ABV: 35% ABV
Cask Type: Unknown
Distiller: The Crown Royal Distilling Co.
Location: Nestled on the edge of Lake Winnipeg, Crown Royal's distillery is in Gimli, Manitoba, Canada.
Bottler: Diageo Canada Inc. in Amherstburg, Ontario, Canada.
Purchase Location: Edmonton
Purchase Date: February 2021
Cost: Unknown (Currently sells for $35.79 including GST & Deposit)
Tasting Notes From The Crown Royal Website:
NOSE: Fuzzy peach skins with light notes of warm spice and oak
PALATE: Ripe juicy Georgia peaches, touch of creamy vanilla and rich Canadian Whisky
FINISH: Sweet and smooth.
Colour: Peach
TransparentSmoke Review: A close friend texted almost immediately after I published the Crown Royal Apple review and asked if I had tried the Crown Royal Peach. I had not, so they graciously offered to lend me their bottle to do a review. I would have had this out yesterday except for the fact that it seems doing two reviews in one day is exceedingly difficult if I actually drink all of the whisky I pour. On top of that, I ended up finishing this bottle trying to find out if it is any good. The quick answer is: kinda.
The long answer is well, longer. Let me start by saying I live in a whisky bubble. I surround myself with some of the best whiskies I can afford and I pick them apart trying to decide if this one is better than that one, and do I like this flavour, over that flavour, etc. I point that out because you should read this article about the popularity of Crown Royal Peach called "Good Luck Scoring a Bottle of Crown Royal Peach, 2021's Most Unlikely Unicorn". Inside my whisky bubble I haven't yet had the luxury of sitting back and drinking Crown Royal Peach until now. After reading that article I find it weird that I hadn't.
I thought it interesting to note that this is a mix of natural and artificial flavours everywhere in the world, there are no two different products like the apple crown. The resulting mix of natural and artificial flavours is a smell that is of Fuzzy Peaches candy. I really like the peachy smell, and it totally overwhelms any smell of whisky, but it is not necessarily fresh Georgia peaches peachy.
Crown Royal Peach was introduced as a limited edition in February of 2019, but I have seen the ads and the store displays just starting to ramp up again for the summer of 2021. So I guess that means it's maybe not a limited edition anymore. Here in Alberta we can find it everywhere. But we are always behind on the fads. It just means we need to get out there and buy our bottles now, while they are easy to find and put them away for when there is a drought of product later this year.
But is it good, you are asking? The answer is yes! Is it good whisky? The answer is not really! Once you get over the powerful fuzzy peach smell and take a sip it is all peaches on the palate too. There is a bit of classic Crown Royal wood and rye spice on the end, but you have to be looking for it. I was disappointed because it didn't seem to meld together like the apple flavour and Crown Royal did. It left me with the over whelming feeling of having had a flavoured vodka straight.
Run out and get a bottle if you can find it near you. It is a worthy novelty item for 2021 and I think you would all love it mixed in this drink: "Crown Royal Peach and Cream Whiskey Drink Recipe"
Our Score: 63/100
Bottles on Hand: