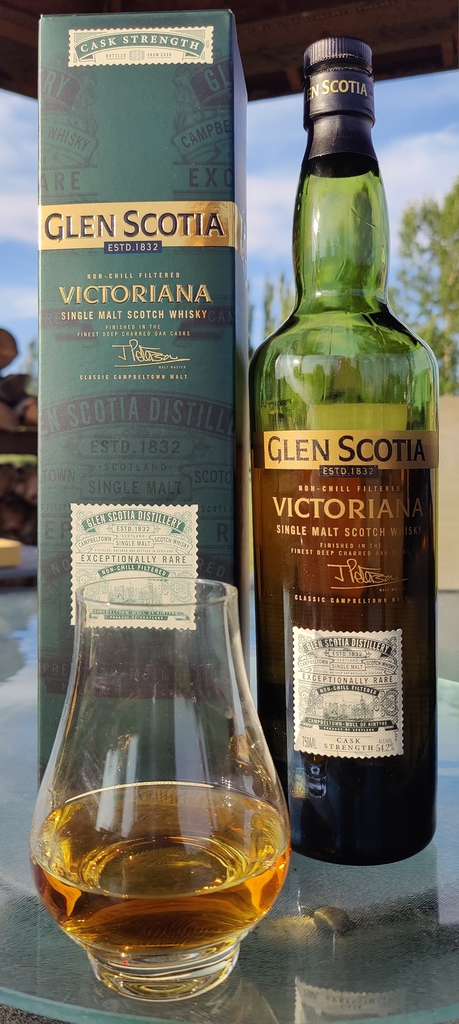 Tasting Date: 2021-07-23
Region: Scotch Whisky – Campbeltown
Type: Single malt
Age Statement: NAS
Size: 750ml
ABV: 54.2% ABV
Cask Type: Aged first in ex-bourbon casks. Glen Scotia Victoriana is then divided with 30% going into first-fill ex-Pedro Ximenez sherry casks and 70% going into heavily charred American oak for 12 months. The whisky is then combined back together and allowed to rest for a short time before bottling.
Distiller: The Glen Scotia Distillery
Location: 12 High St, Campbeltown Scotland
Bottler: Scotia Distillery
Purchase Location: Everything Wine and More 25 – 100 Broadview Drive Sherwood Park, Alberta, Canada
Purchase Date: 2021-06-21
Cost: $157.59 including GST & Deposit
Tasting Notes From The Glen Scotia Website:
NOSE: Dark with an elegant nose and hints of oak driving the bouquet. Interesting creme brulee notes and toasty sugar lead to generous caramelised fruits and citrus peels, and finally, polished oak.
TASTE: Sweet and concentrated start with some jammy blackcurrant fruitiness. A big mid-palate. Typical tightening towards the back palate. Becomes more austere with water, but otherwise full of flavour with the sweetness of sherry and the robustness of the charring effect.
FINISH: Clean and initially sweet. Green bean with a cocoa characteristic like dark chocolate. Gentle smoke on the finish courtesy of the deeply charred oak.
Colour: Auburn gold Non-Chill Filtered
TransparentSmoke Review: It is December 7th 2021 and I have a wee dram of Glen Scotia Victoriana in a glass beside me. The weather is shit and the furnace is running nonstop. There is a chill in the air, but the Glen Scotia Victoriana cuts right through it and brings me back to the 23 of July 2021. That was a good day, it was warm (about 25 degrees) and full of friends and filled with the anticipation of sharing this bottle of Glen Scotia Victoriana. As I recall the whisky was good, really good. But the weather and the company turned the tasting into a party. One too many drinks and some misplaced notes and the Glen Scotia Victoriana review was lost.
I had never before lost an opportunity to do a review. The loss got caught in my subconscious and I just kept thinking I needed to remember my notes and finish this review and then I could get on to the next and the next and the next. I wrote 5 more reviews since that day each in an attempt to start reviewing on a regular basis again. Each failed to let me move on. I was still stuck thinking about this whisky. It has taken till today to realize that I need to write a new review and not try and remember the old one. Seems very obvious now that I have started, but I will admit it has taken until now to come up with that.
Tasting Date: Now. Glen Scotia Victoriana has not lost a beat in the intervening five months. It is an amazing combination of thick viscous sherry and oak. I hesitate to say, but it goes better with the winter chill than it did with the heat of the summer. The dram is thick with long slow legs. The rivulets take their time and make me think of a review I watched recently for Jack Daniel's new Coy Hill "It's forming legs slower than anything has ever formed legs ever, including a fish.". If I can find a bottle of Coy Hill we will have to compare and see which wins.
Campbeltown whiskies are know for their oil content. Something about the weather they say. Those oils and poor attention to detail has plagued the Campbeltown distilleries and at times cost them everything. In 1994 Glen Scotia was mothballed and the stills were turned off until it was resurrected in 2000. That was the third closure for Glen Scotia, the others being in 1925 and 1984. Let's hope it is the last shutdown.
The nose on Glen Scotia Victoriana is beautiful sherry and oak with a hint of shortbread cookie. The mouth feel is thick and beautiful. I get notes of oak and sherry and shortbread on the palate. There is vanilla, cocoa and honey along with a nice medium length chest burn from the increased proof on the finish. Today I am enjoying Glen Scotia Victoriana as a party of one, but it just as good as it was that warm day in July.
Our Score: 88/100
Bottles on Hand: