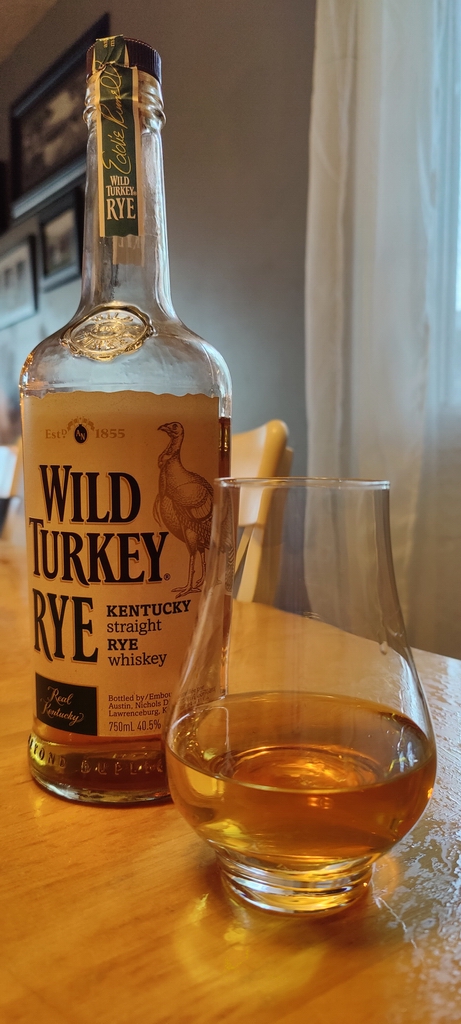 Tasting Date: 2021-09-20
Region: American Whiskey
Type: Rye (51% rye, 37% corn, and 12% barley)
Age Statement: NAS (aged a minimum of 4 years)
Size: 750ml
ABV: 40.5% ABV
Cask Type: American White Oak Barrels with No. 4 "alligator" char
Distiller: Wild Turkey Distilling Co.
Location: 1417 Versailles Rd, Lawrenceburg, Kentucky, USA
Bottler: Wild Turkey Distilling Co.
Purchase Location: Safeway Liquor Brooks 645-4 St W Brooks, Alberta, Canada
Purchase Date: September 16th 2021
Cost: $38.94 including GST & Deposit
Tasting Notes From The Wild Turkey Website:
TASTE: Big vanilla and spice notes burst through
AROMA: Acutely spicy, cereal-grain sweet and a touch citrusy followed by fruit and resin scents
FINISH: Bold, lingering rye and spice
Colour: Straw
TransparentSmoke Review: I am fighting a personal battle over this bottle. On one hand Wild Turkey has quickly become my personal favourite brand of American whiskey. On the other, this is my least favourite type of American whisky: American rye whiskey. This isn't that slightly spiced, sweet, amazing Canadian stuff we call "Rye Whisky" up here in Canada. This is that spicy, harsh, stuff I have a hard time with, real American rye. I am torn over if I will like this whiskey because it is Wild Turkey or will I dislike it because it is American rye.
It is purported that Wild Turkey Rye is made with a mash bill of 51% rye, 37% corn and 12% barley. American law says that for them to call it Rye it must be 51% rye or greater. In Canada whisky just has to contain rye. Big difference for stuff we use the same name on.
So what do I think? Well, Wild Turkey Rye is friendlier than I was thinking it would be. The whiskey is thin-ish, with quick legs and the nose is pleasant and not too spicy. Other notes than the sugar and spice on the nose include vanilla, caramel, rye bread and hint of menthol.
The palate is where I got my biggest surprise. It didn't fight me with that dry oaky rye spice. Instead it seemed to be a perfect melding of sweet sugary butterscotch with a hint of oak and apples that are accentuated by a kick of rye spice and rye grass. The menthol I found on the nose was playing with me as I sipped through my glass, over and over again, trying to discern everything there was to find.
What I do know now is that this is how I like my rye whisky. I will admit that maybe it's a little of the Wild Turkey fanboy in me, but you can't make me enjoy a glass of something that isn't good just by slapping a name I like on the side. Wild Turkey Rye is a excellent product, and I look forward to eventually finding a bottle of Wild Turkey 101 Rye to compare.
Our Score: 80/100
Bottles on Hand: