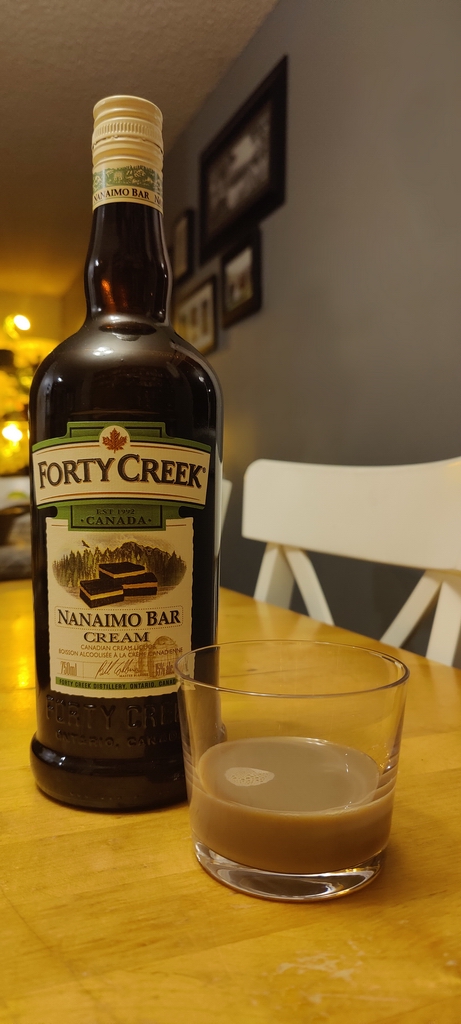 Tasting Date: 2021-12-07
Region: Canadian whisky
Type: Flavoured
Age Statement: NAS
Size: 750ml
ABV: 15% ABV
Cask Type: A mix of seasoned ex-Bourbon barrels and new American White Oak
Distiller: Forty Creek Distillery
Location: 297 S Service Rd, Grimsby, Ontario, Canada
Bottler: Forty Creek Distillery
Purchase Location: Costco Canada Liquor 20-1075 St. Albert Trail St. Albert, Alberta, Canada
Purchase Date: 2021-11-06
Cost: $23.19 including GST & Deposit
Tasting Notes From The Forty Creek Website:
AROMAS: Coconut, cocoa with a hint of graham cracker
FLAVOUR: Luxurious milk chocolate and butter cream, vanilla custard and coconut
FINISH: Beautiful finish with lingering coconut and dairy cream
Colour: Opaque, milk chocolate colour
TransparentSmoke Review: I thought Forty Creek Nanaimo Bar Cream whisky was barely a whisky at all, at only 15% ABV. I was happy to find out that Forty Creek is actually using their whisky to make the Forty Creek Nanaimo Bar Cream, as opposed to just switching to grain neutral spirits when the flavouring is as strong as it is here. As strong as it is it was pointed out to me that you need to pour 3-6 oz into strong coffee to have the flavours come through, so maybe the 15% ABV is appropriate. Win Win.
Flavours of coconut, custard, graham cracker and cream mix with milk chocolate. The whisky is present, but muted by the other flavours. Or maybe the subtle nature of Forty Creek Canadian whisky is exactly was is needed here to allow the flavours of Nanaimo bars come through. Over ice or in coffee this is a great sipping whisky for those that love Nanaimo bars.
Our Score: 70/100
Bottles on Hand: