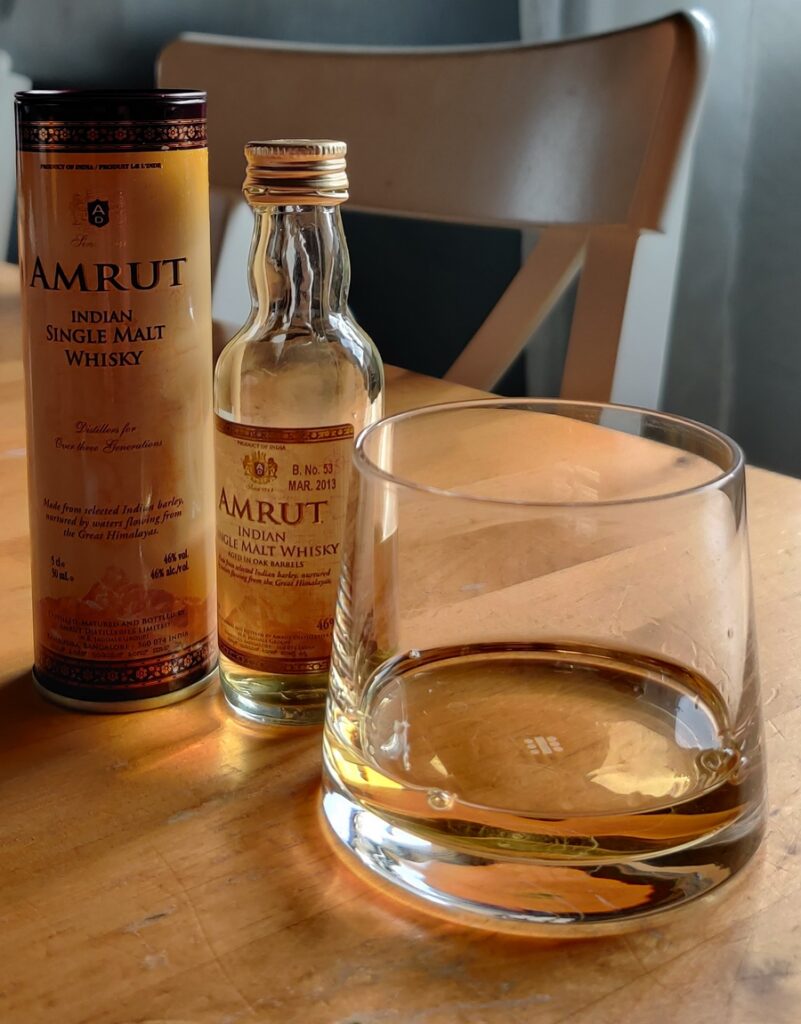 Tasting Date: 2021-04-23
Region: World Whisky – India
Type: Single malt
Age Statement: NAS
Size: 50ml
ABV: 46% ABV
Cask Type: Oak Barrels
Distiller: Amrut Distilleries
Location: Mysore Rd, Anchepalya, Kambipura, Karnataka, India
Bottler: Amrut Distilleries
Purchase Location: Liquor Gallery 13030 50 St NW, Edmonton, Alberta, Canada
Purchase Date: April 23rd, 2021
Cost: $8.39 including GST & Deposit
Tasting Notes From The Amrut Website:
NOSE: Distinctly confidant liquorice-bourbon notes with near perfect bitter-sweet balance; burnt honeycomb and toffee also abound;
TASTE: Outstanding richness and sheen to the enormous barley-oak sweetness; again there is a big bourbony cut to the cloth with all the liquorice and molassed sugar normally associated; but the barley adds that extra dimension;
FINISH: Long, wonderfully layered oak offering variations of a sweet dry theme; a touch silky with some cream toffee at the death;
Colour: Straw – Non chill filtered, no colour added
TransparentSmoke Review: I picked this whisky up just because it was in a cute little mini tin. I have never had Amrut before, but I was excited to try another world whisky because I had liked the KaVaLan soo much. When I started researching this dram I found out that Amrut means "nectar of the gods". I thought that bodes well. Then when I opened the tin my Bottle says B. No. 53 Mar 2013. I thought that's cool, it's eight years old and from a specific barrel.
Then I tried it and everything fell apart. I realized it's been on that shelf waiting for someone, anyone, to buy it for 8 long years. I think everyone else knew it was not worth the $8.39 so it was left there waiting for me. My disappointment was palpable and I had to sit and wait to let the dram breathe in the hopes I could find something more in the glass. I did find that something more, but it was just more disappointment.
The nose is astringent alcohol and when you let it air off, a quick smell can remind you of extinguished candle wicks and that sickly sweet smell you catch when you are returning pop bottles, after they have been in the bag, in the garage over the summer. The palate reminds me of cigar boxes, in the salt air, in Havana, Cuba. An old wood flavour covered in tobacco and salt. The finish is missing, it just disappears. I did not like this dram at all, but I was able to finish it, so it barely gets a score in the 40's at 42.
Our Score: 42/100
Bottles on Hand: