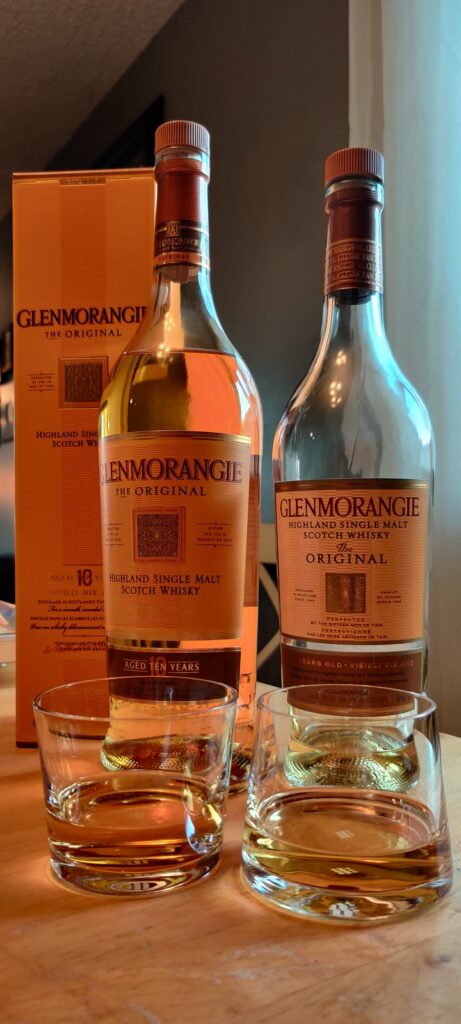 Tasting Date: 2021-04-24
Region: Scotch whisky – Highland
Type: Single malt
Age Statement: 10 Years
Size: 1000ml
ABV: 40% ABV
Cask Type: Ex bourbon casks
Distiller: The Glenmorangie Distillery
Location: A9, Tain, Ross-shire, Scotland
Bottler: The Glenmorangie Distillery
Purchase Location: Costco Canada Liquor 2197 Broadmoor Blvd. Sherwood Park, Alberta, Canada
Purchase Date: March 13th, 2021
Cost: $57.84 including GST & Deposit
Tasting Notes From The Glenmorangie Website:
AROMA: Citrus and ripening peaches are balanced by vanilla softness.
TASTE: Vanilla emerges, then gives way to a burst of flowery fruitiness.
FINISH: A clean and salving aftertaste with hints of orange and peach.
Colour: Pale straw
TransparentSmoke Review: Glenmorangie The Original is what I would call a classic. I am sure this dram has not changed in any noticeable way my entire life. Glenmorangie would tell you it has been the same for the last 175 years. I was like: "That's impossible! They haven't been making bourbon that long." Turns out they have, the Marker's Mark distillery, for example, is the oldest continuous distillery and they have been making bourbon since 1805. So I tried to track down whose ex bourbon casks Glenmorangie uses, to see if it has stayed the same for 175 years. I found a thread that had people just adding their unsubstantiated information to a discussion and they said Glenmorangie uses ex Jack Daniel's Casks. Gotcha! Jack has only been around for 155 years, so the flavour has to have changed a little.
To check and see if the flavour has stayed the same we need two bottle separated by as many years as possible. It would be cost prohibitive to try and obtain a bottle from 1846, as the oldest I could find for sale online, was from 1963 and it is Can$1130.00. So I will have to rely on my own collection to check just how similar Glenmorangie The Original is at a massive 4.75 years apart. I have in my possession two bottles, the first bottled is dated January 28th 2016 and the other bottled is dated November 2nd 2020. The oldest bottle was purchased for the bar at my daughter's wedding so I actually know exactly what day it was opened, August 13th. 2016. OK, come on, I know none of you believed that. I had no idea what day it was opened. I had to ask my wife when my daughter was married.
So knowing the providence of the older bottle we can figure out that the two bottles have been opened 4 years, 8 months, 11 days apart. We should talk about the science of this. It is slightly broken, in that I should have bought that sealed bottle from 1963 and opened it and the 2020 bottle at the same time. Every authority I have ever checked with (in person or online) says that your whisky begins to change as soon as you open it and within a year it taste and smells different than it did they day you bought it. So if my theory is correct and Glenmorangie hasn't changed my entire life, there still may be a small change because of the 4.75 years the older bottle has been open.
Side by side the two drams look identical. The legs are the same in each glass I roll them around. I am going back and forth between the two glasses looking for differences. The nose is eerily similar and I for the first time question myself if I had messed this up in some way. But on the second smell I find more in the 2020 dram. The 2016 glass smells like apple juice, the 2020 smells more like caramel apples. I'm impressed. I have been having others smell them because they are so similar, I had expected a much bigger difference because of the 4.75 years. We all agree that on the nose the 2020 has a hint of caramel or must or maybe oak that isn't there in the 2016 glass. At random the first sip I tried was of the 2016, it reminded me of white wine. The 2020 reminded me of summer fruit and hint of oak. Neither has a long finish. Both are wonderfully easy sippers and in my opinion go wonderfully well with a fruity dessert.
So I'll say it, I was right! Glenmorangie The Original has not changed in the 4.75 year test scenario I was able to create and evaluate. The differences in the glass are minute and I think completely explainable from the fact that bottle had been open for 4.75 years. On the other hand I think it bears saying, there was nothing wrong with that old bottle of Glenmorangie. Yes it is different than the day it was purchased, but it hadn't "gone bad" and it definitely hadn't changed so much it wasn't identifiable as a Glenmorangie.
Our Score: 74/100
Bottles on Hand: