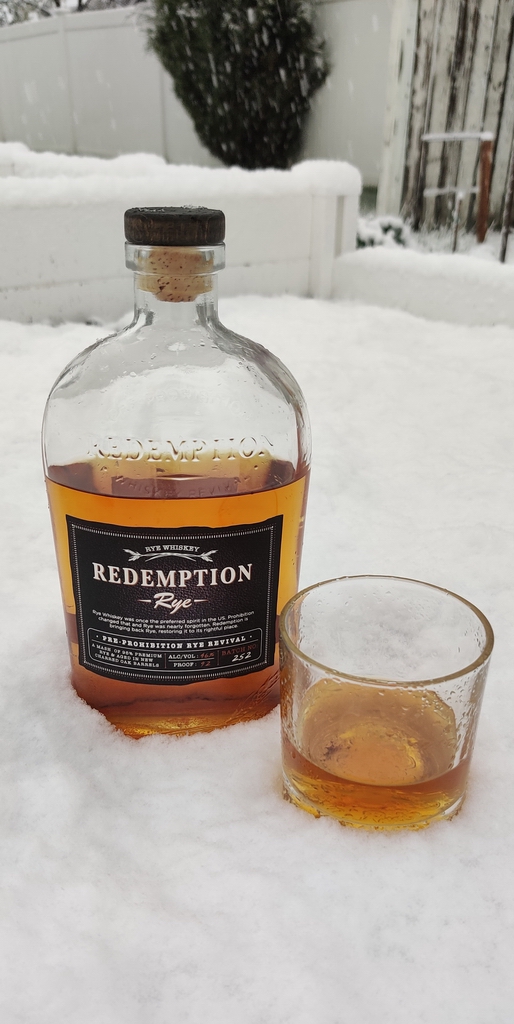 Tasting Date: 2021-05-18
Region: American Whiskey
Type: Rye – A mash of 95% premium rye, 5% malted barley
Age Statement: NAS – The back of the bottle says "Aged no less than one year"
Size: 750ml
ABV: 46% ABV
Cask Type: New charred oak barrels
Distiller: Bottle says "Distilled In The Indiana Heartland". Which means: Sourced from MGP (Midwest Grain Products of Indiana is a distillery in Lawrenceburg, Indiana, producing spirits for private label sale)
Location: Lawrenceburg, Indiana, USA
Bottler: Redemption Barrel Selections
Purchase Location: Econo Liquor 4313 167 Ave NW, Edmonton, Alberta, Canada
Purchase Date: March 3rd, 2021
Cost: $26.30 including GST & Deposit
Tasting Notes From The Redemption Website:
NOSE: Big and spicy, toasted oak, vegetal notes, allspice and anise
PALATE: Beautiful rye spice with light floral and citrus notes along with dark spices and black pepper
FINISH: Slight mint finish makes this great for sipping or mixing in a classic cocktail
Colour: Amber
TransparentSmoke Review: Just a couple of days ago I got a sunburn while working in the back yard, today there is 2 inches of snow on the ground. WTF Alberta! You can see the progress in each recent review picture of just how nice it has been here. I was planning to take a picture today with the apple blossoms in the back ground, but the weather did not cooperate. Instead you get a picture of Redemption Rye whiskey in the snow.
Redemption Rye is a sourced rye from MGP and it is pretty young stuff. My bottle, from Batch No. 252 says on the back that it is "Aged no less than one year". How is that even a thing? What I was expecting was a requirement like Canadian rye, that must be aged in a barrel for 3 years. I searched the internet to try and find out and what I discovered is that rye whiskey in the United States is a pretty unregulated product. First for clarity, I am going to add the word American in front of this entire discussion because the rules are totally different for Canadian products.
Here is what rye must be in America:
American Rye whiskey must have the taste, aroma and characteristics generally attributed to whiskey
American Rye whiskey must be made from at least 51% rye
American Rye whiskey must be distilled to no more than 80% ABV
American Rye whiskey must be be matured in charred new oak containers
American Rye whiskey must go into the barrel at no more than 62.5% ABV
American Rye whiskey must be bottled at a minimum of 40% ABV
To use the phrase American Straight Rye whiskey it must be aged two years and contain no additives
These are the rules from the Alcohol and Tobacco Tax and Trade Bureau. The power point I am linking is easier reading than the law. I did my best to summarized it for you. All the research I did and there is still stuff I can't explain, such as: Why doesn't Redemption Rye need to say that they sourced the product from MGP? Why can Whistle Pig openly admit at least some of their rye comes from here in Alberta, yet not say that on the bottle? Do we have to follow American rules when we put rye whisky in a barrel and sell it to them? Does America get a free letter "E" to add to their rye when it crosses the border?
However long it took this to get in the bottle, Redemption Rye is a bit of a disappointment for me. I will admit that all of my rye reviews are scoring low and I think that points more towards my palate than to the ryes themselves. I get the oak on the nose and maybe some butter and sugar like you get from a pineapple upside down cake. Sipping overwhelms the palate with young rye spice and black pepper. Nothing mellows the bite as it burns down the back of my throat and the warmth I expect from a strong dram never materializes. This deserves another review when I can sit and make cocktails with it. Until then, on a snow covered May evening, it gets a solid 60.
Our Score: 60/100
Bottles on Hand: