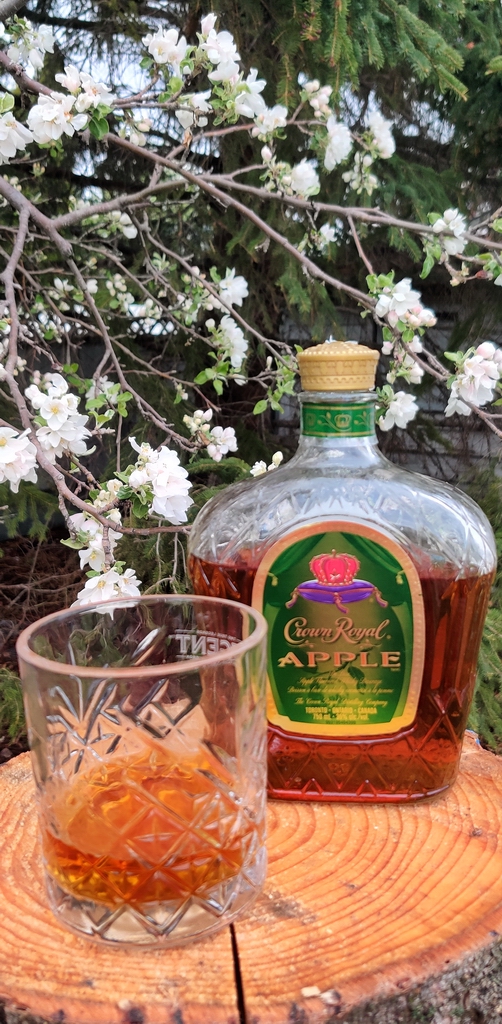 Tasting Date: 2021-05-19
Region: Canadian Whisky
Type: Flavoured
Age Statement: NAS
Size: 750ml
ABV: 35% ABV
Cask Type: Unknown
Distiller: The Crown Royal Distilling Co.
Location: Nestled on the edge of Lake Winnipeg, Crown Royal's distillery is in Gimli, Manitoba, Canada.
Bottler: Diageo Canada Inc. in Amherstburg, Ontario, Canada.
Purchase Location: Edmonton
Purchase Date: 2015
Cost: Unknown (Sells for $34.74 including GST & Deposit now)
Tasting Notes From The Crown Royal Website:
NOSE: A blend of bright apple balanced with signature Crown Royal Fine De Luxe Blended Canadian Whisky and hints of spice.
PALATE: Opens with a slightly tart and crisp apple flavour, balanced with notes of caramel and light spice.
FINISH: Crisp apple note with balanced sweetness, culminating in a full-bodied smooth finish.
Colour: Caramel
TransparentSmoke Review: Most of the snow has melted and the apple blossoms seem to have survived. So today I can do my review of Crown Royal Apple, a whisky I was saving just to take this picture in front of the apple blossoms. The air is crisp and clean, with the smell of delicate apple blossoms in the air. As soon as I opened the bottle of Crown Royal Apple an over whelming smell of fake apple candy fills the air. There is no hiding it, this whisky smells like liquified Green Apple Jolly Ranchers.
Introduced in 2014 this whisky is part of the flavoured whisky revolution. Made to make whisky a club drink, a straight shot drink, a fancy cocktail drink, something to compete with a flavoured vodka drink. I own it exactly because of that reasoning. I had my first shot neat on a golf green, I had my second in the shot below: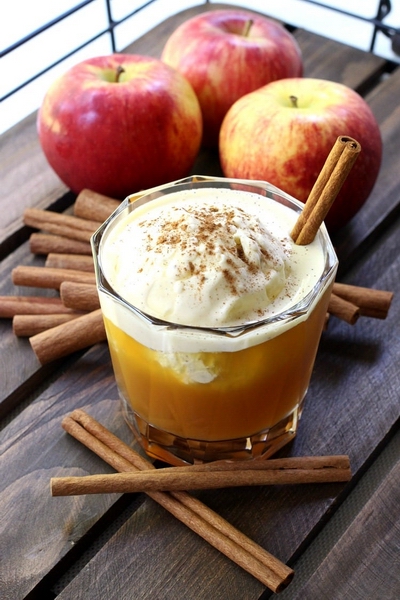 Crown Royal Apple / Fireball Ice Cream Shot or Drink
The Shot
.5 ounce Crown Royal Apple
.5 ounce Fireball Whiskey
.5 ounce almost melted Vanilla Ice Cream
Top with cinnamon sprinkle
The Drink
2 ounce Crown Royal Apple
2 ounce Fireball Whiskey
2 ounce almost melted Vanilla Ice Cream
Top with cinnamon sprinkle
Crown Royal Apple is marketed as Crown Royal Regal Apple outside of Canada. That sounds a little pretentious until you start to look up the differences in the two products and the reason for the name change. In Canada the product contains natural and artificial flavours. Crown Royal Regal Apple seems to just have natural flavours extracted by Crown Royal from Regal Gala apples. I can't find a single authoritative corroborative source but that looks to be the case. I have no idea why my version has artificial green apple flavour in it when the rest of the world doesn't.
The nose is a strong smell of Green Apple Jolly Rancher with a hint of brown sugared whisky underneath. It drinks like a premixed cocktail, the extra sugars coat your mouth and hide the whisky spice till the last second. On second sip I notice a bit of caramel and the classic Crown Royal flavours hiding behind the fake apple. I thought I would rip it apart for such a fake smell and taste, but as I drink it proves that they did what they set out to do. It is immediately inviting and the artificial green apple flavour changes to what reminds me of a Strongbow apple cider. I'm embarrassed to say that I finished it in much less time that I usually take to finish my tasting dram.
PS: Anyone that knows anything about the date code on the bottom. Feel free to sign up and leave a helpful comment.
Our Score: 64/100
Bottles on Hand: