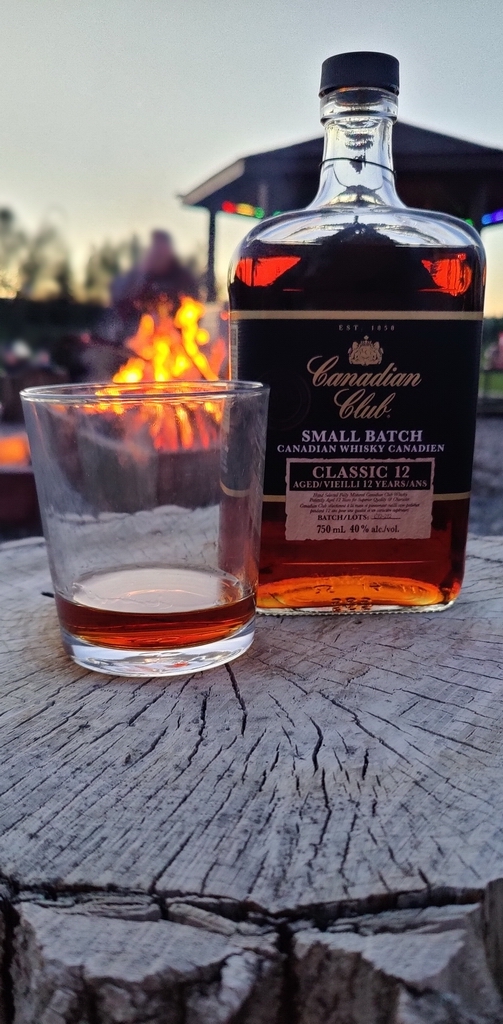 Tasting Date: 2021-06-12
Region: Canadian Whisky
Type: Blended (Corn, rye, rye malt and barley malt are distilled separately then blended together to age in the barrels)
Age Statement: 12 Years
Size: 750ml
ABV: 40% ABV
Cask Type: Char-treated oak bourbon barrels.
Distiller: Hiram Walker & Sons Limited
Location: 2072 Riverside Dr E, Windsor, Ontario, Canada
Bottler: The Canadian Club Whisky Company
Purchase Location: Mario's Liquor Store 5007 118 Ave NW, Edmonton, Alberta, Canada
Purchase Date: 2021-04-14
Cost: $35.00 including GST & Deposit
Tasting Notes From The Canadian Club Website:
AROMA: Soft, round, fully balanced and creamy. Fruity and firm
TASTE: Delicate spiciness and creamy vanilla, in balance with rich wood and luxurious honey
FINISH: Long and dry with enduring presence of butterscotch
Colour: Bronze to autumn gold
TransparentSmoke Review: When I was a kid there wasn't a home bar that didn't have an oversized Canadian Club bottle with a baseball sized pump on top. Giant gallon sized bottles, usually filled a 1/4 of the way, because nobody's Dad could afford the full sized bottles, they would just refill the one on their bar with a 750ml every payday.

The first sip of my dram of this bottle of Canadian Club Classic 12 Year Old transported me back to my father's raw cedar walled basement bar. I remember using those little paper cups from the bathroom to steal a little bit when no one was home. My friend, who was sharing this bottle with me, said he just pumped it straight into his mouth. Both of us found this modern Canadian Club Classic 12 Year Old easier to drink than our memories of the Canadian Club of old.
If you take a look at this picture on the left, you can see on the bottom of the label, that way back in the 60's and 70's Canadian Club was "Bottled in Bond". The important point there is that means Canadian Club was bottled at 50% ABV. There is no longer a 50% ABV version, all three modern releases are at 40% ABV. You can get up to 45% ABV if you pick up The 43-Year-Old Canadian Club Chronicles edition at $245.00!
I imagine Canadian Club Classic 12 Year Old is probably as close as you can get to those old BiB versions. There was no mistaking what we were drinking, even if it has changed over the years. This is one whisky I don't think I would ever mistake for something else. It is made in a different way than other Canadian whiskies in that the four ingredients; Corn, rye, rye malt and barley malt are all distilled and mixed before they are put in the barrels. That difference leaves a distinct flavour profile.
The nose starts with maple and ethanol and a weird chemical smell that reminds of Sharpie felt markers. There is also a small amount of vanilla and oak there. The palate is sweet with hints of vanilla and butter cream. I still haven't decided if you can really taste E150 caramel colouring, but this is the first whisky where I will tell you I think I can. The colour is so perfect it has to be in here and there is a chemical flavour that I can't identify. The finish is sweet fruits with a little spice and reminds me of swallowing cough syrup. It is all exactly as it should be, Canadian Club Classic 12 Year Old.
The front of the bottle says this is batch C12-212 and the back looks to have a really old date code. If the first number is the last year of the decade, and the next three are the day of the year, this could be from August 4th of 2014. If anyone has more specific information about Canadian Club laser date codes please link it below in the comments.
Our Score: 62/100
Bottles on Hand: