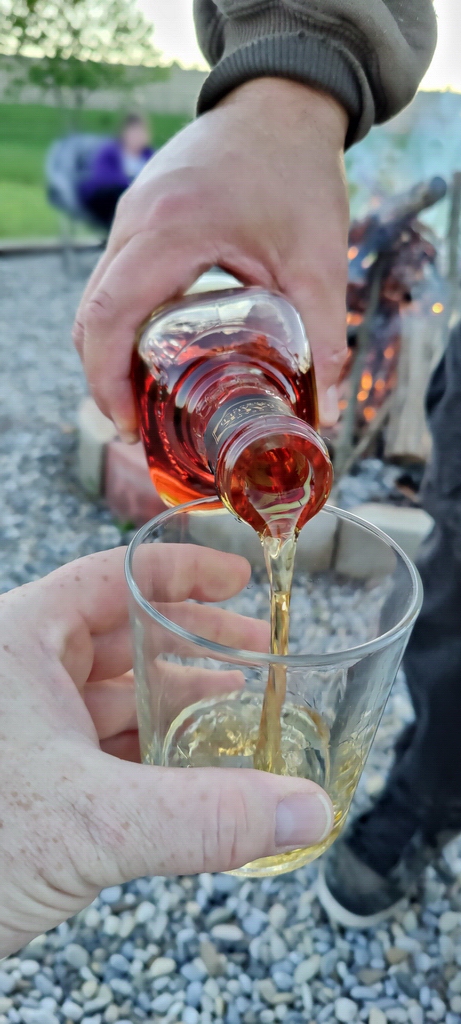 Tasting Date: 2021-06-12
Region: American Whiskey
Type: Bourbon (77% corn, 13% rye, and 10% malted barley)
Age Statement: NAS (Jim Beam Black Extra Aged was age stated at 8 years in the USA and 6 years in export markets, but dropped the age statement at the beginning of 2015)
Size: 750ml
ABV: 43% ABV
Cask Type: New charred American white oak
Distiller: James B. Beam Distilling Co.
Location: 568 Happy Hollow Road, Clermont, Kentucky, USA
Bottler: James B. Beam Distilling Co.
Purchase Location: Real Canadian Liquor Store Kingsway 11463 Kingsway NW, Edmonton, Alberta, Canada
Purchase Date: 2021-06-12
Cost: $24.23 including GST & Deposit
Tasting Notes From The Jim Beam Website:
Our premium, 86-proof bourbon whiskey spends years longer being aged in our American White Oak barrels than our original Jim Beam. It's those extra years of aging that give Jim Beam Black its full-bodied flavor with notes of smooth caramel and warm oak.
Colour: Straw
TransparentSmoke Review: I bought this bottle and gifted it away the same day. A friend was having a COVID friendly get together. That means less than 20 people, you must be outside, and you can only stay till you need to use the bathroom. Yes, you read that right, in Alberta right now you can have up to 20 people over for a social gathering, but they can not use the bathroom facilities in the house. They can get in the car, drive to a convenience store, use the public facilities there, and then drive back to your party, but they can not enter your house on pain of a $1,000 fine.
No one is saying that our elected officials that set this up are smart. In fact google Jason Kenney, our Premier, lots of us think the exact opposite. The real kick in the pants is that most of us have at least one dose of the vaccine, personally I just got my second yesterday morning. So these rules are stupid and are getting annoying, but we all understand and have to hold on. Ultimately we are waiting on 31.7% of the 12+ population to get out there and get their first dose so we can safely let things go back to normal and use the bathroom facilities.
There is a big chunk of kids over the age of 12 that have not been vaccinated and a lot of rural people, who just can't get to a vaccination site. At least I hope that's the reason and it is not because of extreme right wing anti-vax sentiments.
I chose to gift this bottle of Jim Beam Black Extra Aged to my friend for hosting the get together. I chose this bottle because it kinda only cost me only $2.23. You see it was on sale for $22.98 plus GST and Deposit, so $24.23 in total, and it came with a bonus 2000 PC Optimum points (that's equal to $2.00). So really it was only going to cost me $22.23. So then when I went to purchase it, I redeemed 20,000 PC optimum points (worth $20.00) so the way I see it in the end I only spent $2.23 on the bottle.
This ch.. ch.. cherry bomb is worth every penny of the $2.23 I paid for it. I was amazed with the nose as I could not shake the smell of maraschino cherries. We were outside and I thought maybe the wind was stealing away the nose, but I could very distinctly smell the vanilla and oak that was under the cherries. Cherries is not a standard flavour to pick up, but we all agreed it was there.
If the cherries had transferred to the palate it would have been an amazing thing. But on first sip all there is, is vanilla, brown sugar and oak. Odd thing to smell cherries but not taste them. It finishes fast and with no chest burn or tongue tingle that I would have liked to have been there, since it was at 43% ABV. Jim Beam Black Extra Aged is a good campfire bourbon, I'll buy it again, just don't expect much from it.
Our Score: 66/100
Bottles on Hand: