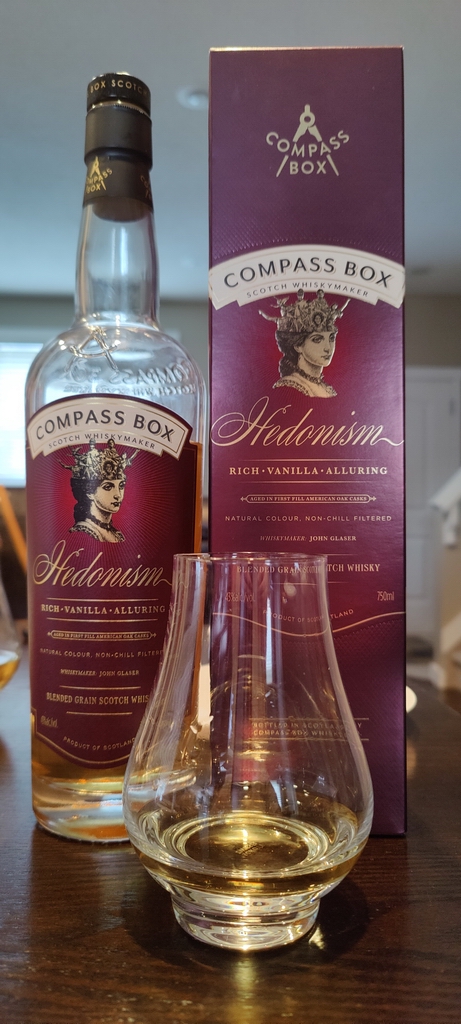 Tasting Date: 2021-07-10
Region: Scotch whisky
Type: Blended Grain (From the hedonism fact sheet on MMXVII-B: The Port Dundas Distillery Recharred American Oak Hogshead Single Grain 12%, The North British Distillery First Fill Bourbon Barrel 37% Single Grain, The Cameronbridge Distillery First Fill Bourbon Barrel 51% Single Grain)
Age Statement: NAS
Size: 750ml
ABV: 43% ABV
Cask Type: Aged in first fill American Oak casks (Recharred American Oak Hogshead, First Fill Bourbon Barrel, First Fill Bourbon Barrel)
Distiller: The Port Dundas Distillery, The North British Distillery, The Cameronbridge Distillery
Location: Chiswick Studios 9 Power Road London UK
Bottler: Compass Box
Purchase Location: Olympia Liquor Skyview 13538 137 Ave NW Edmonton, Alberta, Canada
Purchase Date: June 21st 2021
Cost: $87.24 including GST & Deposit
Tasting Notes From The Compass Box Website:
The aromas and flavours hint of vanilla, caramel, a delicate fruitiness, accented by flashes of coconut in the finish.
Colour: Pale straw. Natural colour. Not chill-filtered.
TransparentSmoke Review: This was a couple of firsts. Up until I tried this I had never had a 100% grain whiskey. It was also my first Compass Box. Weirdly not the first I owned, but just the first I ever tried. I have a bottle of Compass Box Spaniard, it is supposed to be a strawberry bomb. I am told that for every bit the Spaniard is supposed to taste like strawberries, this one tasted like vanilla.
Compass Box Hedonism is made with a different mix every year and sometimes there is as many as 7 whiskies, from 5 different distilleries, blended together in the bottle. My bottle was dated October 16th 2017 and is officially part of batch MMXVII-B. The Compass Box Hedonism fact sheet says batch MMXVII-B is comprised of:
– The Port Dundas Distillery Recharred American Oak Hogshead Single Grain 12%
– The North British Distillery First Fill Bourbon Barrel 37% Single Grain
– The Cameronbridge Distillery First Fill Bourbon Barrel 51% Single Grain
I really enjoyed the vanilla forward flavour and I have to admit that it is the closest I have ever had a scotch get to tasting like an Irish whiskey. I would suspect that is because of the grain alcohol, which is used in high percentage in both. Compass Box Hedonism is the best in class and deserves an 80/100 for creating a excellent dram out of just grain whisky.
Our Score: 80/100
Bottles on Hand: