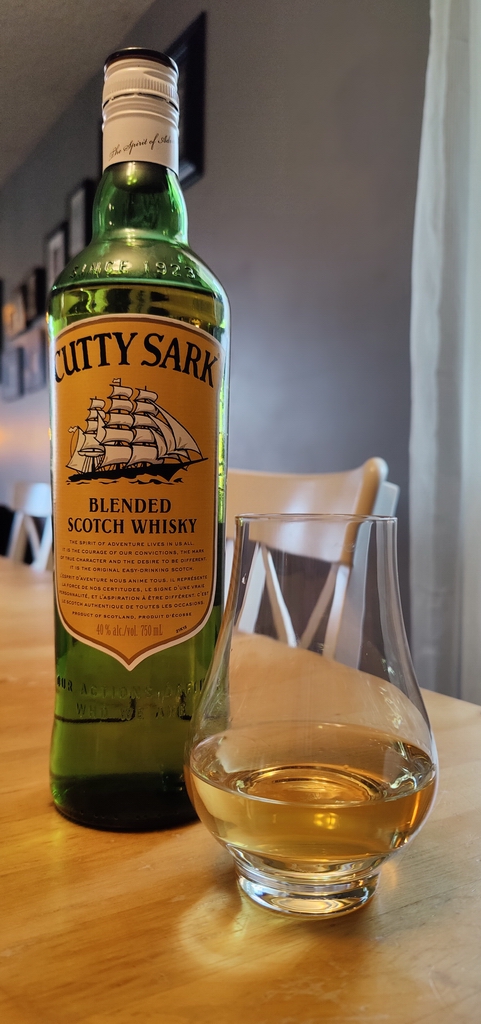 Tasting Date: 2021-07-12
Region: Scotch whisky
Type: Blended
Age Statement: NAS
Size: 750ml
ABV: 40% ABV
Cask Type: Various
Distiller: Thought to be blended at the Glenrothes Distillery by the Edrington Group for La Martiniquaise-Bardinet
Location: Rothes, Aberlour AB38 7AA, Scotland
Bottler: Thought to be bottled at the Glenrothes Distillery by the Edrington Group for La Martiniquaise-Bardinet
Purchase Location: Super Value liquor 12832 – 97 Street NW Edmonton, Alberta, Canada
Purchase Date: July 9th 2021
Cost: $18.99 including GST & Deposit
Tasting Notes From The Cutty Sark Website:
FLAVOURS: Clean; balanced and lively with vanilla and citrus fruits. It's accessible; fresh and enticing with subtle hints of vanilla ice cream and caramel.
Colour: Light straw
TransparentSmoke Review: For 87 years Cutty Sark was a brand owned by the privately owned Berry Bros & Rudd wine merchants. A light flavoured whisky created in 1923 for the illegal whisky demand in America. The history of Cutty Sark includes gangsters and boot legging, but there were no notes taken of all of the back room meetings, because it was perfectly legal for them to sell the whisky in England. Cutty Sark thrived through prohibition and then came out swinging in 1933, by the 1960s it was the #1 blended scotch in America.
Berry Bros & Rudd never made a drop a whisky, they just paid to have it blended and bottled. Their partnership began with Glasgow's Robertson & Baxter who would later become the Edrington Group. The Edrington Group owns Macallan, Highland Park, Famous Grouse blended whisky and GlenRothes. So it isn't a surprise that in 2010 Berry Bros & Rudd sold Cutty Sark to the Edrington Group in exchange for an undisclosed sum and the GlenRothes Distillery. In 2017 Berry Bros & Rudd then sold Glenrothes back to the Edrington Group, ending their involvement with the brand.
My favourite statement about why they sold Cutty Sark is by Ronnie Cox, Berry Bros & Rudd's heritage director:
"Competing with the corporate giants was getting ever harder and the value of blended Scotch had imploded. Cox says a bottle cost the average farm worker three days' pay in 1960 compared with just two hours in 2010." TheSpiritsBusiness.com
In 2019 Edrington sold Cutty Sark to La Martiniquaise-Bardinet, the French company behind Glen Moray whisky. For now the Cutty Sark blend is still reportedly made up of grain whisky from North British and InverGordon distilleries, and 40 different single malts, including Highland Park, Glenrothes, Macallan and Bunnahabhain. I would assume sometime soon there will be Glen Moray in the mix.
Since that quoted article was written in 2020, the price of a bottle of Cutty Sark on sale has dropped down to only 1.2 hours of Canadian minimum wage (is that what farm workers make?). I paid just $18.89 all in for mine. That makes this blended whisky an absolutely incredible deal. Filled with vanilla and a hint of sherry fruits, it has continually surprised me as I have come back to it again and again.
And that, dear readers, is why this gets an astounding 67/100; I keep coming back to it again and again. Easy to drink and the taste of a hint of pepper on the finish, make it a very easy everyday sipper. Now think of all the cocktails you could make with it! I think this would be perfect in a ginger syrup Penicillin.
Our Score: 67/100
Bottles on Hand: