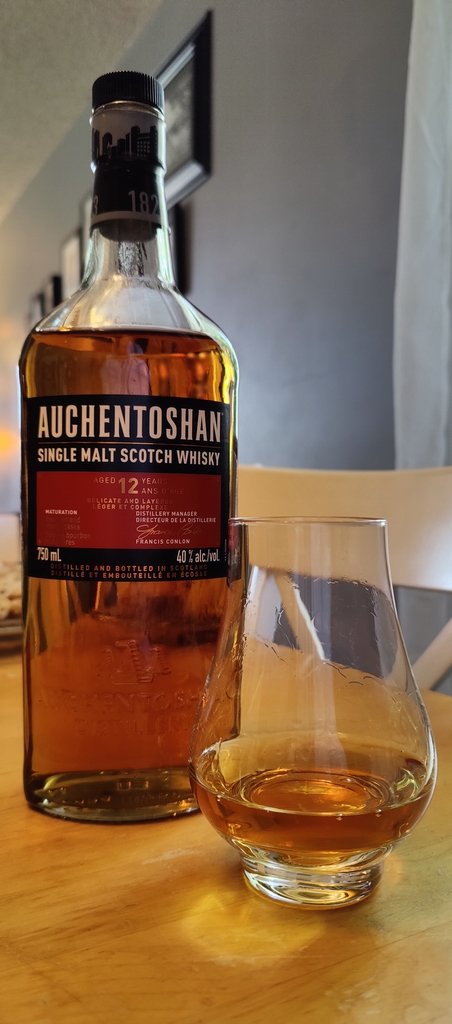 Tasting Date: 2021-06-26
Region: Scotch Whisky – Lowland
Type: Single malt
Age Statement: 12 Years
Size: 750ml
ABV: 40% ABV
Cask Type: Bourbon and sherry casks
Distiller: Auchentoshan Distillery
Location: Just outside Glasgow. 108 Great Western Rd, Clydebank, Scotland
Bottler: Auchentoshan Distillery
Purchase Location: Real Canadian Liquor Store 2746 James Mowatt Trail SW Edmonton, Alberta, Canada
Purchase Date: June 20th 2021
Cost: $48.38 including GST & Deposit
Tasting Notes From The Auchentoshan Website:
TO THE NOSE: A Single Malt Scotch whisky with a distinctive aroma of crème brulee to the nose with a burst of citrus and then the signature nuttiness and green leafiness you would expect from Auchentoshan.
TO THE TONGUE: A smooth whisky taste with sweet notes along with hints of tangerine and lime characterise this 12 year old.
TO THE END: This particular whisky offers a gingery and slightly dry finish with a pleasant, lingering nuttiness.
Colour: Golden honey or Pale gold
TransparentSmoke Review: I really like the new packaging. Introduced in 2019 to emphasize their Urban roots. It is clean, simple, and definitely urban. I suppose putting buildings on the box is about as urban as you can get.
I received this bottle for Father's Day and have been working on it all week. Not working on it like hard effort, working on it as in I have had a glass in my hand night after night. Auchentoshan Aged 12 Years is pretty good, but very simple. I have spent most of that time trying to tease out tasting notes and discover new things (well, that's what I tell my wife). Tonight I poured a sample size 50ml Auchentoshan Aged 12 Years (The one in the grey box) to have beside a dram from my new bottle. The 50ml is from August 7th 2017 (L172197 0945 191) and came free with the 750ml new bottle from March 12th 2021 (L1071SB320700842).
They are totally different. If this had been blind you could have convinced me that the older bottle was a completely different whisky. It has way more oak and a hint of smoke. I can also smell the almonds on the older bottle. The new one is way more crème brûlée and the oak is very faint. Citrus and sherry are also all over the nose of the new bottle. Two completely different experiences, but not one that I feel I have lost out on by having a larger bottle of the new one.
The newer 2021 bottle of Auchentoshan Aged 12 Years is nice with its focus on the crème brûlée. I can not specifically find limes and tangerines, but there is a citrus note that is very welcoming and it works well with the nuttiness in the background. There is a tiny bit of ginger that surprised me on the finish.
I have had a bottle of the Auchentoshan American Oak for years and have been unable to finish it. I have to say Auchentoshan Aged 12 Years has redeemed the brand for me. I will most definitely look forward to trying a different expression of Auchentoshan next Father's Day.
Our Score: 76/100
Bottles on Hand: