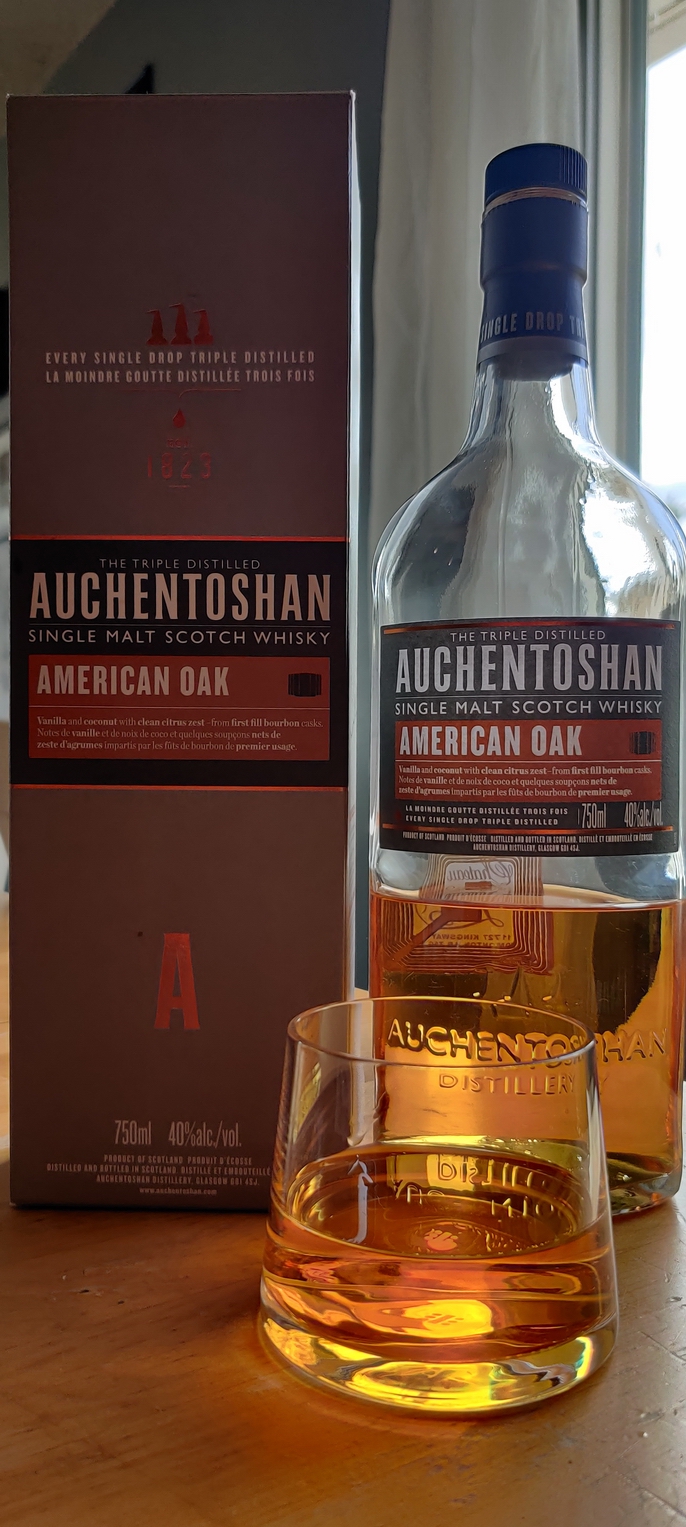 Tasting Date: 2021-03-30
Region: Scotch Whisky – Lowland
Type: Single malt
Age Statement: NAS
Size: 750ml
ABV: 40% ABV
Cask Type: First fill North American Bourbon Oak Casks
Distiller: Auchentoshan Distillery
Location: Just outside Glasgow. 108 Great Western Rd, Clydebank G81 4SJ, United Kingdom
Bottler: Auchentoshan Distillery
Purchase Location: Chateau Louis Liquor Store 11450 117 St NW, Edmonton, AB T5G 3E8
Purchase Date: Unknown ~2015
Cost: Unknown (maybe $43)
Tasting Notes From The Auchentoshan Website:
TO THE NOSE: A vibrant bourbon infused vanilla and coconut with layers of zesty citrus fruit, making this Scotch Single Malt from Auchentoshan stand out from the crowd.
TO THE TONGUE: A refreshingly smooth whisky taste. Lively, with vanilla cream, coconut and white peach.
TO THE END: Crisp, with sugared grapefruit and a lingering hint of spice.
Colour: Bright Gold.
TransparentSmoke Review: In 2014 this replaced the Auchentoshan Classic. Some say it was a straight name swap, others seem to point to the fact it allowed them to tweak the recipe with younger whisky. The Auchentoshan American oak is now the entry point into Auchentoshan. Owned by Beam Suntory, the Beam Suntory marketing power and world wide reach puts Auchentoshan as the number one lowland whisky by volume.
I love the nose on the Auchentoshan American Oak, but I can't find the coconut, it is all Bourbon vanilla and citrus. On first taste the Palate becomes just citrus and ethanol. And it finishes weird. Maybe just too cleanly with nothing to chew on.
This one is for those that are just starting. There is nothing here to scare the uninitiated away and lots on the nose to draw beginners in. And with a bottle at just $52.99 regular price around here, its a great place to start.
Our Score: 72/100
Bottles on Hand: