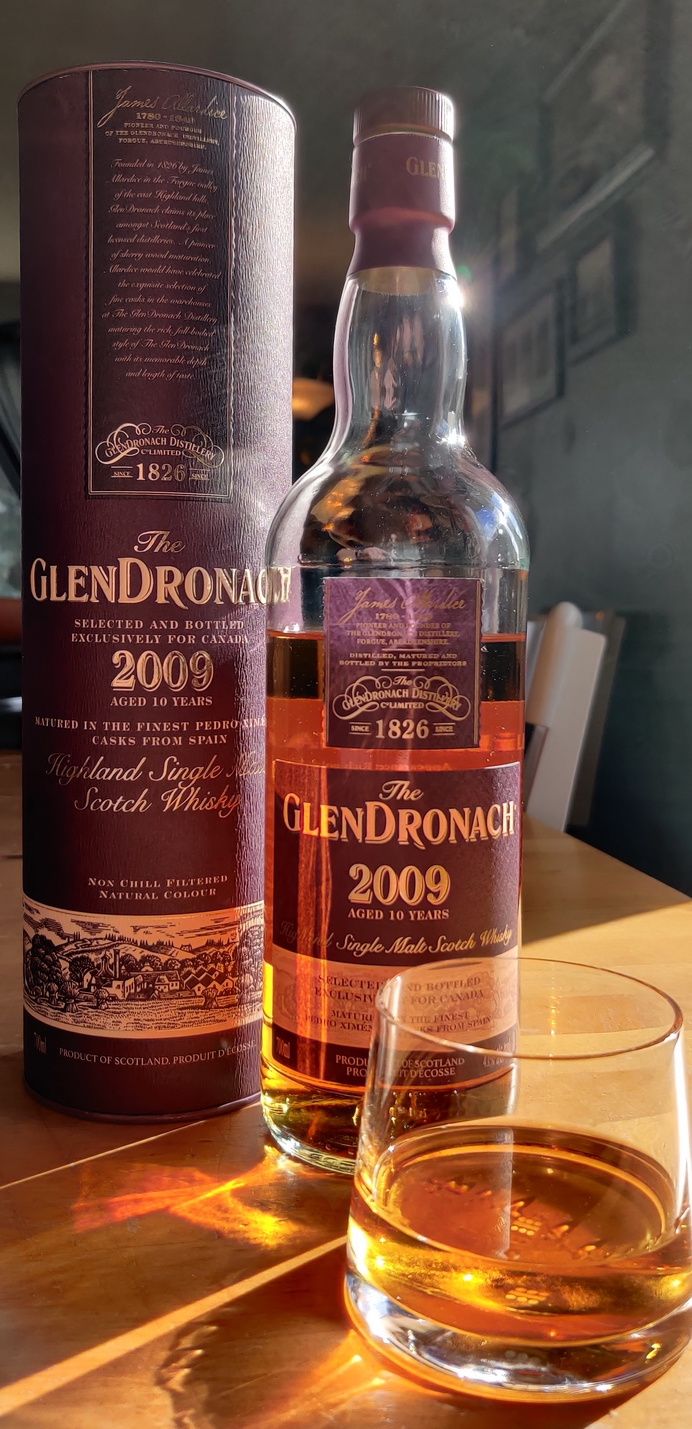 Tasting Date: 2021-03-29
Region: Scotch Whisky – Highlands
Type: Single malt
Age Statement: 10 years
Size: 750ml
ABV: 43% ABV
Cask Type: Pedro Ximenez sherry oak casks from Spain
Distiller: GlenDronach Distillery
Location: The valley of Forgue, deep in the East Highland hills near Aberdeenshire, Scotland
Bottler: GlenDronach Distillery
Purchase Location: Wine and Beyond 760 St Albert Trail Unit 200, St. Albert, AB T8N 3P8
Purchase Date: 2019
Cost: $94.59 including GST & Deposit
Tasting Notes From The Glendronach Website:
None, actually the product isn't even listed on the GlenDronachDistillery.com page.
From the back of the bottle:
NOSE: Sweet orange and bramble fruit with chocolate and nutmeg-spiced sultana.
PALATE: A burst of red berry fruit compote and mandarin orange, softened by creamy, vanilla-rich milk chocolate.
FINISH: Lingering currant and Morello cherry with barley sugar and traces of ginger.
Colour: Rich Gold. Non-Chill Filtered and Natural Colour
TransparentSmoke Review: I am a huge fan of GlenDronach. Mostly because I had the luck to try the GlenDronach 12 year years ago and just keep drinking it. I'm sure I have finished more bottles of GlenDronach 12 year than I have anything else. So when we experienced the drought of 2018 and every bottle of GlenDronach 12 had disappeared from our shelves. This 2009 Canadian release magically appeared as if sent from the heavens to save us. Well maybe not that amazingly, as the GlenDronach 2009 was almost twice the price of a what a bottle of GlenDronach 12 was worth on sale in 2018.
The story I read around the net always says the same thing. When the Brown-Forman Corporation bought BenRiach in 2016 they acquired GlenDronach and proceeded over the next few years to start changing their distributors to be all the same (as one would). But the old distributor of GlenDronach in Alberta said they had a contract that could not be broken, so a legal standstill resulted in no one being able to import GlenDronach. No imports, meant that when GlenDronach 12 sold out there was no more product to replace it. I guess we drink a lot of the worlds supply, so they decided to release the GlenDronach 2009 Canadian Edition because it was not covered by any preexisting contracts.
The Pedro Ximenez sherry oak casks from Spain result in a distinctly different flavour profile than the GlenDronach 12 year. The nose is sweeter and more citrus forward but predominantly vanilla with a hint of spice on the palate.
The price has started to drop and it is not selling as well as anticipated. If you can find it under 70$ it's worth a try.
Our Score: 75/100
Bottles on Hand: