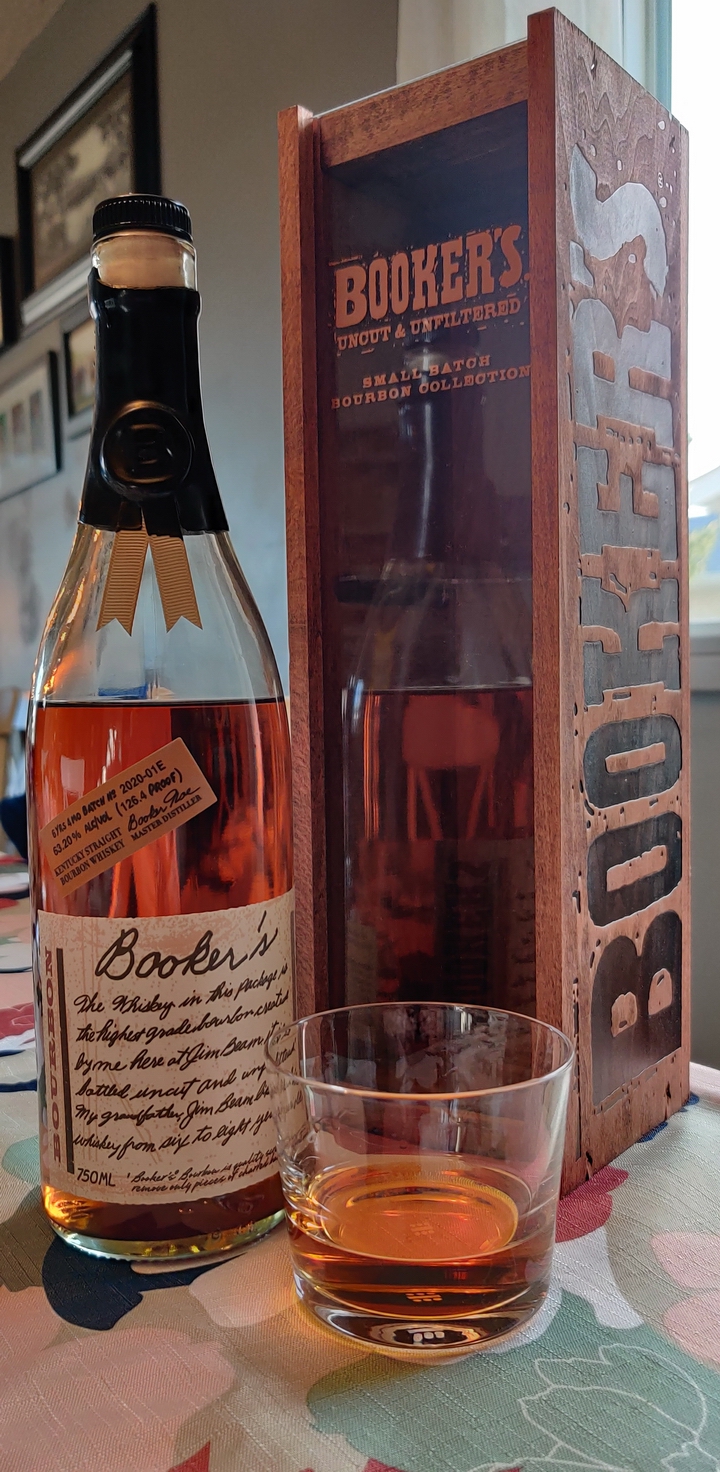 Tasting Date: 2021-04-05
Region: American Whiskey
Type: Bourbon
Age Statement: 6 Years 4 Months Batch 2020-01E
Size: 750ml
ABV: 63.2% ABV
Cask Type: First use charred American oak
Distiller: Jim Beam Boston Road plant, also known as the Booker Noe distillery.
Location: Clermont, Kentucky
Bottler: James B. Beam Distilling Co.
Purchase Location: Chateau Louis Liquor Store 11450 117St NW Edmonton, Alberta, Canada
Purchase Date: December 2020
Cost: $84.95 including GST & Deposit
Tasting Notes From The Booker's Website:
This batch is not listed on the Booker's website.
Here are the tasting notes used for the three domestic 2020 releases (Note: Batch 2020-01E has the same age statement of 6 years 4 month and the same ABV of 63.2% as batch 2020-01)
AROMA: Robust vanilla and caramel notes; slightly smoky.
TASTE: Deep and complex flavors of vanilla, nuts and oak.
FINISH: Long and full; perfect for easygoing sipping.
I found these different nose and tasting notes on many sites outside of the USA used specifically in reference to 2020-01E. I would tell you these notes are more what my bottle of bourbon tastes like.
NOSE: Barrel char and maple syrup waffles, with peppery oak and berry jam.
PALATE: Cigar box and mint chocolate, with oily orange, baking spices and buttery oak.
FINISH: Candied ginger, apple turnover and a good crack of black pepper.
Colour: Our darkest and deepest amber and henna color.
TransparentSmoke Review: Booker's is supposed to be a pretty good Bourbon. They say that a few years back they doubled their prices and moved themselves into the upper echelons of bourbon brands and their fans seemed to have agreed with the move, because Booker's bourbon is still hard to get. Not impossible hard, but only a few stores carry it and you usually only see a couple bottles if they even have it.
The nose turned me on this one. I can't place a green cut grass smell, or maybe I smell paraffin wax? That over powers the nose. It hides the sweetness and I can't find the maple. But I get the barrel char and then the cigar box and bit of the mint chocolate. Over all I find it harsh and astringent. So I can't score it very high. So it gets a 68 till I visit again down the road. Good but not great.
It does deserves a chance in a nice cocktail: a Whiskey Sour or an Old Fashioned. I'll report back when I try either and update.
Our Score: 68/100
Bottles on Hand: