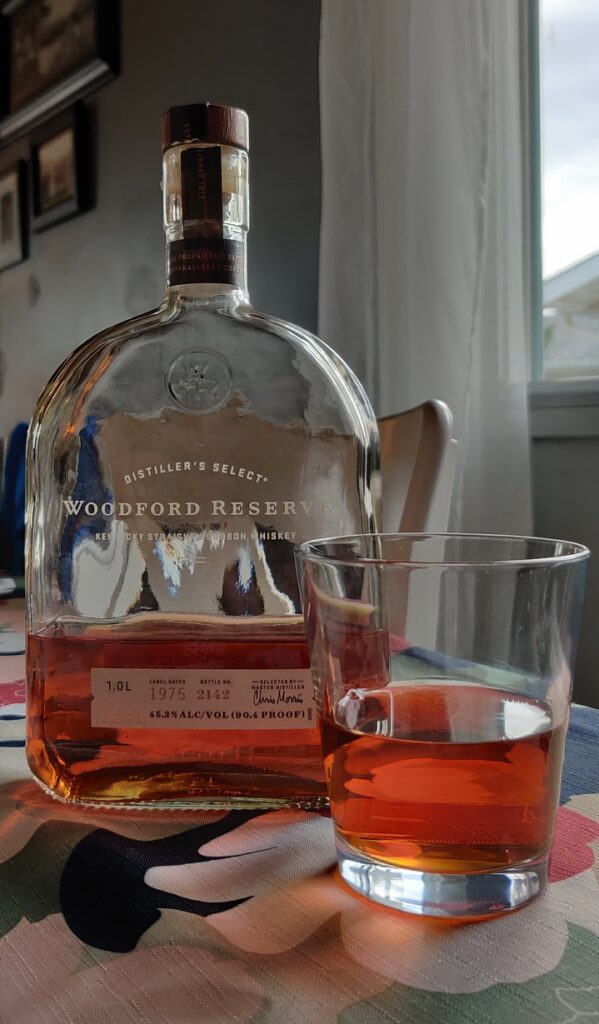 Tasting Date: 2021-04-06
Region: American Whiskey
Type: Bourbon – mash bill of 72% corn, 18% rye and 10% malt
Age Statement: NAS (the internet says 6-7 years old)
Size: 1000ml
ABV: 45.2% ABV
Cask Type: New charred American oak
Distiller: Woodford Reserve Distillery and the Brown Forman Distillery
Location: The Woodford Reserve Distillery is located approximately eight miles from the town of Versailles in north-central Kentucky The Brown Forman Distillery is located in Shively, Kentucky.
Bottler: Woodford Reserve Distillery
Purchase Location: Real Canadian Liquor Store Clareview 4950 – 137Ave NW Edmonton, Alberta, Canada
Purchase Date: January 24th 2021
Cost: $48.95 including GST & Deposit (came with a free branded silicon giant ice cube tray)
Tasting Notes From The Woodford Reserve Website:
NOSE: Heavy with rich dried fruit, hints of mint and oranges covered with a dusting of cocoa. Faint vanilla and tobacco spice.
TASTE: Rich, chewy, rounded and smooth, with complex citrus, cinnamon and cocoa. Toffee, caramel, chocolate and spice notes abound.
FINISH: Silky smooth, almost creamy at first with a long, warm satisfying tail.
Colour: Brilliant honey amber.
TransparentSmoke Review: Our bottle says "Label batch 1975" and "Bottle No. 2142". Bottled on the the 360th day of 2019 (December 26th) at 09:58 in the morning.
Over the last couple of days I kept feeling I was being overly harsh to Jack Daniels and Booker's. Both are great whiskies, based on other people's reviews, and then they scored way lower than I had anticipated on mine. So I thought that today I would drink something that I know I had enjoyed in the past. The idea was that if my palette is off, I would know because my review would be uncharacteristically lower than I was expecting.
Woodford Reserve Straight Bourbon Whiskey was the perfect candidate as it is both Bourbon and a little bit Rye. So I poured a deep dram, as you can see in the picture, and proceeded to "evaluate" my palete. The nose on Woodford Reserve Straight Bourbon Whiskey… Dammit I can't type that every time. Let's all agree that it is just called Woodford Reserve, and all other kinds of Woodford Reserve have additional words in their names. The nose on Woodford Reserve is divine, caramel and butterscotch and a hint of tobacco. The taste is just as nice, caramel and hint of chocolate and bourbon spice. The 45.2% holds onto lots of flavour and provides a great feeling of warmth in the chest.
I have noticed this Bourbon being sold in bigger and bigger sizes. My Costco carries a 1.75 litre as standard and this 1000ml version was their "regular" size at the Real Canadian Liquor Store. I have to say with the ease at which it drinks I need to start buying them at those bigger sizes because even big drams disappear quickly.
BTW: There is nothing wrong with my palette, this bourbon is delicious and deserves all of the 85 it scores.
Our Score: 85/100
Bottles on Hand: