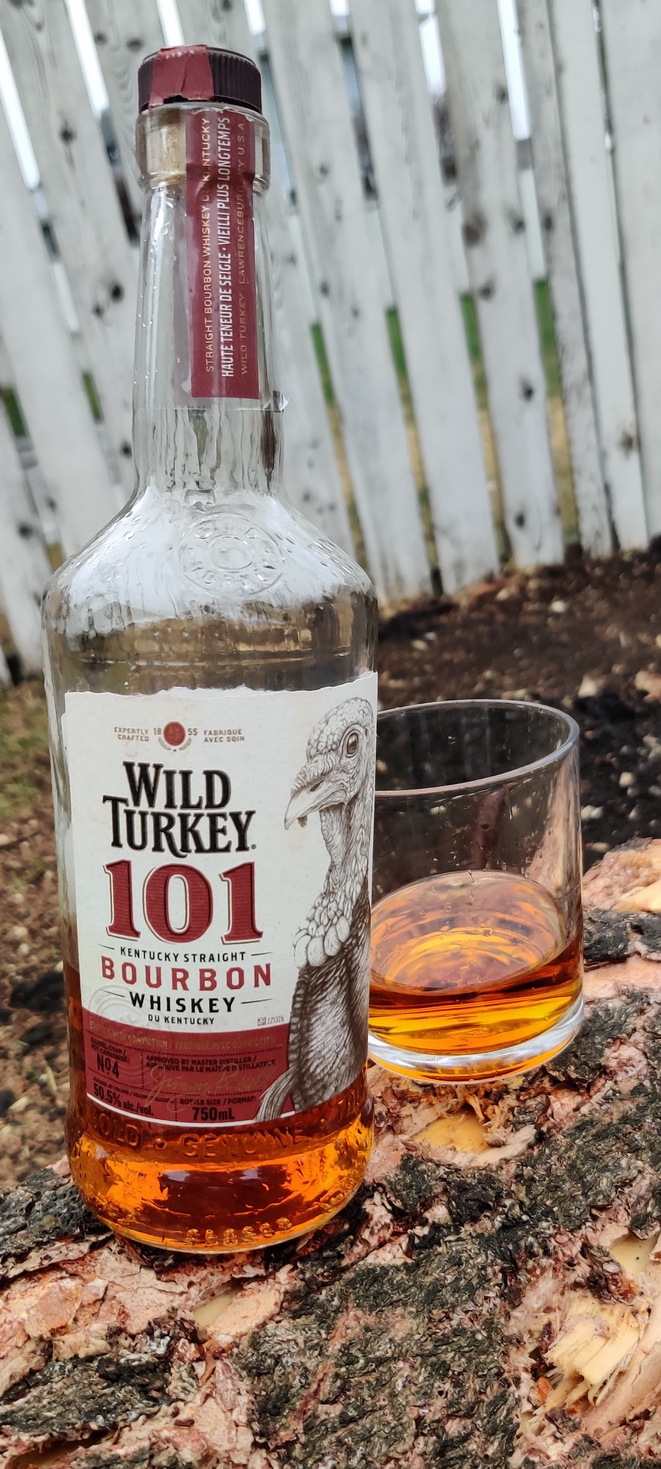 Tasting Date: 2021-05-07
Region: American Whiskey
Type: Straight Bourbon
Age Statement: NAS (But the back says 6-8 years)
Size: 750ml
ABV: 50.5% ABV
Cask Type: New charred American oak
Distiller: Wild Turkey Distilling
Location: 1417 Versailles Rd, Lawrenceburg, Kentucky, USA
Bottler: Wild Turkey Distilling
Purchase Location: Liquor Exchange Unit 410, 3840 Sherwood Drive Sherwood Park, Alberta, Canada
Purchase Date: April 2nd 2021
Cost: $34.99 including GST & Deposit
Tasting Notes From The Wild Turkey Website:
None
From the bottle:
..full complex flavour of caramel, Vanilla, toffee and spice.
Colour: Golden roasted pumpkin
TransparentSmoke Review: Alright, Alright, Alright. Wild Turkey 101 Bourbon Whiskey has worked it's way into my friend circles because of Matthew McConaughey's partnership with the company. The promotional videos have made their rounds on Facebook and Whatsapp. Sometimes followed up by a Lincoln commercial, sometimes with excited messages like "We have to try this!" and me replying "We have, remember". The thing is, that maybe the advertising is making everyone talk about it, but it is the product quality that is making everyone keep coming back.
When I sometimes forget about Wild Turkey 101 Bourbon Whiskey because of all the other whiskies I have available to drink, and then when I get reminded to go back, I always say something stupid like "I forgot how good this was for a cheap bourbon.". But it's not cheap; no one cut any corners or skimped on the 6 years in a barrel or started using cheaper corn or some stupid thing like that. It is just reasonably price product that holds it's own.
Digging into a deep dram, the first thing I notice is that this whiskey has legs. Long slow legs all over the sides of my glass. The science says it is sugar and alcohol. Sugar that sticks to the glass, alcohol to cut through the sugar in rivulets and runs back down the glass. That would make sense, because the nose is sweet and the alcohol content high, at 50.5% ABV. The nose is dominated by brown sugar and vanilla and this smell I call "eucalyptus" but have learned is what others call fresh sawdust. Turns out they smell the same it's just a matter of us agreeing on the terminology.
The palate is brown sugar and caramel but that is just a layer over classic corn bourbon and rye spice in a near perfect balance. The swallow is smooth and I pause each time expecting it to hurt. It never does burn, it just finishes with lingering rye spice and the smallest of flushes across my chest. This is a really well balanced bourbon, every home bar should have a bottle because no one is ever going to complain no matter how they order it.
Our Score: 86/100
Bottles on Hand: