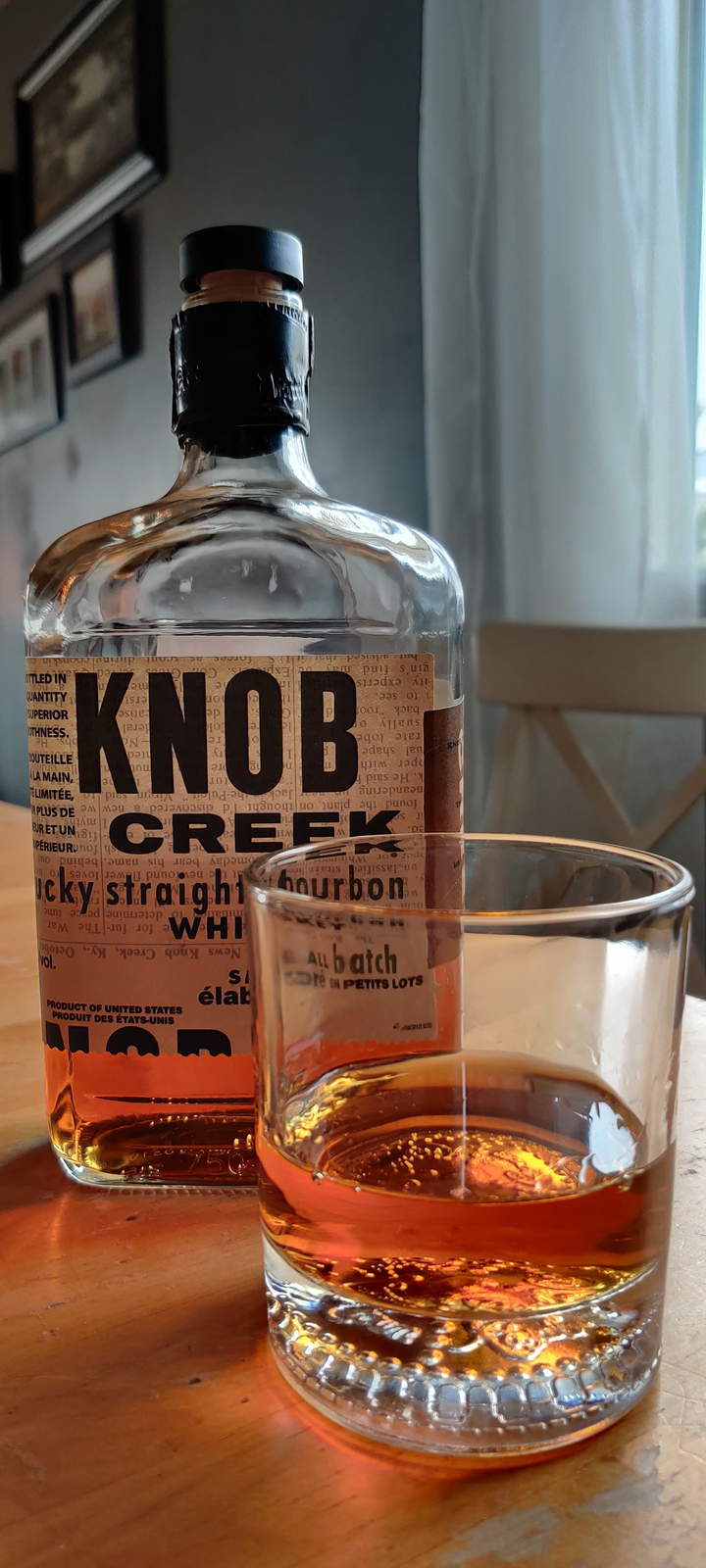 Tasting Date: 2021-03-27
Region: American Whisky
Type: Bourbon
Age Statement: NAS / 9 years
Size: 750ml
ABV: 50% ABV
Cask Type: New, charred American oak
Distiller: Knob Creek Distilling Company
Location: Happy Hollow Rd, Clermont, KY 40110 Clermont, Kentucky, USA
Bottler: Knob Creek Bottling Plant
Purchase Location: Sobeys Liquor Lakeland 120 590 baseline Rd. Sherwood park, Alberta
Purchase Date: March 13, 2021
Cost: $50.03 including GST & Deposit
Tasting Notes From The Knob Creek Website:
TASTE: Rich, sweet, woody, full-bodied, almost fruity.
Colour: Copper to medium amber.
TransparentSmoke Review: Knob creek was first released in 1992. If you were to find a bottle that old you would notice that it originally had a 9 year age statement. In 2009 they actually had to stop production for a while due to the fact they ran out of 9 year old whiskey. So when the same thing happened again in 2016 they decided to ditch the age statement in September of 2016. They ensured everyone that they would keep making the same flavoured product by mixing older and younger whiskies. In 2019 they announced that the age statement would return sometime in 2020. And.. it's back on my newest bottle. One visual change I did notice was that the new bottle is missing "Hand-Bottled" in small batches on the label.
My tasting bottle was a 2019 purchase and has been open for over a year. If the new 9 year tastes different I'll write a review when I open it. This really is my definition of a quintessential bourbon. At 50% APV it holds on to the smell and flavour perfectly. Sweet brown sugar with a hint of cedar on the nose and sweet corn mash and spice on the palate.
Also of note is that Knob Creek isn't the only thing they make at the Knob Creek Distillery. They also make Booker's, Baker's, and Basil Hayden's. And if that isn't enough, they are all owned by parent company Jim Beam which got bought out in 2014 to form Beam Suntory Inc of America. Which in turn is owned by Suntory Beverage & Food Ltd which itself is subsidiary of Suntory Holdings of Osaka, Japan. Take a look at this and this and marvel; as it seems Suntory controls half of all the whiskey in the world. Well maybe not the world, maybe just half of my whisky shelf.
Update (May 1st 2021): I opened the new bottle and to the best of my recollection it tastes exactly the same as the old bottle. The new bottle has a date code of L0317CL J which I believe to mean bottled on November 12th 2020.
Our Score: 87/100
Bottles on Hand: