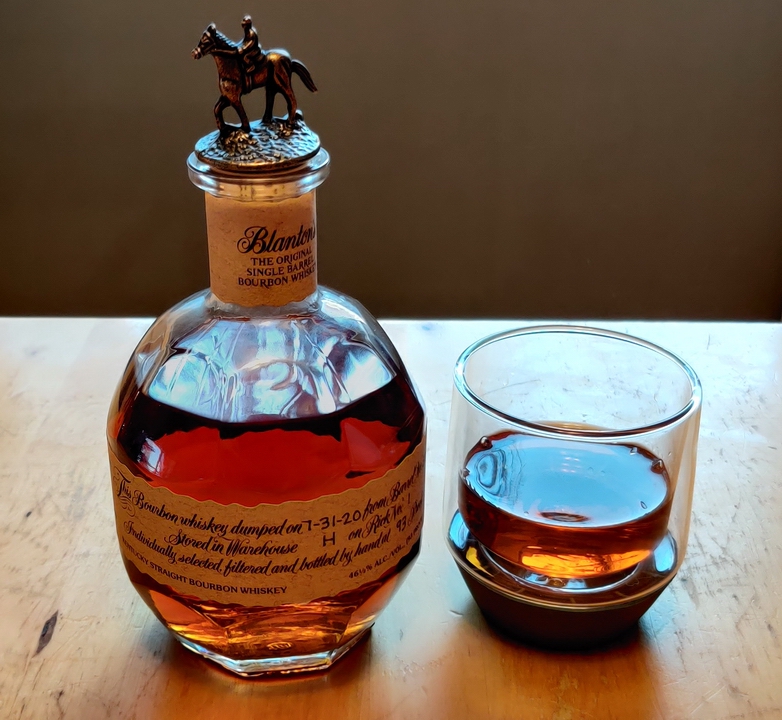 Tasting Date: 2021-04-01
Region: American whiskey
Type: Bourbon – At least a 51% Corn mash bill and maybe 15% Rye
Age Statement: NAS (but everyone says 6-8 years but no one says where that information came from)
Size: 750ml
ABV: 46.5% ABV
Cask Type: Charred American Oak
Distiller: Buffalo Trace Distillery
Location: Frankfort, Kentucky at the Buffalo Trace Distillery.
Bottler: Blanton Distilling Company
Purchase Location: Chateau Louis Liquor Store 11450 117 St NW, Edmonton, AB T5G 3E8 | Olympia Liquor Skyview 13538 137 Ave NW Edmonton, Alberta, Canada, T5L 5E9
Purchase Date: March 21, 2021
Cost: $115.00 Including GST & deposit (received as a gift) | Second bottle at $74.64 including GST & deposit
Tasting Notes From The Blanton's Website:
NOSE: Vanilla
PALATE: Citrus and Oak
The taste profile is sweet, with notes of citrus and oak. The creamy vanilla nose is teased with caramel and butterscotch, all underscored by familiar baking spices such as clove, nutmeg, or cinnamon.
Colour: Red Amber
TransparentSmoke Review: So they say this matters: Dumped on 7-31-20 from Barrel No. 319 Warehouse H Rick Number 1 bottle No 64.
The only product that has been harder for me to find is Angel's Envy. (Our liquor distribution system in Alberta https://www.liquorconnect.com/ hasn't seen a bottle of either Blanton's or Angel's Envy in over a year, and I'm still looking for the Angel's Envy an a shelf). So when I was given this rare bottle by two of my sons for my birthday, I had to beg to find out where they found it for me, and what it cost. My wife finally came clean and admitted to helping them. But once I had it, I was loath to open it, as it was my only bottle and there was no prospect at another anytime in the near future. Until today, just two weeks later, when I randomly stumbled upon one on a shelf in a liquor store I had never been to before. I have listed the prices above and the difference is crazy. But with two on my shelf it was time to crack the birthday present and see what all the fuss is about.
Well…. it tastes like bourbon. Smells a lot like light vanilla and spice. Brown sugar notes are hidden and the baking spices tickle my tongue on the finish. I want to tell you that it has to be that I'm not a refined enough palate to truly enjoy this, or that I can't recognize greatness while in it's presence. But that can't be the case. I do pretty good in the presence of my betters. There is a green taste if you dig deep into the bourbon, but I have to admit I was digging because it's just kinda simple. I wanted there to be more to it and I just couldn't find it.
I want to do a "A" "B" comparison with a couple of the bourbons I scored over 80 as soon as they lift our socializing lock down restrictions. (Did you know if I paid my friends to come taste test, it would then be work, and we could all drink in the same room!) But, I'll follow the rules and wait.
I wish I had thought of this for the intro to my review. Their review is basically a rewording of the info on the Blanton's website, but the genius of the audio overlay on their intro just cracked me up: Blanton's Review.
Our Score: 81/100
Bottles on Hand: