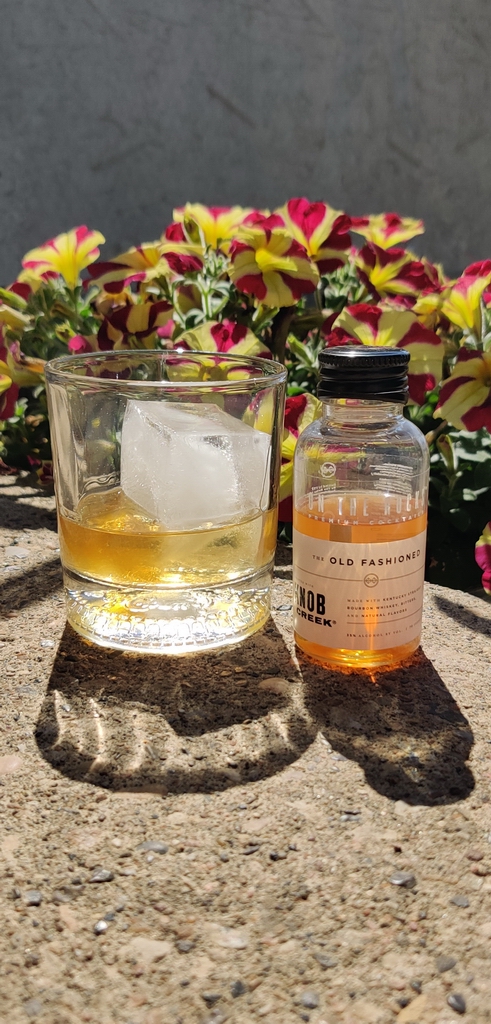 Tasting Date: 2021-05-22
Region: American whiskey – Bourbon
Type: Mixed Drink
Age Statement: NAS
Size: 100ml
ABV: 35% ABV
Cask Type: New charred American oak
Distiller: Beam Suntory
Location: Kentucky
Bottler: Beam Suntory
Purchase Location: BevTri.com
Purchase Date: May 21st 2021
Cost: Free
Tasting Notes From The On The Rocks Website:
Staying true to the original recipe, we keep our Old Fashioned bold and simple using Knob Creek® Bourbon Whiskey, bitters, cane sugar, orange, cherry, and lemon flavors
Colour: Old gold
TransparentSmoke Review: Full disclosure: About a month ago a friend sent me a link to join an app called BevTri.com. The concept is that in exchange for answering a survey after you have tried the product, they will send you free alcoholic beverages to sample. My first sample was a 50ml of Northern Keep vodka and bottle of Fever-Tree club soda delivered to my house on May 7th 2021. My second arrived yesterday, it is a mixed drink by On The Rocks Cocktails called The Old Fashioned made with Knob Creek Bourbon. This has nothing to do with my review site and is open to everyone in participating cities. My wife is also signed up so they dropped off two!
On the Rocks Cocktails was founded in 2015 and had their big break in 2018 when they partnered with Beam Suntory to use Beam Suntory alcohols exclusively. At that time they moved bottling to Kentucky, I assume to one of the big Beam Suntory plants, but I can't figure out which one. In September of 2020 Beam Suntory bought them outright for an undisclosed sum. Based on this quote I found in reference to the purchase: "At-home cocktailing and cocktails to-go have obviously accelerated, and we think that will be long-lasting," by Greg Hughes Beam Suntory North America president, it is obvious that this is a move brought on by the pandemic. With people unable to get out to the restaurant to order a fresh Old Fashioned, this is the next best thing.
To be able to talk about a premixed drinks, we need to first talk about what those drinks should taste like if they were made fresh. I have had a few Old Fashioned drinks in my time and my favourite fresh made Old Fashioned cocktail right now is by Earls Restaurants. Earls is somewhat of an Alberta success story, has been here since 1982, and now has 68 locations across Western Canada, the United States and Ontario. Luckily they don't keep their drink recipes secret, here is how to make an Earls Old Fashioned:
Earls Old Fashioned Cocktail
2 oz Bourbon (Their choice is Maker's Mark)
.25 oz demerara simple syrup
4 dashes of Bittered Sling Plum & Rootbeer Bitters
Stir together in ice
Strain over a "Big Ass" ice cube
Garnish with an orange zest and cherry
Now that we all know what a near perfect Old Fashioned should taste like, we can talk about the On The Rocks – Knob Creek Old Fashioned. The first nose of this drink caused me to pause because with the Knob Creek brand so big on the front of the packaging, I had expected the first smell I discovered to be the bourbon. But instead there are citrus notes and cherry upfront on the nose, as you would expect from a mixed drink that has the garnishes added last. The absence of the demerara is a shame, but I am glad that they kept the sugar content down and didn't try to make this as if it was a ready to drink from a can product. It does require the "Big Ass" ice cube to slowly melt into it, as you sip, to mediate the 35% ABV alcohol content. TIL: "Big Ass" is the official name of the ice cube at Earls.
The Knob Creek is hidden under the added sugar, cherry, lemon and orange and I am not sure it survives the plastic container very well. Mostly I was left wondering how much stuff did they end up adding to a bourbon that started it's life at 50% ABV. It is an acceptable drink, but lacking from what can be created fresh. It deserves to be in the "70-79 Great" category, if only because it is Knob Creek Bourbon and was as easy as pouring it over ice.
Our Score: 74/100
Bottles on Hand: