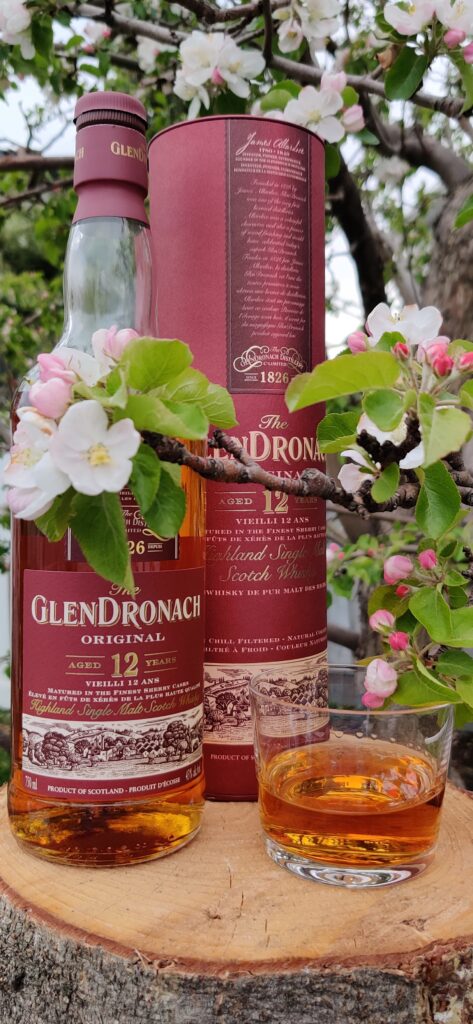 Tasting Date: 2021-05-23
Region: Scotch Whisky – Highlands
Type: Single malt
Age Statement: 12 Years
Size: 750ml
ABV: 43% ABV
Cask Type: Spanish Pedro Ximenez and Oloroso sherry casks
Distiller: GlenDronach Distillery
Location: The valley of Forgue, deep in the East Highland hills near Aberdeenshire, Scotland
Bottler: GlenDronach Distillery
Purchase Location: Co-Op Liquor at Inglewood 525 St. Albert Trail, Unit 260 St. Albert, Alberta, Canada
Purchase Date: 2021-03-25
Cost: $84.09 including GST & Deposit
Tasting Notes From The GlenDronach Website:
NOSE: Sweet, creamy vanilla, with hints of ginger. Spiced mulled wine and pear.
PALATE: Rich, creamy, silky-smooth. Warm, rich oak and sherry sweetness, full mouth feel, raisins and soft fruits. Spicy with medium length and a dry finish.
CONCLUSION: Long, full and firm, slightly nutty.
Colour: Deep amber-red gold. (Non chill filtered and natural colour)
TransparentSmoke Review: I found a store in St. Albert a couple months back that had GlenDronach Original Aged 12 Years at a reasonable price. More than I have ever paid for a bottle before, but less than what it costs at the places you would expect to have this on hand. Those wonderful/horrible stores that cash in a little on the rise in prices because of the secondary market. I would call a reasonably priced bottle of GlenDronach Original Aged 12 Years my unicorn and I bagged it.
Years ago, my first bottles of GlenDronach 12 year were from the Real Canadian Liquor Store. This liquor store is part of a grocery store chain, so they deal in bulk and in discounted items. GlenDronach 12 would come in and GlenDronach 12 would sell out on a regular basis but I never worried because it always came back. For almost two decades I never worried, until one day it didn't come back. The ebb and flow of on hand product had never worried me because the Real Canadian Liquor Store sold Glendronach 12 year for $42 back in the day. It was always available for $55 at a regular liquor store but it tasted sweeter at that $42 price tag. So I just assumed everyone was discount shopping like I was. When it finally didn't come back at all in 2018, the regular liquor store prices started climbing and climbing until they too ran out of stock.
The highest price I have seen in the last three years was about $125.00. You can still get a bottle at The Chateau Louis Liquor Store for around $110.00. You might be able to grab one at the Co-Op Liquor in St. Albert where I found mine for $84.09 all in. I did leave some on the shelves for other people, but GlenDronach hasn't been back at the Real Canadian Liquor Store since they sold out three years back.
The reason they sold out was because of distributor problems in Alberta, brought on when Glendronach was acquired by the Brown-Forman Corporation in 2016. You can read here about the GlenDronach 2009 Canadian Edition, this is the product they sent Alberta to fill our drought of GlenDronach Original Aged 12 Years. On top of that, there is now a scandal around the "Non Chill Filtered – Natural Colour" having been removed from the labels. So bottles are getting even scarcer.
I was a little worried to do this review as this has been such a favourite for so long. What if in the intervening years and after the 65+ reviews I've done, this doesn't live up to my memories of it? Well there was only one way to find out:
I love the first nose on GlenDronach Original Aged 12 Years, I identify it as uniquely Glendronach. I do find similarities with the GlenDronach Parliament Aged 21 Years but all in a good way. It is all fruit and spiced wine that flirts with you as you try to find the vanilla. I wish I could find the pear, but I still can't ferret that out on the nose of a dram. The palate is filled with oak and sherry and is so easy you can roll the dram around in your mouth without fear of it burning. Sherry and the tannins from red grapes wash across my tongue as I go to swallow, yet there is still warmth on the finish.
I was surprised how easy it was to come back to this whisky. I was worried that it wouldn't live up to my expectations; it did. Now all I have to be worried about is that I am down to the last three bottles I will ever see.
Our Score: 92/100
Bottles on Hand: