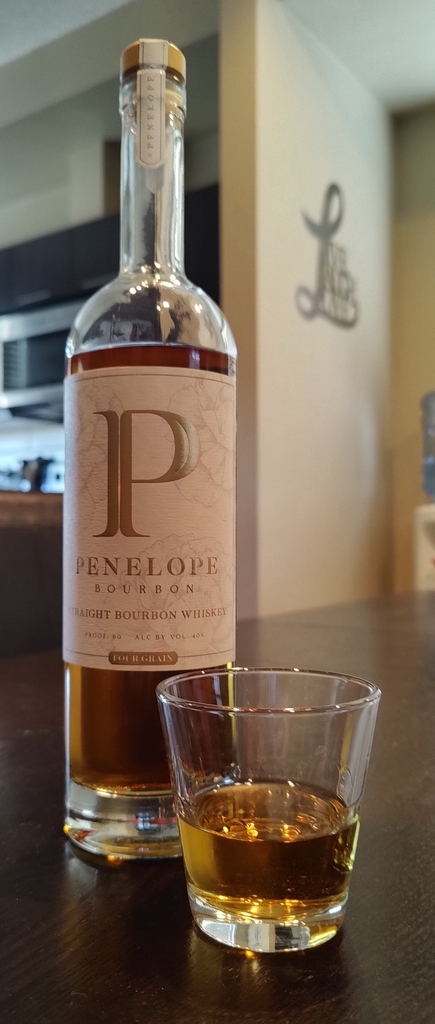 Tasting Date: 2021-08-13
Region: American Whiskey
Type: Bourbon (Four grain straight bourbon whiskey, a unique blend of three different bourbon mash bills)
Age Statement: 33 months
Size: 750ml
ABV: 40% ABV
Cask Type: New American oak barrels (4 Staves, #2 Heads)
Distiller: Sourced from MGP (Midwest Grain Products of Indiana is a distillery in Lawrenceburg, Indiana, producing spirits for private label sale)
Location: Lawrenceburg, Indiana, USA
Bottler: Castle & Key for Penelope Bourbon Bottling Company
Purchase Location: Wine and Beyond Emerald Hills 300, 7000 Emerald Drive Sherwood Park, Alberta, Canada
Purchase Date: May 7th 2021
Cost: $71.39 including GST & Deposit
Tasting Notes From The Penelope Website:
AROMA: Balanced corn sweetness, caramel, light oak, syrup, dynamic aroma profile with slight savory notes
FORWARD NOTES: Sweet fruit and grain, slight leather, very slight candied cream and cherry
BODY: Fruit, syrup, candied sweetness, and a savory vanilla note with slight berry and citrus
FINISH: slight buttercream (icing) and corn bread finish with a lingering vanilla spice
Colour: Dark gold (Non Chill-Filtered)
TransparentSmoke Review: I gave this bottle away to a sick friend and now I feel absolutely horrible, because I got invited over to try it and review it, and I drank half the bottle. In my defence this is pretty good bourbon. To my shame, I now probably owe him another bottle of something.
Earlier this spring I reviewed the Penelope Barrel Strength Bourbon (Batch 06) and it knocked my socks off. Notes of sarsaparilla floored me. Penelope Straight Bourbon Whiskey is not quite in the same league, but like I said it is pretty good, good enough to score in the 80's which by our scale makes this an excellent dram, one of the ones you are looking for.
Penelope Straight Bourbon Whiskey was created by Mike Paladini and Danny Polise. They finished and then blended whiskey made by MGP to exacting specifications to create something quite beautiful. On their website they reveal a surprisingly large amount of information about their process. From disclosing that the final mash bill for the three straight bourbons they used is…
Penelope Straight Bourbon Whiskey Final Mash Bill:

75% Corn
15% Wheat
7% Rye
3% Malted Barley
…to giving credit to the company "Speyside Cooperage" for building and sourcing them custom barrels to finish their products appropriately. But the one thing they don't ever expand on is why this is unique or special. You have to have a deeper understanding of American whiskey to grab the nuances of what they have done.
To gain that deeper understanding we first need to notice that they are using the phrase "Straight Bourbon". What the phrase "Straight Bourbon" means is that it legally has to conform to all the guidelines for making bourbon and be aged in the new charred oak container for at least 2 years. If it is aged less than 4 years, an age statement must also appear on the label. So they are openly admitting they are doing this with young bourbon. Second they state on the label and on the website that they are using four grains.
Very few bourbons use all four grains, in fact while doing my research I could only find one bottle from a brand you would recognize: Colonel E.H. Taylor, Jr. Four Grain Bottled in Bond. Colonel E.H Taylor, Jr. Four Grain is currently selling for $2500.00 a bottle on the secondary market. So I don't think any of us are going to get a taste in the near future. So for then to create Penelope Straight Bourbon Whiskey at the $70 Canadian price point and have it be this good, they have done something unique and special.
So how does it taste? Pretty good for the third time! The nose is brown sugar, and corn sweetness with a hint of cut granny smith apples and oak. The rye spice is hidden under the forward brown sugar and smells a little like someone is baking rye bread in the room next to you, while you sit back and relax with a nice bourbon in your favourite chair, while wearing an ascot. The palate opens up to a indistinct red fruit flavour (cherry?) with a mild rye spice finish. This bourbon is very approachable and allows you to keep coming back for a sip over and over.
I recommend Penelope Straight Bourbon Whiskey to everyone, especially new bourbon enthusiasts. If this isn't your first rodeo, splurge and buy the barrel proof instead.
Our Score: 84/100
Bottles on Hand: