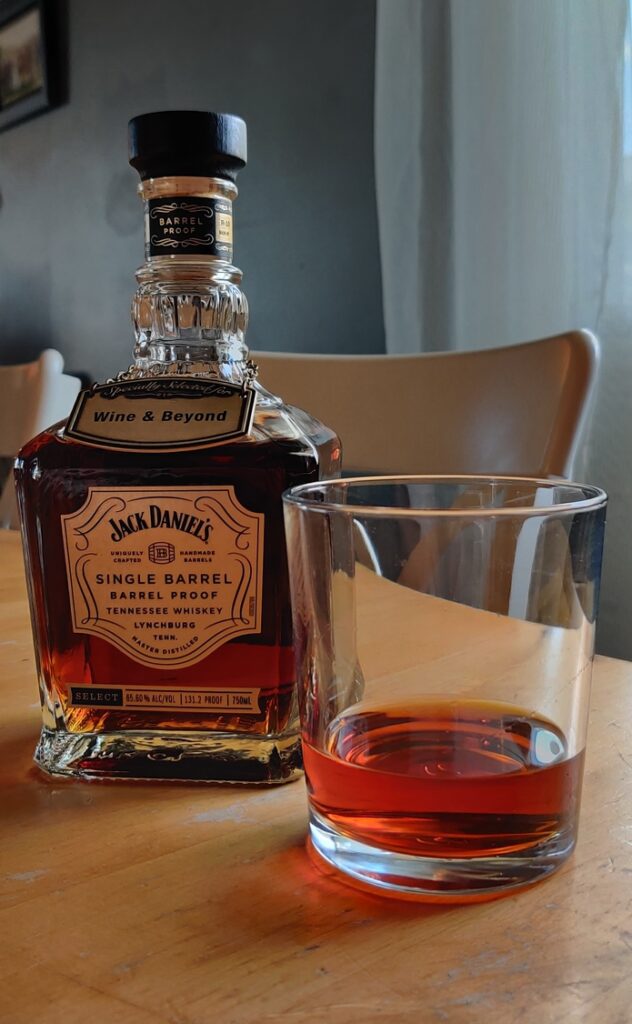 Tasting Date: 2021-05-05
Region: American Whiskey
Type: Tennessee Whiskey
Age Statement: NAS
Size: 750ml
ABV: 65.60% ABV
Cask Type: New charred American oak
Distiller: Jack Daniel's Distillery
Location: Lynchburg, Tennessee
Bottler: Jack Daniel's Distillery
Purchase Location: Wine and Beyond MacTaggart Ridge 5962 Mullen Way, Edmonton, Alberta, Canada
Purchase Date: March 1st 2021
Cost: ~$85.00 including GST & Deposit (Sample)
Tasting Notes From The Jack Daniel's Website:
It's whiskey as nature intended it—bottled straight from the barrel at its full proof. Intense, smooth, and remarkably varied, Barrel Proof is bottled at anywhere from 125 to 140-proof, taking Jack's trademark vanilla and toasted oak flavors to bold new levels.
Colour: Burnished copper
TransparentSmoke Review: A friend read my review of the Jack Daniel's Single Barrel Barrel Strength (17-5593) and offered to lend me a bottle of the Jack Daniel's Single Barrel Barrel Proof to compare. I had gone out of my way to differentiate the two bottles in the previous review. So we should note that this review is of a bottle of "barrel proof" from Barrel No. 20-20111 bottled on November 2nd 2020, matured in Rick No. R-10. The difference in names: 'barrel proof" and "barrel strength" indicates that in this case the ABV is variable, but Jack says it will always be between 125 and 140 proof. This bottle of "barrel proof" is 65.60% ABV (131.2 proof), while "barrel strength" is always 64.5% ABV (129 proof).
Interestingly you can't find "barrel proof" on the Canadian Jack Daniel's site. You must answer the age gate question as coming from the USA to be able to find the Jack Daniel's Single Barrel Barrel Proof. Once you do, you will find that you can't find any mention of the "barrel strength" until you answer as coming from Canada. The really weird part here is that this bottle of "barrel proof", with it's special necklace, is actually a specialty pick for an Edmonton based liquor company called Wine & Beyond, whose parent company is Alcanna Inc. based here in Edmonton. So it looks like this "barrel proof" is a Canadian product and not something snuck in through import loop holes, but who really knows.
I am currently drinking both trying to determine what, if any, differences there are in the products. Double fisting Jack Daniel's wasn't how I expected to spend the evening. Doh! But I had to go pour the "barrel strength" to figure out what differences I was tasting. Jack Daniel's Single Barrel Barrel Proof (20-20111) runs hot there is a lot of ethanol in the nose. It has taken a good long time for the nose to calm down to a point where I can find the expected banana bread and vanilla. Side by side the brown sugar in the "barrel proof" is lighter and harder to find. The palate is mostly white pepper and the brown sugar is again hidden under intense ethanol. Most disappointingly is the loss of the chest warmth 3-4 seconds after you swallow. It is an amazing thing to try two similar whiskies side by side and have one so dramatically wash across your chest, while the other just causes a little throat warmth and disappears.
During my tastings I was trying really hard to find the benefits in the new bottle because the old is near impossible to find. On a blind taste test or with ice, you would be hard pressed to differentiate these two , but the differences are there, especially when you are drinking them side by side. Those differences are enough to make it lose a few points but remember an 86 means:
80-89 - Excellent: These are the ones we are looking for, really quite exceptional.
I'd drink this in a second over regular jack.
Our Score: 86/100
Bottles on Hand: