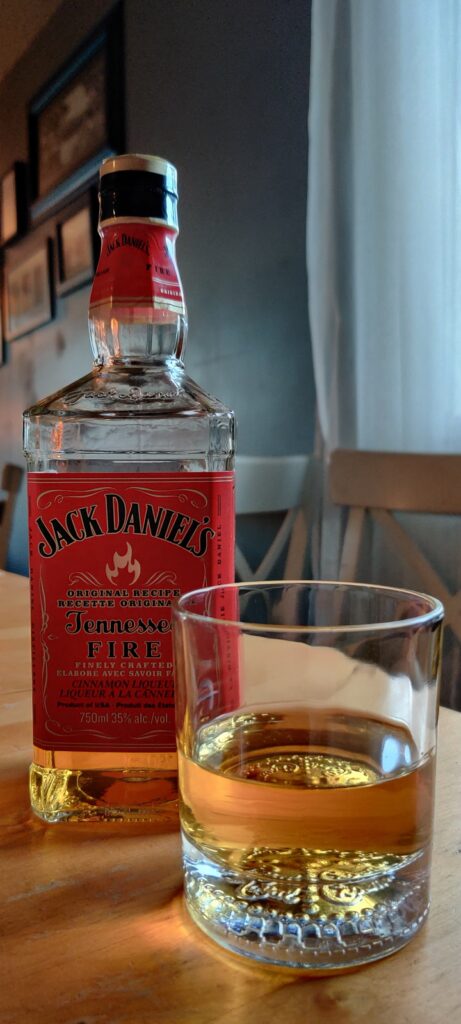 Tasting Date: 2021-04-19
Region: American Whiskey
Type: Flavoured Tennessee Whiskey
Age Statement: NAS
Size: 750ml
ABV: 35% ABV
Cask Type: New American white oak barrels
Distiller: Jack Daniel's Distillery
Location: 133 Lynchburg Hwy, Lynchburg, Tennessee, USA
Bottler: Jack Daniel's Distillery
Purchase Location: Borrowed a bottle from a fan
Purchase Date: Unknown
Cost: free (Currently $37.89 including GST & Deposit regular price)
Tasting Notes From The Jack Daniel's Website:
Sometimes, mixing fire and whiskey is a good thing. Our Tennessee Fire blends warm cinnamon liqueur with the bold character of Jack Daniel's Old No. 7 for a classic spirit with a surprisingly smooth finish.
Colour: Caramel (Contains caramel)
TransparentSmoke Review: Well I have to say that the lack of an ingredients list on the back actually bodes well for this whiskey. It means that it is 100% pure alcohol by loose definition. So water and sugar and cinnamon liqueur and a little bit of Jack Daniel's No. 7. The 35% is to be expected as you cut flavoured liqueur into your spirit.
The cinnamon liqueur sure could use some providence. I would love to know if it is made with liquid Cinnamon Hearts or dissolved Red Hots or ground up Atomic Fireballs or maybe even essence of Hot Tamales. But no one is talking.
The nose is extreme cloying sweetness and you have to have a super power to smell anything other than the candied cinnamon. But I have to admit I like it. I like it more than I like the pure candy smell of Fireball Cinnamon Whisky The flavour on the palate is too strong to taste anything but the cinnamon and the finish is all cinnamon burn. Ultimately I can't taste or smell the Jack Daniel's No. 7 in this, but it is different than Fireball Cinnamon Whisky, and that is a good thing.
If you are a Jack Daniel's fan then spend the 7$ more and grab Jack Daniel's Tennessee Fire instead of that other brand.
Our Score: 53/100
Bottles on Hand: