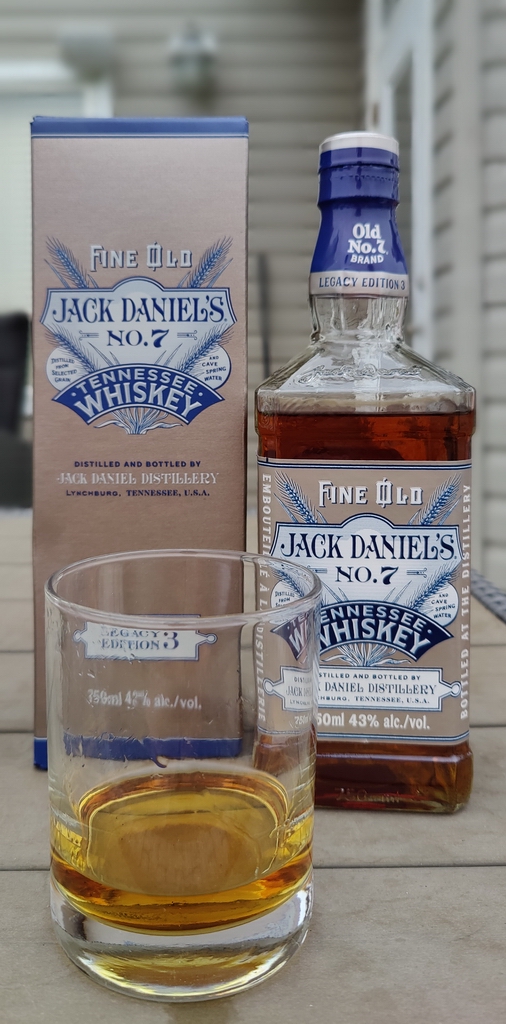 Tasting Date: 2021-08-01
Region: American Whiskey
Type: Tennessee Whiskey
Age Statement: NAS
Size: 750ml
ABV: 43% ABV
Cask Type: New charred American oak
Distiller: Jack Daniel's Distillery
Location: Lynchburg, Tennessee, USA
Bottler: Jack Daniel's Distillery
Purchase Location: Sherwood Park
Purchase Date: July 2021
Cost: ~$40.00 including GST & Deposit
Tasting Notes From The Jack Daniel's Bottles Website:
Jack Daniel's Legacy Edition #3 does not seem to exist on the Jack Daniel's website, I tried Canada, USA, United Kingdom, France and Australia. I did find a link to the existence of the bottle on the Jack Daniel's bottles website. They make no mention of how it tastes.
The third bottle in this series was filled with 86 proof whiskey and became available in the Summer of 2020 but only in a 70cl size. This was not released globally, as were the first two bottles in this series, and it never became available in Tennessee or anywhere else in the U.S.
Colour: Amber
TransparentSmoke Review: This is a vanity release by Jack Daniel's. Almost regular Jack in a new shiny package. I say almost, because they did catch my attention because the ABV is upped to a whopping 43%. That is a whole 3% more than regular Jack Daniel's No. 7! Released the summer of 2020 as the third in the Legacy series, Jack Daniel's made no effort to hide that these were label exclusives and not overly special product.
And maybe it made a difference. This is liquid banana bread. Smooth and delicious, with a nose just a tad bit stronger and sweeter than the regular No. 7. I caught hints of caramel apples, vanilla ice cream and fresh apples on the nose. The palate is overwhelmingly banana toffee with a hint of oak. The finish was all banana bread with the classic Jack catch in the throat that makes you pause before the second sip. This is only notable because the Jack Daniel's Sinatra Select does not have the catch, even at its higher 45% ABV.
Jack Daniel's No. 7 was reduced to 40% ABV in 2002 because of excise taxes around the world. Basically their product was being unfairly priced higher on the shelf because the default ABV was 45%. So unlike Buffalo Trace, that just reduced the ABV to 40% for overseas sales, Jack Daniel's reduced it for everyone around the world at the same time. In situations where they can hide the tax increase, like inside collectors edition packaging, they have allowed us a taste of what Jack used to be like.
Our Score: 80/100
Bottles on Hand: