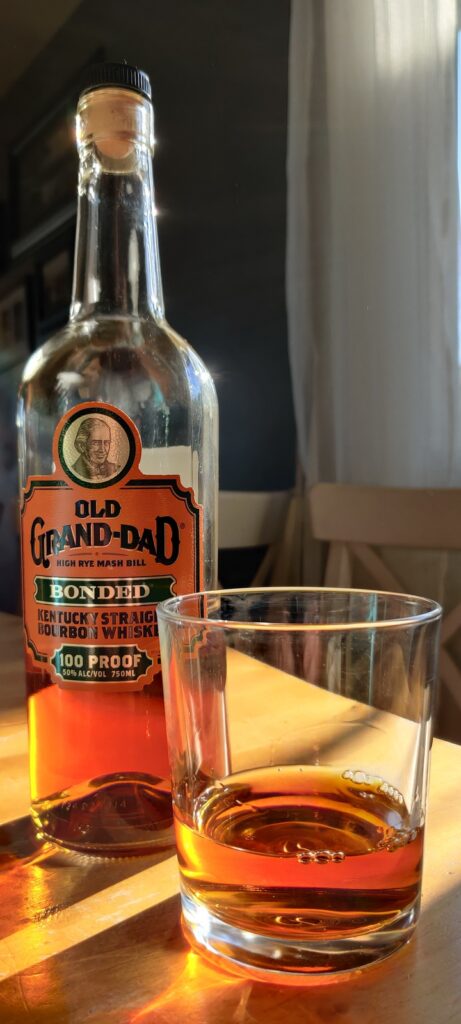 Tasting Date: 2021-04-20
Region: American Whiskey
Type: Bourbon – high rye mash bill
Age Statement: NAS (Has to be at least 4 years old to qualify for BIB)
Size: 750ml
ABV: 50% ABV
Cask Type: New American charred oak
Distiller: The Old Grand-Dad Distillery
Location: Clermont, Kentucky
Bottler: James B. Beam Distilling Co.
Purchase Location: Real Canadian Liquor Store Clareview 4950 – 137Ave NW Edmonton, Alberta, Canada
Purchase Date: January 2020
Cost: $30.54 including GST & Deposit
Tasting Notes From The Old Grand-Dad Website:
The web site the https://www.theoldswhiskeys.com/whiskeys doesn't work, so the link in the title above is to the Wayback Machine on may 13th 2020.
TASTING NOTES: Oaky, Fruity, Cantankerous
Colour: Bronze
TransparentSmoke Review: This bottle is dated June 28th 2019 and was gifted to my daughter on the birth of my first grandson in January of 2020, because I became an Old Grand-Dad! She recently gave it back so I could do this review.
I have never seen the 80 proof version and you can't find the 114 proof up here either. But Old Grand-Dad Bonded 100 Proof is everywhere. I first ran into this bottle at a local bar called Have Mercy. I like to try and re-make cocktails, so I sidled up to the bar and asked some questions and then went home to try and recreate them myself. Old Grand-Dad Bonded 100 Proof has been a part of my bar ever since.
Researching for this review I found out that the Old Grand-Dad the packaging refers to is Basil Hayden. I also found out while researching, that the Beam-Suntory site, the Jim Beam site and the entire internet has no idea where the Old Grand-Dad website is right now. I found a thread of a clue that it had been moved to a website called theoldwhiskies.com but that doesn't exist either. So I used the Way back Machine to link to a page from May 13th 2020.
I like the nose on this, rye spice, orange zest, corn and brown sugar. But mostly brown sugar by a huge margin. There is oak and rye spice on the palate hidden under the brown sugar. The finish is nice because the 50% ABV causes a beautiful chest warming feeling.
Full disclosure about how I score, I have pushed this up to an 81 because I know just how well this works in cocktails. Truly an "excellent" dram when used correctly.
Our Score: 81/100
Bottles on Hand: