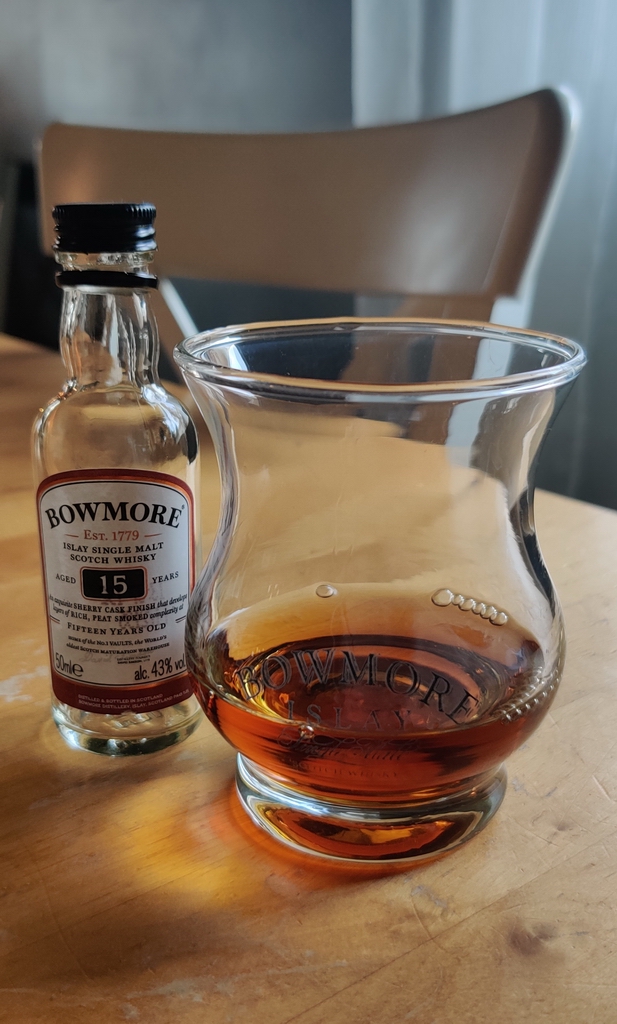 Tasting Date: 2021-05-20
Region: Scotch Whiskey – Islay
Type: Single malt
Age Statement: 15 Years
Size: 50ml
ABV: 43% ABV
Cask Type: Matured in ex bourbon casks and then finished in first fill oloroso sherry casks for three years
Distiller: Bowmore Distillery
Location: The distillery lies on the South Eastern shore of Loch Indaal, Scotland
Bottler: Morrison Bowmore a facility in Springburn, Glasgow.
Purchase Location: Germany
Purchase Date: Received as a gift in December 2020 (Bottle is dated August 7th 2017)
Cost: Free
Tasting Notes From The Bowmore Website:
BREATHE IN: Dark chocolate and raisin aromas compliment the classic Bowmore smokiness
SIP: Wonderful cedar wood and rich treacle toffee flavours
SAVOUR: Spicy, toffee, sherry and barley
Colour: Burnt Sienna
TransparentSmoke Review: Reviewing mini samplers sucks sometimes. Just when you find a whisky you want to spend the night with, you remember that all you had was that wee dram. This is one of those whiskies. I opened it tonight because it is on sale for the May long weekend in and around Alberta. I had never previously tried it, so I figured now was a perfect time to dive in. If I like it, I didn't want to miss the sale.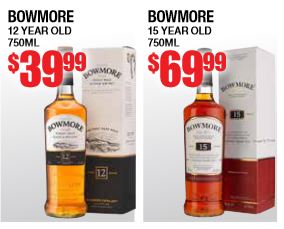 I got this mini in a gift set from a friend who doesn't drink. They received the gift set from a friend in Germany and kept it on their shelf for three long years, not knowing what to do with it. Until I showed up and fixed a little computer problem and they rewarded me with the gift set. A 700ml bottle of Bowmore Aged 12 year and two minis. One this mini bottle of Bowmore Aged 15 Years and the other a mini of Bowmore No. 1, all with bottling date stamps from the summer of 2017.
I have reviewed the Bowmore 12 year and the Bowmore 18 year already and I am scoring this one almost in the middle of those two classics. The sherry does add a wonderfully sweet overtone to the whisky and a noticeable finish to the dram.
The nose begins with the smell of peat and I can't find the chocolate or raisin they say is there, at all. Instead I find rich fruit puree. Bowmore's peat is something of a marvel and I think it is at a perfect entry level. This is the dram that will make new Scotch fans fall in love with peat. A sip washes wood and smoke over you and complex sweetness that isn't the caramel and brown sugar of a bourbon, but also isn't really sherry either. I like their official tasting notes of treacle toffee or thick molasses toffee it probably is the most accurate description of the sweetness in the dram. The finish is all sherry and I like that.
For the sale price of $69.99 or US$57.97 as of May 20th 2021, this requires no decision making at all. If you can afford it and you drink whisky, Bowmore Aged 15 Years needs to be on your shelf. PS: Since you are out, pick up the Bowmore Aged 12 years while you are there.
Our Score: 82/100
Bottles on Hand: