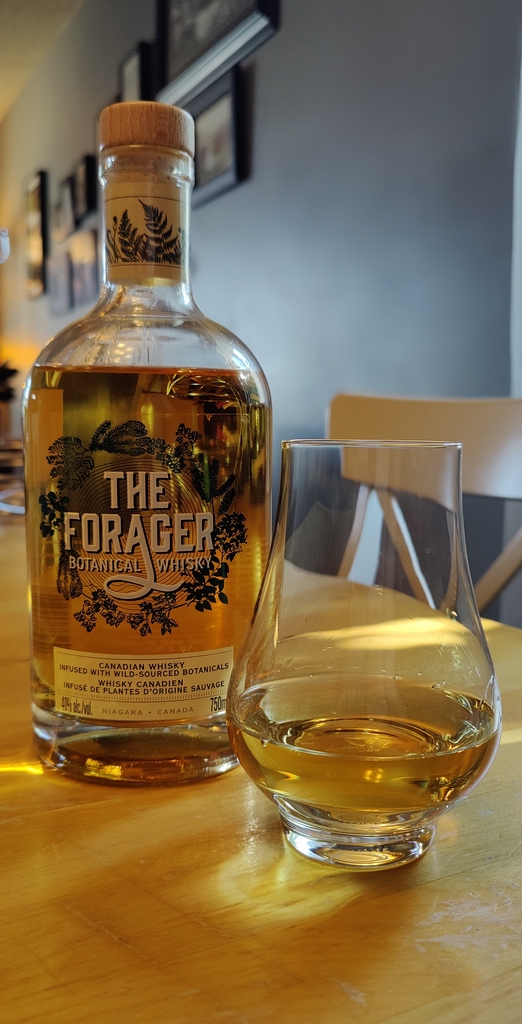 Tasting Date: 2021-06-29
Region: Canadian Whisky
Type: Flavoured
Age Statement: NAS (The whisky is aged initially for four years, then select botanicals are steeped for 48 hours in the liquid, creating a botanical-infused spirit)
Size: 750ml
ABV: 40% ABV
Cask Type: Virgin oak casks
Distiller: Forty Creek Distillery
Location: Grimsby, Ontario, Canada
Bottler: Forty Creek Distillery
Purchase Location: Cold Ones Liquor Discounter 13443 Fort Rd NW, Edmonton, Alberta, Canada
Purchase Date: March 25th 2021
Cost: $27.39 including GST & Deposit
Tasting Notes From The Forty Creek Website:
AROMAS: Bright citrus and light toffee, pine needles and straw
FLAVOUR: Lively white pepper, flares of sandalwood and pine evolve on the palate
FINISH: Great minerality, herbs and baking spices dominate the finish with diminishing acidity
Colour: Light amber
TransparentSmoke Review: This is the first time my whisky has had a recipe on it to tell me how to drink it. I tasted it neat and then followed the recipe to see if it improved it much. It didn't. I must say that I respect companies for giving me ideas on how to use their products on their websites. But a full recipe on the back of the bottle is just going too far.
The Forager & Tonic
1oz The Forager Botanical Whisky
3oz Tonic
Build in a tall glass, over ice
Garnish with a slice of lemon
The Forager Botanical Whisky goes so far as to actually point out that this may "delight whisky and gin enthusiasts" on their ForagerWhisky.com website. Well I wonder if they knew that when I'm not drinking whisky, my drink of choice was gin? I believe they had to have known and that they engendered this product just to appeal to my gin loving side. It worked BTW, that's why I bought it. (Inserting street cred here: The Botanist by Bruichladdich is the best gin ever!)
The real question isn't: Is The Forager Botanical Whisky better as a cocktail? The question we should be asking is: Is a gin flavoured whisky better than a whisky flavoured gin? To determine a winner I am putting The Forager Botanical Whisky up against Hansen's Barreled Troubled Gin.
| | |
| --- | --- |
| The Forager Botanical Whisky (Gin flavoured whisky) | Hansen's Barreled Troubled Gin (Whisky flavoured gin) |
| NOSE: Grassy herbal notes and buttery oakiness | NOSE: Juniper and floral notes and bourbon sweetness and awesomeness |
| PALATE: Juniper and rye spice and mineral metallic astringentness | PALATE: Burnt caramel and vanilla essence and awesomeness |
| FINISH: A bitterness and mineral odd aftertaste | FINISH: Clean and sharp and awesome |
| OVER ALL: Not as good as I wanted it to be (65/100) | OVER ALL: Awesome (82/100) |
The Forager Botanical Whisky has a few parts that are a little off. I am going to have to dig into some Forty Creek Canadian whiskies to see if the problems are whisky or botanical in nature. If this is the industry's first try at a gin inspired whisky I want to give them full marks. It is drinkable and even able to replace gin in a simple Gin and Tonic with lime. But it doesn't come close to how awesome Hansen's whiskey finished gin is. 65 vs 82 out 100.
Our Score: 65/100
Bottles on Hand: