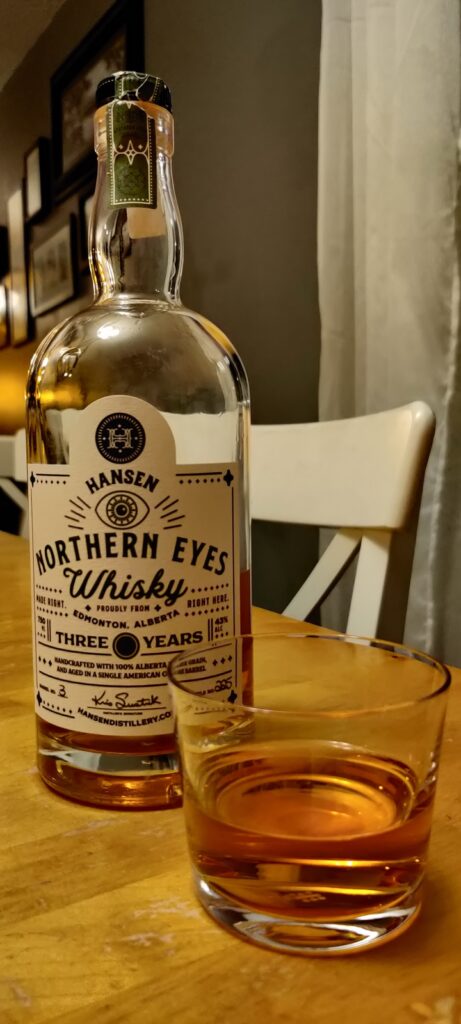 Tasting Date: 2021-04-14
Region: Canadian Whisky
Type: 100% rye grain
Age Statement: 3 Years
Size: 750ml
ABV: 43% ABV
Cask Type: A single American oak barrel
Distiller: Hansen Distillery
Location: 17412 111 Ave NW, Edmonton, Alberta, Canada
Bottler: Hansen Distillery
Purchase Location: Hansen Distillery
Purchase Date: Some time after February 11, 2020 (That was the date they released Barrel No. 1 Bottle No. 1)
Cost: $72.45 including GST & Deposit
Tasting Notes From The Hansen Website:
NOSE: pear, leather, and tobacco
PALATE: savoury and spicy with notes of dark caramel, mild vanilla, black pepper, and caramelized banana.
FINISH: crisp with spiced pear while the barrel char and mild tobacco notes linger long afterwards
Colour: Amber
TransparentSmoke Review: I am pretty sure this was a gift, but I can't for the life of me remember which kid got me this. Or for what special occasion. I do know that it had to be after February 11 2020 because that was the date of the premier release of barrel number 001, bottle number 001. Hansen Northern Eyes Whisky is the very first whisky to be made and aged in Edmonton, Alberta, Canada. I do know that because mine is Barrel Number 3 and bottle number 225 no one stood in line for that first release of 500. More was supposed to be made available after March 5th, 2020. Then on March 15th, 2020 Alberta went into lock down because of the SARS-CoV-2 virus. You will have to forgive me if I had other things on my mind and the origin of this bottle has escaped me.
The nose on this is overwhelmingly leather and tobacco. I've been to a Cuban cigar factory and this whisky's smell was there in the factory in Cuba, albeit it is much fainter in the drink, than at an actual cigar factory. The palate is distinctly rye notes of not to complicated spice and pepper. On the finish I get the tobacco back, but I worry what they call a long finish is just me smelling the tobacco on my own breath because it seems to be ever present.
What I really want to know is who did the tasting and got pear? And then convinced the marketing people that it was there at such a level that they should put it in the tasting notes. For the nose and the finish! That person has a set of taste buds I would kill for because I couldn't find this anywhere in my bottle of Hansen Northern Eyes Whisky. It would have been nice because the lack of it left this dram a little one dimensional and I could only give it a 71.
Our Score: 71/100
Bottles on Hand: