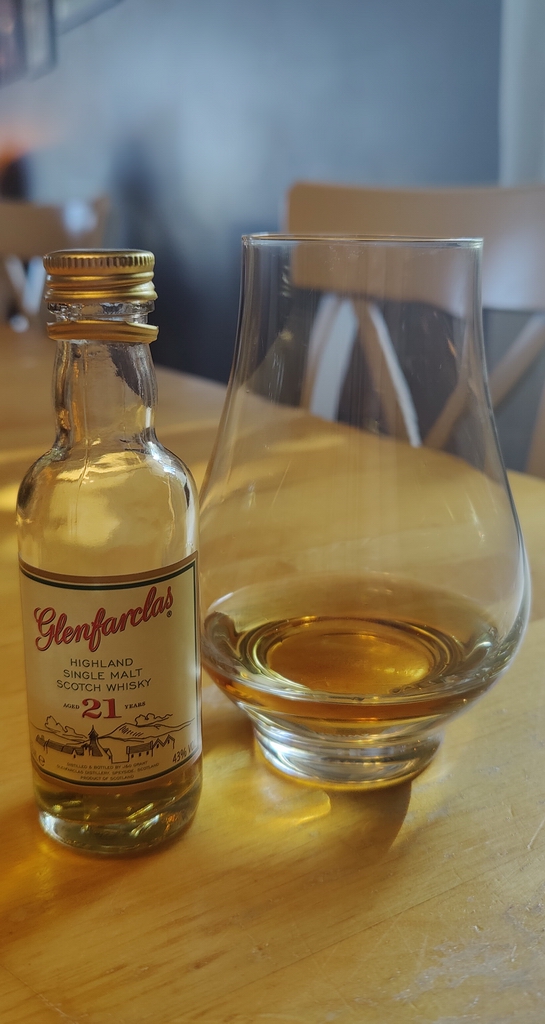 Tasting Date: 2021-06-30
Region: Scotch Whisky – Speyside
Type: Single malt
Age Statement: 21 Years
Size: 50ml
ABV: 43% ABV
Cask Type: 100% Oloroso sherry cask maturation
Distiller: J & G Grant Glenfarclas Distillery
Location: Ballindalloch AB37 9BD, Speyside, Scotland
Bottler: J & G Grant Glenfarclas Distillery
Purchase Location: Ace Liquor Londonderry 14010 66St NW Edmonton, Alberta, Canada
Purchase Date: June 16th 2021
Cost: $16.89 including GST & Deposit
Tasting Notes From The Glenfarclas Website:
NOSE: Intense, full of aromas – sherried fruit, tropical fruit, nutmeg and almonds with slight citrus notes at the end.
FLAVOUR: Full bodied rich and rounded, develops slowly into fruity and spicy flavours.
FINISH: Long-lasting and smooth with a chocolate feel at the back of your throat.
Colour: Dark amber-gold
TransparentSmoke Review: When I bought this I thought this to be the most expensive whisky I had ever purchased at $16.89 an ounce. Bad math. Turns out $16.89 times 26oz is not how you figure out the cost of the bottle. These samplers are 50ml not an ounce . When I did the math properly (700ml ÷ 50ml = 14) and determined that if I had purchased a full 700ml bottle of Glenfarclas Aged 21 Years it would have only cost me 14 x $16.89 = $236.46. I was astounded, because you can buy a full bottle for $134.99 right now.
Expensive per drink, but not the most expensive whisky I have ever bought. The most expensive bottle I ever bought is a bottle of Jack Daniel's Sinatra Select that I paid $304.50 for October 2020. But even it does not win the title of most expensive per millilitre, because the Sinatra was a 1000ml bottle. The actual most expensive whisky I have ever purchased per millilitre was the GlenDronach Parliament Aged 21 Years at $279.95 for 700ml or $19.99 per 50ml.
There is more to consider though, the picture below is the only one I took of the bottle unopened and it shows how much of the Glenfarclas sampler was lost over the years. This bottle of Glenfarclas Aged 21 Years was old and had lost a lot of volume to evaporation. The date code says L 30 11 16 6 10:52 88 and my research on the internet leads me to believe that the bottling date of this bottle was November 30th 2016. Over 4 years and seven months ago. So for the sake of argument, if we assume that maybe 15% was missing and there was only 42.5ml in the sampler ((700ml ÷ 42.5ml) = 16.47 x $16.89 = $278.19) it is still not enough to declare this the winner by a mere $1.76.
So now that I have exhaustively figured out that this is the second most expensive drink I have ever had, I can definitively tell you, that it wasn't worth that much. That this is a sherry bomb there is no doubt, but that is almost all I found in it. Brown sugar and dried fruits and the smell of sherry wine dominate. I had guessed that I tasted bourbon cask influence and found myself eating crow on my tasting notes because this is fully aged in Oloroso Sherry casks. I think the brown sugar and a hint of oak made me miscall this one.
The palate is simple and using a phrase my kids taught me: It is crushable! This is the definition of a dram that doesn't burn. You can drink it way faster than you should. It also doesn't surprise, there is just oak and dark fruits on the palate. The finish is lackluster, but I think that lends to it's crushablity. All my complaining aside, Glenfarclas Aged 21 Years is an excellent whisky, but buying it in old 42.5ml samplers makes it far too expensive to recommend. I might consider trying it again one day, but only if I buy it by the bottle.
Our Score: 83/100
Bottles on Hand: