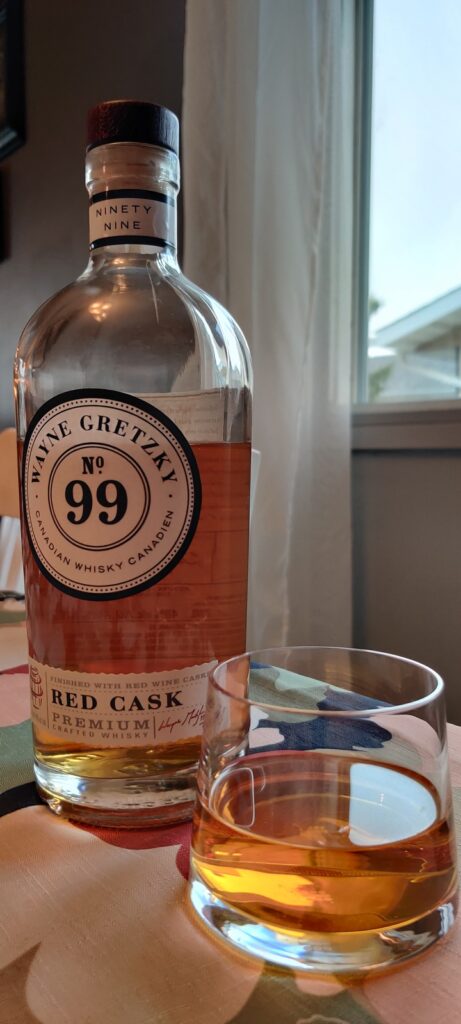 Tasting Date: 2021-04-07
Region: Canadian Whisky
Type: Rye whisky – In Canada Canadian whiskies are often referred to as "rye" if they contain any percentage of rye whisky. From the Wayne Gretzky Estate web site "[Wayne Gretzky Red Cask Whisky] is made in small batches from grain (rye, malted rye and corn) that has been individually mashed, fermented and distilled."
Age Statement: NAS
Size: 750ml
ABV: 40% ABV
Cask Type: Ex American Oak bourbon casks and oak red wine casks from the Wayne Gretzky Estates red wines
Distiller: Wayne Gretzky Distillery
Location: 1219 Niagara Stone Rd Niagra-On-The-Lake, Ontario Canada
Bottler: Wayne Gretzky Distillery
Purchase Location: Sobeys Liquor Hollick Kenyon 5215 167 Ave NW, Edmonton, Alberta, Canada
Purchase Date: January 2021
Cost: $38.90 including GST & Deposit
Tasting Notes From The Wayne Gretzky Estates Website:
At first swirl, top notes of toasty new oak, almond nuttiness, caramel and vanilla rise from the glass followed by underlying notes that suggest nutmeg and stone fruit. Adding a touch of water brings out further notes of sweet spice and dark raisin. Round and robust with an incredibly smooth mouth-feel, a touch of woody tannin adds structure before a long, lingering finish that is smooth and sweet with flavours of nut and allspice.
Colour: Bright straw-gold with a ruby red hue.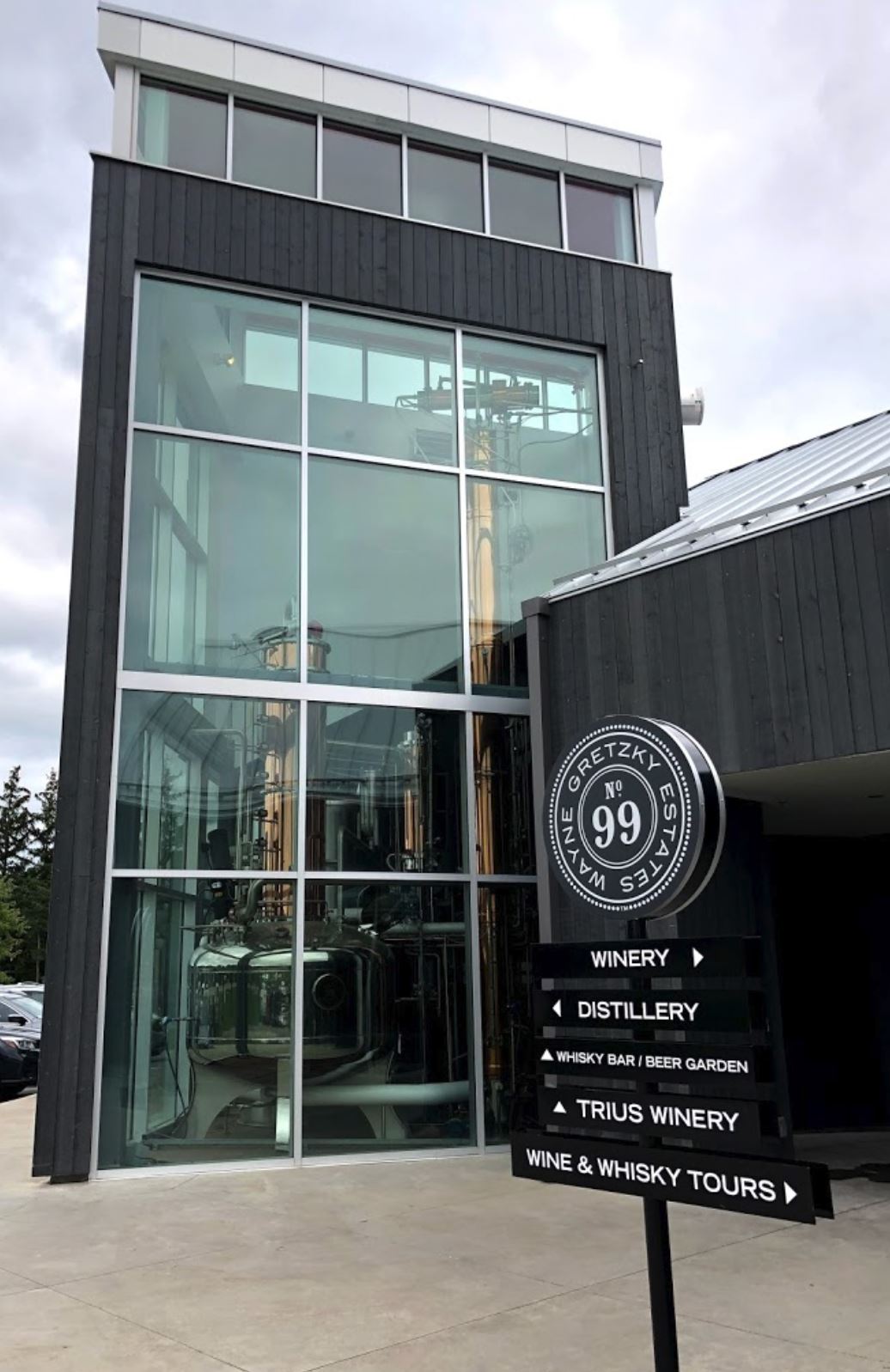 TransparentSmoke Review: Before I started researching this review I would have put money down that this was a sourced product. Bought from a distillery in Canada and then the Wayne Gretzky label slapped on it. I know Alberta Premium sells rye to most of the USA. It then comes back up here as Branded American product. Famous examples are WhistlePig and Basil Hayden's Dark Rye. It seemed likely this is how a Wayne Gretzky product came to be.
But all my research leads me to believe they are actually making their own product. I even went so far as to try and figure out of they actually had the equipment at Niagra-On-The_lake to make this like they said. They do!
The whisky is made in separate small batches of rye, malted rye and corn whiskies and then finished in their own red wine casks.
The nose is Canadian rye whisky and the palate is Canadian rye whisky and the finish is Canadian rye whisky, sweetness and some ethanol . So over all it was a nice Canadian rye whisky. If you dig into the glass and you know you are looking for it, the red wine influence is there. But I'm not sure it added anything. In fact, it kind of made me think someone had spilled wine in my whisky. But the effect the wine has is so faint I'm being picky.
In the end I had no problem drinking the Wayne Gretzky Red Cask Whisky. Finishing my wee dram made me think of the fact that for years I have been the only person I know that drinks a Kalimotxo (Red Wine and Coke). I just kinda wished I had had some Coca-Cola to finish the bottle as a classic "Rye and Coke". The Red Wine finish on the Wayne Gretzky Red Cask Whisky might just be the perfect melding of those two amazing summer drinks on ice. I'll report back when I try it.
Our Score: 61/100
Bottles on Hand: