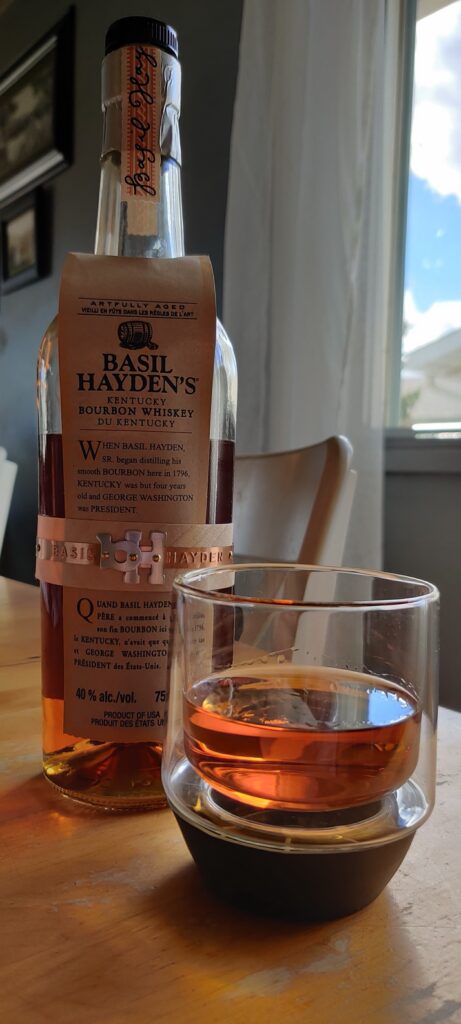 Tasting Date: 2021-04-08
Region: American Whiskey
Type: Bourbon – mash bill of 63% corn, 27% rye, and 10% malted barley
Age Statement: NAS (Prior to 2014 it had an 8 year statement)
Size: 750ml
ABV: 40% ABV
Cask Type: New charred American oak
Distiller: Kentucky Springs Distilling Co.
Location: 149 Happy Hollow Road, Clermont, Kentucky, USA
Bottler: Kentucky Springs Distilling Co.
Purchase Location: Wine and Beyond St. Albert 760 St Albert Trail Unit 200, St. Albert, Alberta, Canada
Purchase Date: December 2020
Cost: $43.10 including GST & Deposit
Tasting Notes From The Basil Hayden's Website:
AROMA: Charred oak and sweet notes of vanilla & caramel with hints of dried fruit
TASTE: Charred oak flavor that is complemented with sweet brown sugar, a touch of black pepper, and dried fruit to round it out
FINISH: A pleasant, lingering charred oak finish with a touch of dried fruit
Colour: Golden brown
TransparentSmoke Review: The perfect Whisky Sour is part of my tale of Basil Hayden's Kentucky Straight Bourbon Whiskey. First to do this right you need all of things in the correct order. Here is how they are made:
The Prefect Whisky Sour
1) You will need a cocktail shaker, an old fashion glass, a jigger, a sauce pan and a spoon.
2) Your ingredients
a) Basil Hayden's Kentucky Straight Bourbon Whiskey
b) fresh lemons
c) eggs or a box of egg whites
d) ice
e) Bittered Sling Plum & Rootbeer Bitters
f) sugar
g) water
h) Cherry for garnish (optional)
2) Make simple syrup in advance and store in fridge: Add 1 part sugar to 1 part water to a sauce pan. Heat and while stiring until the sugar disappears. I usually make mine by combining 1 cup of each. It will last in the fridge for three months in a sealed container. DO NOT BOIL MIXTURE!
3) Juice some lemons and refrigerate. You can keep the lemon juice for about two weeks with no noticeable change, up to a month if you need to, but it becomes less vibrant.
4) Fill the cocktail shaker and glasses with ice to chill them before you begin. When You are ready dump all of the ice back and empty any melted water from cocktail shaker and glass. Re-fill each half way with new ice.
5) Add the following ingredients to the half filled cocktail shaker:
2-3 Oz Basil Hayden's Kentucky Straight Bourbon Whiskey
1 Oz fresh squeezed lemon juice
1 Oz simple syrup
.5 Oz egg white (Or the white of one real egg (yolk removed))
6) Shake vigorously for 15-30 seconds. Fifteen seconds to just make sure the drink is frothed, thirty to water it down a bit if required.
7) Strain from cocktail shaker into old fashion glass half filled with ice,
8) Top with Bittered Sling Plum & Rootbeer Bitters and a cherry if you have one.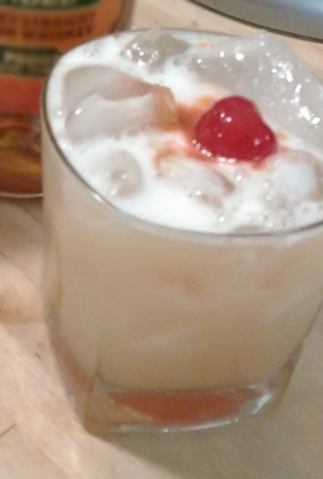 This is how I was introduces to Basil Hayden's Kentucky Straight Bourbon Whiskey. It's a damn easy way to learn. The rye spice in Basil Hayden stands up to the lemon and the rootbeer bitters. But not like it is standing up fists out fighting, more like it's just quietly putting it's hand in the air to be counted.
Basil Hayden's Kentucky Straight Bourbon Whiskey is a budget bourbon that has been acknowledged as having substance and we see the price jumping because of it. Great in cocktails and fine on it's own. This should be in everyone's liquor cabinet.
PS: If you are still reading this far. The above recipe if perfect for the first drink of the night or for someone new to Bourbon. If you have done this before, cut the lemon and simple syrup in half. Basil Hayden's is a sweet bourbon to begin with. You will be fine :).
Our Score: 83/100
Bottles on Hand: