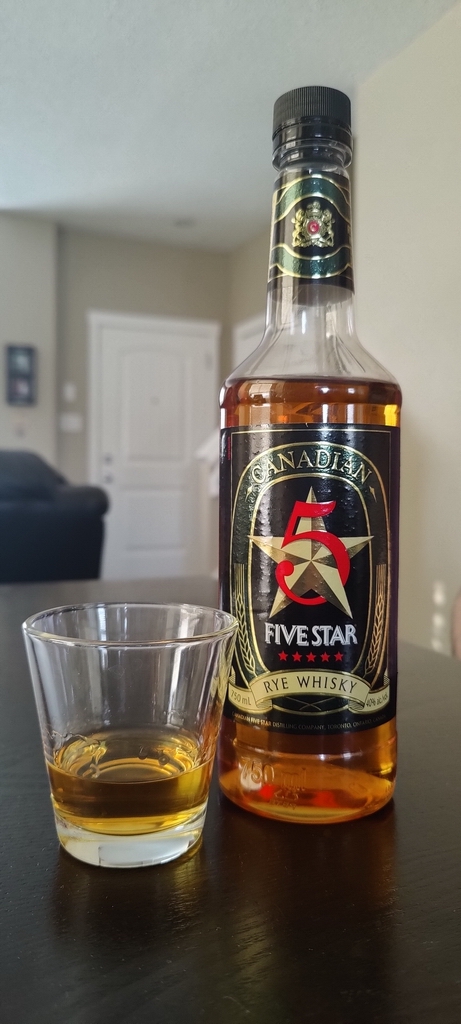 Tasting Date: 2021-07-10
Region: Canadian Whisky
Type: Blended
Age Statement: NAS
Size: 750ml
ABV: 40% ABV
Cask Type: unknown
Distiller: Sazerac
Location: Toronto, Ontario, Canada
Bottler: Canadian Five Star Distilling Company
Purchase Location: South Fort Liquor #101 121 Town Crest Rd. Fort Saskatchewan, Alberta, Canada
Purchase Date: June 5th 2021
Cost: $24.00 including GST & Deposit
Tasting Notes From A Random Website:
Five Star does not exist on any web page. It does not appear under the defunct Seagram's name nor is it listed on the Sazerac website, who purportedly now make and distribute it. Below is a product description that appears frequently in online liquor store descriptions.
The nose has a light balanced hint of fruit and nuts with soft touches of oak. Soft and pleasant on taste with a slight dryness on finish. Canadian Five Star is a versatile whisky that goes extremely well with all mixers.
Colour: Gold
TransparentSmoke Review: Canadian Five Star Rye Whisky, not what I want to call it. I want to call it Seagram's Five Star Rye Whisky. There are plenty of examples of bottles labelled exactly as I expect all over the internet. I even found a picture of one that says Seagram's Canadian Five Star Rye Whisky to split the difference. But the new bottle I drank is suspiciously missing the word Seagram's all together.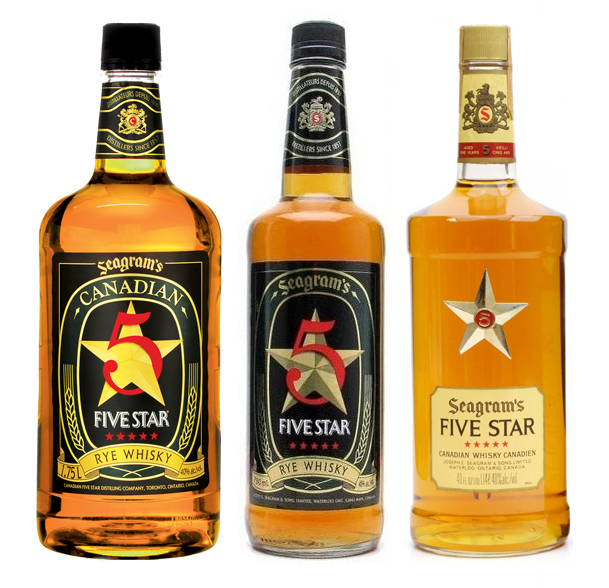 Ultimately it is kinda understandable the name is slowly disappearing. Let me tell you the story: Way back in the 1970's Seagram's was the largest liquor company in the world. With billions in assets in everything from whisky to oil, rum (Captain Morgan's) to coal, Seagram's was a juggernaut. When CEO Sam Bronfman died in 1971 his son Edgar Bronfman took over and did well enough as CEO. Turning a respectable profit for the next 20 years, he even brokered a deal that ended up with Seagram's owning 24.3% of Dupont Chemicals, which accounted for 70% of Seagram's profits by 1995.
In contrast his son Edgar Bronfman Jr., who was raised in the lap of luxury, never took to the family business of whisky and oil. So when Junior took over Seagram's in the early 90's he decided to take the company into the entertainment business. Seagram's sold assets, including the Dupont shares for 9 billion, to fund billions of dollars of stock purchases in Time Warner, MCA, Universal and the PolyGram N.V. music company. He ultimately decided to merge Seagram's in 2000 with the French conglomerate Vivendi (a water and sewage company that also had dreams of also being an entertainment company).
The Bronfman family did well financially, but after the merger Vivendi chose to spin off the liquor businesses and sold them all to interested companies like Pernod Ricard, Coca-Cola and Diageo. Then in 2018 Diageo sold Seagram's V.O., Seagram's 83 and Seagram's Five Star off to the Sazerac Company. The Sazerac Company owns brands like Buffalo Trace, Weller, Eagle Rare, E.H. Taylor and Blantons, some of the biggest names in bourbon in the world. So it is kinda understandable that Sazerac would slowly be removing the name of a whisky company that doesn't really exist anymore, at the same time working hard to not lose those loyal customers that swear by their Canadian Five Star Rye Whisky.
I'm not old enough to have drank Canadian Five Star Rye Whisky in its heyday under Seagram's. Though I do remember having a purple felt bag filled with the gold plastic stars so we could pretend to be the Sheriff and his Deputies. If Sazerac really wants to bring Canadian Five Star Rye Whisky back, I think they should start there, by putting the plastic gold stars back on the bottles.
The liquid inside is much easier to explain than the name change. It is simple, mild and sweet. The nose is a cross between a glass of Crown Royal and a small dram of Sazerac Rye, brown sugar and a hint of rye spice may be more descriptive. There is little to no burn in the mouth and the rye spice is even milder on the palate. Sipping away at a whole glass I found some small amount of citrus notes that kept popping in and out on me. It wasn't bad, but it was one of the simplest drams I have ever had. Probably should have drank it with coke.
Our Score: 57/100
Bottles on Hand: