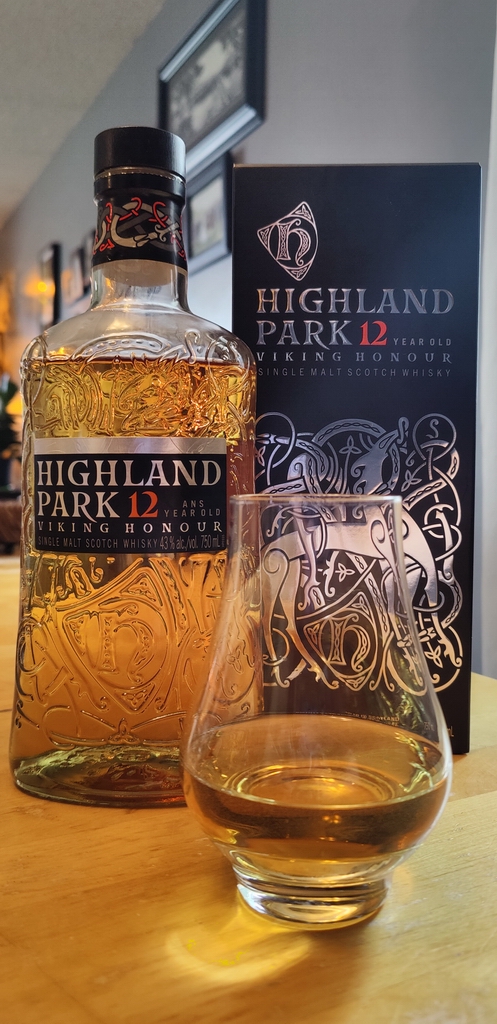 Tasting Date: 2021-07-06
Region: Scotch Whisky – Highlands
Type: Single malt
Age Statement: 12 Years
Size: 750ml
ABV: 43% ABV
Cask Type: Predominantly sherry seasoned European and some American oak casks
Distiller: Highland Park Distillery
Location: Holm Rd, Kirkwall, Orkney Islands, Scotland
Bottler: Highland Park Distillery
Purchase Location: Olympia Liquor Skyview 13538 137 Ave NW Edmonton, Alberta, Canada
Purchase Date: April 1st 2021
Cost: $49.44 including GST & Deposit
Tasting Notes From The Highland Park Website:
Warm wintery spices that are engulfed in waves of smoky honey, fruitcake and heather.
FLAVOURS: Heather honey | Rich fruitcake | Winter spices | Seville oranges | Aromatic smoky peat
From bottle back: Natural colour, heather honey sweetness, rich fruit cake, aromatic smoky peat.
Colour: Glowing amber (Natural colour)
TransparentSmoke Review: This is my first time having a dram of Highland Park 12 Viking Honour since back before they changed the packaging in 2017. The last time I had this there was no "Viking Honour" in the name, it was just called Highland Park 12. I have a bottle from back then, I thought about opening it to check and see if it tasted the same as this one. It was a hard fought internal conflict that ultimately resulted in me deciding that I needed to do a Highland Park standalone review first and that I could do a comparison review some day down the road.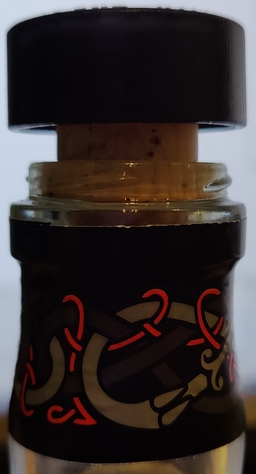 The date on this bottle reads L0397C L04 21/10 16:38. If you read my Macallan Triple Cask Matured 12 Years review it will explain that the "C" at the end of the first set of letters should be an indication that this was bottled in 2021. My problem with that is that the date code 21/10 should indicate the day and month, but it isn't October yet. So that must mean that they used two letters in 2020. Both "B" and "C" must be 2020 bottling dates. I suppose this is why they use codes in the first place.
Before I tell you how it tastes, I think it pertinent to tell you that it has the coolest "chungus" of a cork. This thing is huge! It make the nicest popping noise, and it has a 1/8th twist lock to make sure it doesn't come off. This is someone thinking it through, I appreciate that.
Just like I remember, this is clean and simple and easy. Sherry cask influences are predominant, but a small amount of heathered honey and peat can be found. The touch of peat lifts and enhances what could be a Glenmorangie clone if it was absent.
The palate is fruits like pineapple and pear, with a little mid tongue burn. Not a dramatic burn, more at the level of gargling yellow Listerine burn. Brown sugar makes itself known as you swallow and smack your mouth clean to get ready for the next dram.
This whisky has a purpose. It should probably say: "Start here!" in those Celtic knots on the bottle. That way people looking for a wonderful introduction to highland whisky would know where to start their adventure. I thoroughly enjoyed revisiting this dram. Clean, simple, and easy. Recommended for newbs.
Our Score: 77/100
Bottles on Hand: