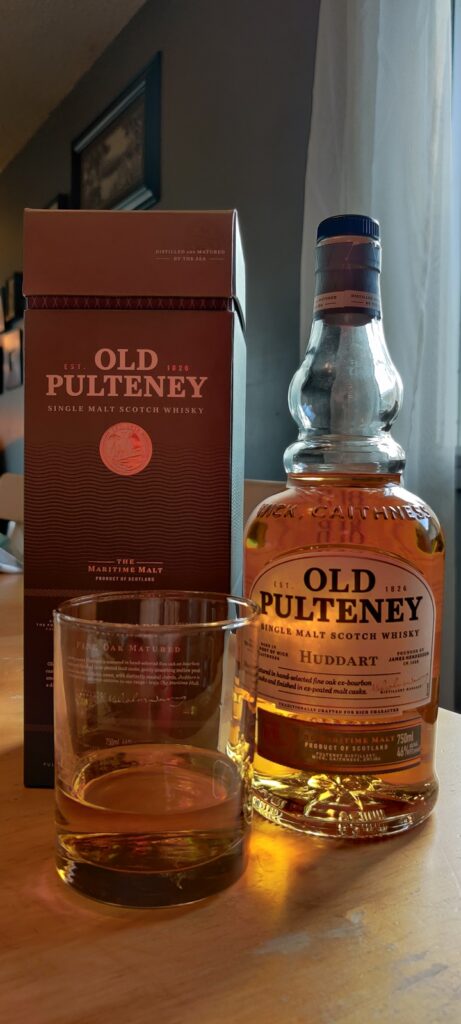 Tasting Date: 2021-04-09
Region: Scotland – Highland
Type: Single malt
Age Statement: NAS
Size: 750ml
ABV: 46% ABV
Cask Type: Hand-selected fine oak ex-bourbon casks and finished in ex-peated malt casks
Distiller: Pulteney Distillery
Location: Huddart St, Pulteney Distillery, Port of Wick, Caithness, Scotland
Bottler: Pulteney Distillery
Purchase Location: Sobeys Liquor Newcastle 16831 127 St NW, Edmonton, Alberta, Canada
Purchase Date: 2021-04-09
Cost: $57.84 including GST & Deposit
Tasting Notes From The Old Pulteney Website:
AROMA: Rich and warming. Brimming initially with mellow wood smoke, honey and oily leather, blooming later into crisp green apple. Creamy vanilla and a hint of burnt toffee in the background.
TASTE: Freshly-ground spices and soft vanilla balance the notes of smoke and peat fire. There are both richly sweet and distinctly salty coastal flavours in the background, together reminiscent of salted caramel.
Colour: Rich gold
TransparentSmoke Review: This dram makes no excuses of where it came form and what conditions it was developed in. Sea air and peaty casks leave an astringent, complicated taste on the palate. FYI: And yet it tastes better than it smells.
I spent the night exploring this dram, as the reviews I had seen online made me want to see if it was complicated enough for me… it is by the way. It has a nose I can't quiet take apart. But the palate is oak and sea brine and sugar. By the third glass I started drinking it with ice and that opened the flavours, so that on occasion I could find the salted caramel. For 55$ this competes favourably with Glenrothes 12 year. It's in a totally different direction but I would say I enjoyed it just as much.
New for the 2018 whisky season and just hitting Edmonton on sale in 2021. This is totally worth it if you can grab it on sale like I did. It sells for $75 regular price. If you can't grab it on sale, save your money buy the Glenrothes instead and bum a dram of this from your buddy.
Our Score: 78/100
Bottles on Hand: