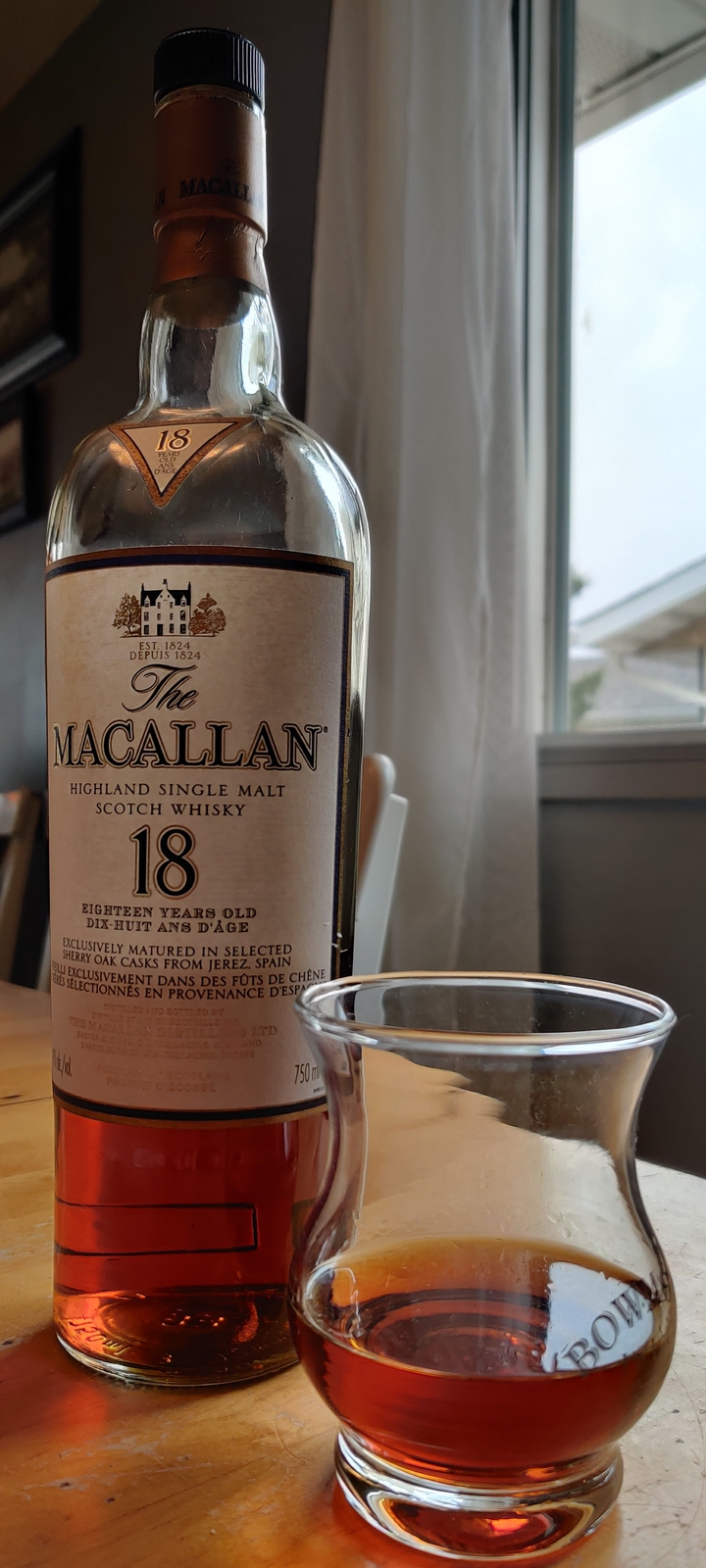 Tasting Date: 2021-03-28
Region: Scotch Whisky – Speyside
Type: Single malt
Age Statement: 18 Years
Size: 750ml
ABV: 43% ABV
Cask Type: Sherry Oak casks from Jerez, Spain
Distiller: The Macallan Distillers Ltd.
Location: Easter Elchies Craigellachie Scotland
Bottler: The Macallan Distillers Ltd.
Purchase Location: Unknown
Purchase Date: ~2008 based on date code – L0795G L8 16/10 14:33 (The G in the date code means bottled 2007)
Cost: unknown (less than 200$)
Tasting Notes From The Macallan Website:
NOSE: Dried fruits and ginger with hints of vanilla and cinnamon.
PALATE: Soft and rich, with hints of spice, clove, orange and toasted mature oak.
FINISH: Lingering with dried fruits, ginger and orange zest.
Colour: Light mahogany.
TransparentSmoke Review: Well this is a perfect case study of why you should just drink your favourite whiskies with friends and family and not keep them because they "cost a lot". Ultimately so much time has passed that I can not recall where or when or why I purchased this bottle. That's kind of the point of this site, to help me track everything.
This bottle of The Macallan 18 has been sitting there, since I first tried it, half filled and unopened for at least 10 years. I know this because it had a very special spot on my shelf holding the shelf above it up. It required me to totally remove everything from the shelf above to get at it. The cork has suffered some extreme failure and I now have cork dust in the whisky. I replaced the cork after this tasting, but the tasting tells of more problems.
In the years on the shelf, even undisturbed, the whisky has changed. The nose is more subtle and the palate holds charred oak over sweet sherry. Now I would love to get my hands on an unopened bottle of this same year and try it side by side this one. But with the going rate of this bottle sealed being about $1800.00 Canadian. I think that will be highly unlikely. So I will enjoy my diminished bottle as quickly as I can.
Our Score: 90/100
Bottles on Hand: