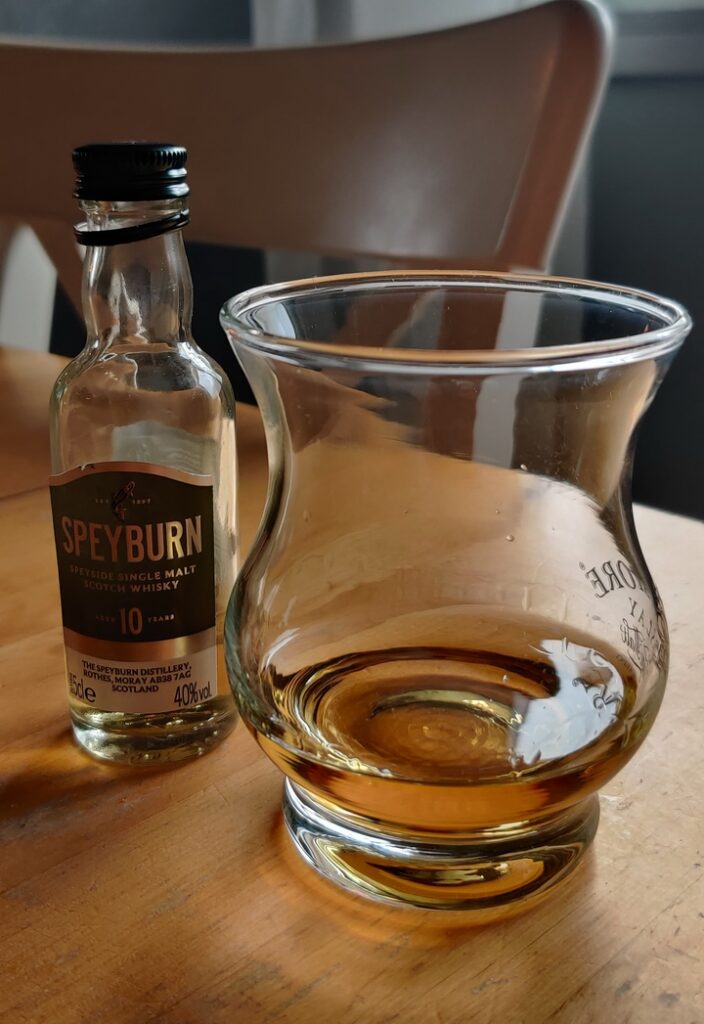 Tasting Date: 2021-04-27
Region: Scotch whisky – Speyside
Type: Single malt
Age Statement: 10 Years
Size: 50ml
ABV: 40% ABV
Cask Type: Ex-bourbon casks and also ex-Pedro Ximenez (PX) sherry casks
Distiller: The Speyburn Distillery
Location: Speyburn is an iconic distillery located in the Granty Glen (valley) opposite the Glen Grant distillery in Rothes, Moray, Scotland
Bottler: The Speyburn Distillery
Purchase Location: Chateau Louis Liquor Store 11450 117St NW Edmonton, Alberta, Canada
Purchase Date: April 26th 2021
Cost: $4.50 including GST & Deposit
Tasting Notes From The Speyburn Website:
NOSE: Fresh, clean with a hint of lemon.
TASTE: Medium bodied with hints of toffee & butterscotch and a long, sweet finish.
Colour: Pale gold with amber highlights.
TransparentSmoke Review: The date code says this miniature was bottled on June 26 2019. I find that interesting because I have never heard of Speyburn before I found this sampler. Of course they don't need to run everything past me, and I guess they haven't, because in fact it seems they have been bottling whisky since 1897. I found multiple examples of special editions dated over the last 40 years and Wikipedia says they have been releasing this specific release since 2016.
Prepping for this article I watched a few reviews and read like 10 more because I was so unfamiliar with the brand. The one thing that got me was how much people seemed to like this dram. Scoring it in the low to mid 80's most of the time. So I tried really hard to find what they found, to like what was in my glass. You can't force a score. This one falls into:
70-79 - Great: This is starting to be the good stuff, well above average.
The nose is a lemony oak. It is a clean nose, pleasant and mild. The palate didn't burst with anything you didn't expect. It kinda left me with the impression of honeyed apples and club soda. The finish is short and there was very little chest warmth. Overall this is a pleasant light whisky. I would very much like to try it in place of GlenMorangie The Original at a dinner party, during dessert, alongside a plate of poached pears.
Our Score: 71/100
Bottles on Hand: