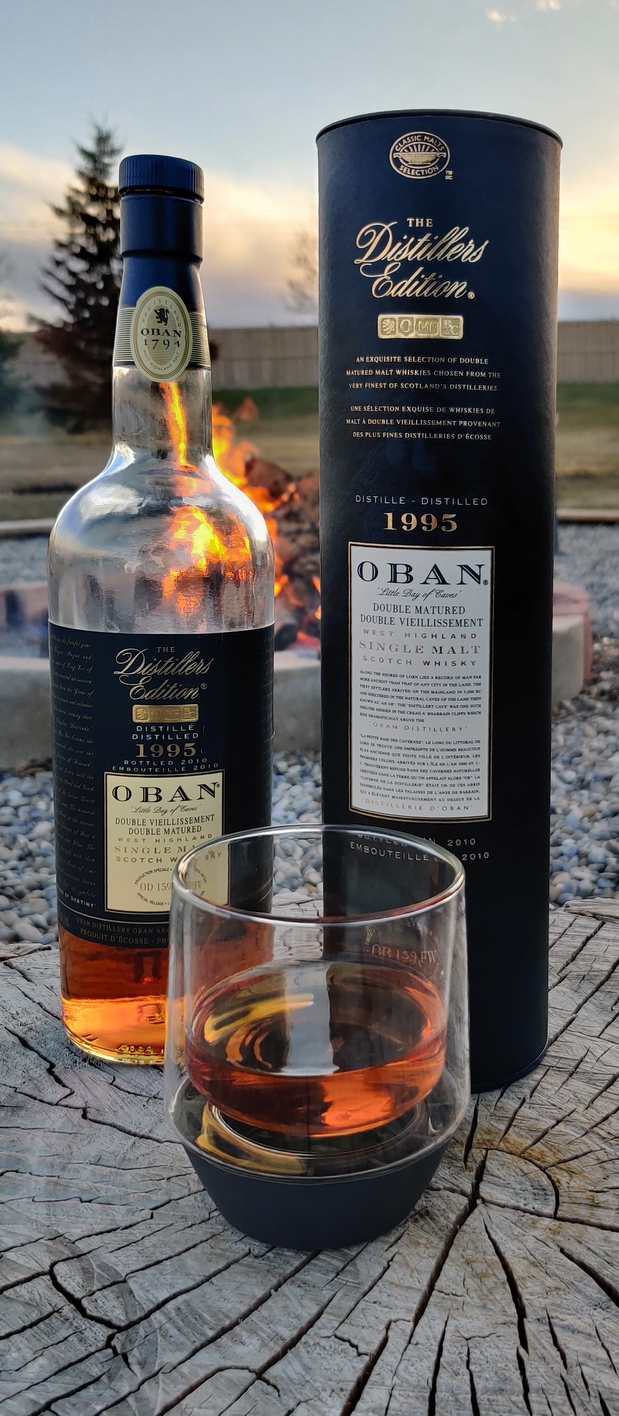 Tasting Date: 2021-04-30
Region: Scotch Whisky – Highland
Type: Single malt
Age Statement: 15 Years
Size: 750ml
ABV: 43% ABV
Cask Type: Ex-bourbon American oak casks for 14 years then a second maturation in Montilla Fino Sherry Casks
Distiller: Oban Distillery
Location: Stafford St, Oban, Scotland
Bottler: Oban Distillery
Purchase Location: Borrowed
Purchase Date: Unknown
Cost: Unknown (The 2020 version is available at $157.49 including GST & Deposit)
Tasting Notes From The Oban Website:
PALATE: Soft malts, delicate fruits, and waves of brine.
SCENT: Delightfully complex with crushed grapes, orange zest, salt, and smoke.
FINISH: Notes of sweetened Jamaican coffee and oak wood.
Colour: Orangey bronze
TransparentSmoke Review: The Distillers Edition is a specialty production name given to six single malt scotches owned by Diageo plc, a British multinational beverage alcohol company. The distilleries include Oban, Lagavulin, Talisker, Cragganmore, Dalwhinnie and Glenkinchie. In each case the distillery's core spirit is used and given a second maturation in unique wine casks for periods between a few months to a couple of years.
When this bottle was released they were using the distillation date to label the releases, so this bottle is officially called "1995 Oban Distillers Edition Double Matured Montilla Fino Sherry Cask Wood Single Malt Scotch Whisky". I have called it Oban Distillers Edition 1995. It seems though that over the years they have moved to labelling the bottles with the bottling date. So the new bottles are called the "2020 Oban Distillers Edition". So maybe I should have called it the "2010 Oban Distillers Edition"? The front of the bottle labels it as a special release and limited edition with a batch code of "OD 159.FW".
This a sweet dram, the sherry cask adds a lot of sugar to the glass. On the nose I got a sharp smell of dark cherry, iodine and honey. The palate was brown sugar and dates with the overwhelming sensation that wine was spilled in my whisky. It wasn't unpleasant, just unique to notice it that way. I was missing the oak and peat or smoke on the finish and I wonder if that is because of the age of the bottle. I noticed when I did my Glenmorangie The Original review that the oak was missing on the older open bottle there as well.
Our Score: 76/100
Bottles on Hand: