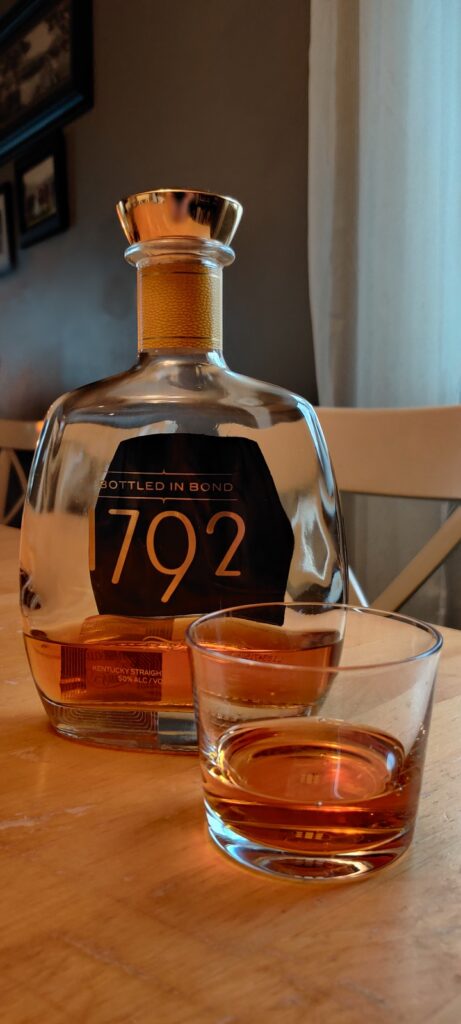 Tasting Date: 2021-04-29
Region: American Whiskey
Type: Bourbon
Age Statement: NAS (Has to be at least 4 years old to qualify for BIB)
Size: 750ml
ABV: 50% ABV
Cask Type: New charred American oak
Distiller: Barton 1792 Distillery
Location: 300 Barton Rd, Bardstown, Kentucky, United States
Bottler: Barton 1792 Distillery
Purchase Location: Chateau Louis Liquor Store 11450 117St NW Edmonton, Alberta, Canada
Purchase Date: February 2020
Cost: $89.95 including GST & Deposit
Tasting Notes From The 1792 Website:
TASTING NOTES: True to its heritage, the unmistakable spice of 1792 Bourbon is met with notes of charred oak and fresh mint. Subtle caramel apple tones are delicately balanced with the lingering essence of coffee and black pepper.
Colour: Brass and gold
TransparentSmoke Review: This bottle was gifted to my daughter, by my wife, at the baby shower for my grandson. Everyone shows up with gifts for the baby and we wanted to make sure the new mom received something just for her. The bottling date is December 13th 2018. We can track the opening of the bottle to sometime after the shower on February 22nd 2020.
This is the first time I have got to try this bottle. My daughter has been carefully rationing this for the last year. She has tried to make it last as long as she could because it marked an important day for her. Times change though, and seeing as she has just made a brand new exciting announcement, my daughter has lent me all of the whiskies in her possession, because she won't be needing them back for at least 9 months.
The nose is very inviting and perfectly balanced. Oak and brown sugar are complimented by the perfect amount of rye spice on the palate. The finish is nice, with just a hint of the rye spice lingering. All of it permeated with hints of vanilla that move in and out of your awareness as you nose and sip. This is just really good bourbon.
Google and Liquor Connect says this doesn't exist in Alberta anymore. If you can find it buy it. It's worth it.
Our Score: 88/100
Bottles on Hand: