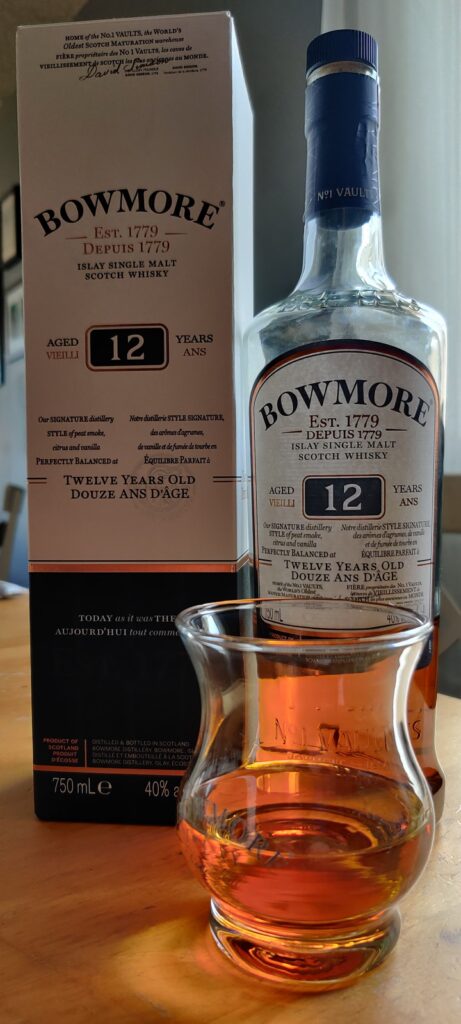 Date Drank: 2021-04-21
Region: Scotch Whisky – Islay
Type: Single Malt
Age Statement: 12 years
Size: 750ml
ABV: 40% ABV
Cask Type: Ex bourbon barrels
Distiller: Bowmore Distillery
Location: The distillery lies on the South Eastern shore of Loch Indaal, Scotland
Bottler: Morrison Bowmore a facility in Springburn, Glasgow.
Purchase Location: Real Canadian Liquor Store Clareview 4950 – 137Ave NW Edmonton, Alberta, Canada
Purchase Date: January 6th 2021
Cost: $44.18 including GST & Deposit
Tasting Notes From The Bowmore Website:
BREATHE IN: Subtle lemon and honey, balanced beautifully by Bowmore's trademark peaty smokiness
SIP: Warm and delicious on the palate with subtle dark chocolate flavours
SAVOUR: Trademark gentle peat smoke, leading to a delicious, long and mellow finish
Colour: Warm amber
TransparentSmoke Review: This is a nice dram, but it is missing the sherry that exists in the 18. In doing the research for this bottle I found out that it seems that Bowmore basically has a pretty simple system. They first make and store their whisky in ex-bourbon barrels and put it away for 12 years. As it turns 12 they take it all out, and bottle some for the Bowmore Aged 12 Years bottles and then they put the rest back into sherry casks for three more years for the 15. When they pull the 15, they bottle what they need, and put some back in sherry casks again for the 18.
This seems to work wonders for them to be able to create a standard product. As they can taste all of the 12's to form the right release. They also would get to merge all of the whisky every three years, after the first 12, to create thousands of standardized casks. Brilliant system if it is true.
They tarnish the brilliance when they proof it down to 40% ABV, add caramel colour and chill filter the bottle to create a standardized product. Though I'm not sure they are really that worried, with Wikipedia reporting a possible output of 2 million litres of whisky a year.
So is it worth picking it up? Oh yah. Especially at that price. This is a great introduction to peat for anyone who is interested. My research says this is a bottle from July 14th 2020 based on the date code. I bought and opened it right on the heels of a bottle I finished over X-mas, that I had had for a couple of years and to be honest I do not remember a taste difference. I think the quality control is so tight that they tasted identical.
The nose is real peat, without the smoke most people mistake for peat. The lemon and honey combine to create a smell that I find uniquely Bowmore. The palate opens up and introduces the smoke. It finishes easy with a light neck warmth and hint of bourbon sweetness. Adding water or a large ice cube makes this a very easy drinker, so consider yourself warned.
Our Score: 78/100
Bottles on Hand: