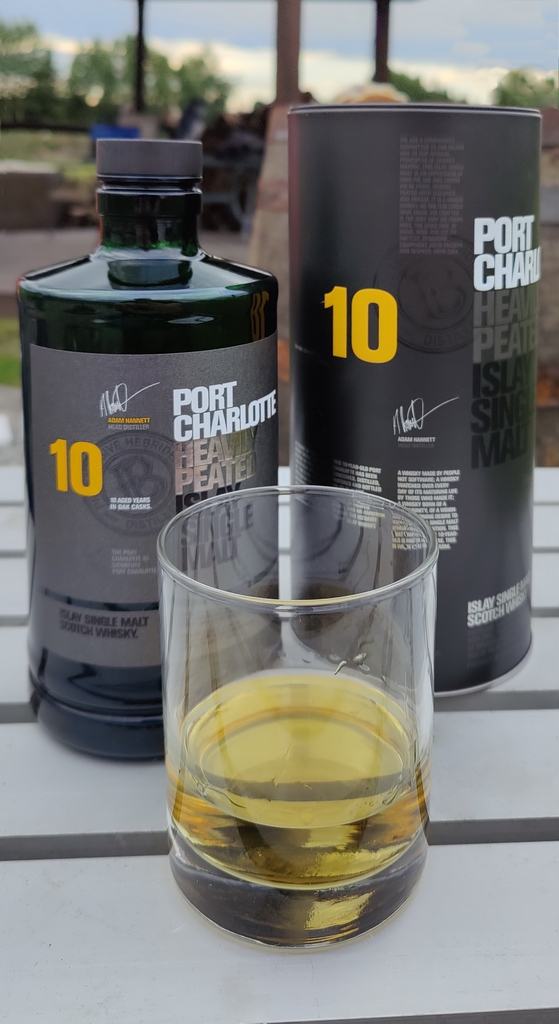 Tasting Date: 2021-06-18
Region: Scotch Whisky – Islay
Type: Heavily peated single malt
Age Statement: 10 Years
Size: 1000ml
ABV: 50% ABV
Cask Type: 65% 1st fill American whiskey casks, 10% 2nd fill American whiskey casks, 25% 2nd fill french wine casks
Distiller: Bruichladdich Distillery
Location: Bruichladdich, Distillery, Isle of Islay, Scotland
Bottler: Bruichladdich Distillery (Bottled onsite with Islay spring water)
Purchase Location: Wine And Beyond Windermere 6284 Currents Drive NW Edmonton, Alberta, Canada
Purchase Date: May 19th 2021
Cost: $99.80 including GST & Deposit
Tasting Notes From The Bruichladdich Website:
NOSE: The smoke is calmed by the marine, ozone character, time has brought a balance, a harmony in the combination of oak, smoke and spirit. While the smoke is always discernible on the nose it is dry, earthy, peatash in its style and so allows the oak to come forward with waves of golden caramel, fudge, vanilla custard, hints of ginger, nutmeg and clove. There is citrus fruit, coaxed from the glass with a drop of water, gentle lemon meringue and clementine. Breathe deeply and the floral aromas of wild thyme, heather and sea pink bring you to this Atlantic coast.
PALATE: On the palate there is a noticeable delicacy and softness in texture and style. Again, the balance of flavour is superb as the smoke wraps loosely around the sweetness drawn from deep within the oak. Coconut, vanilla custard, lemon honey combines with smoked oysters and sun baked salty sand.
FINISH: The finish is sublime, smoky sure, but also the soft sweetness of fudge and malted barley, orange, mango and Banoffee pie hinting of the depth and quality of the oak. The many layers interchange on each sip. As the smoke comes and goes so too the notes of the spirit, ripe apple and apricot, beautifully intertwined with malt and oak sweetness and that typical Port Charlotte style dry smoke.
CHARACTER: Ageing for 10 years on the shores of Loch Indaal has had a profound effect on this spirit. Like sunshine on a winters day, this Port Charlotte 10 brings clarity and lightens the mood, welcoming and brightening the future.
Colour: Primrose to citrine (Non chill filtered & colouring free)
TransparentSmoke Review: I own a second bottle of Bruichladdich Port Charlotte 10 that is still sealed. A special 1000ml travel exclusive, dated March 25th 2019. This review is not of that bottle.
This review is of a bottle of Bruichladdich Port Charlotte 10 bought by one of my friends for our whisky club the "Pauper's Whisky Cabinet". The tasting event was held outside and allowed this club to have our first in person whisky night. The review bottle is dated January 12th 2021 and was a regular 750ml edition.
Being outside for this tasting was difficult as there was a bit of wind, as you can see from the slow motion fire video. All that flame is from burning the spruce trees I had removed earlier this spring. What a wonderful sight to see them go up like that. I am glad we caught it on video.
I was surprised that the nose held up as well as it did to the elements. Dry peat was prevalent, but there was a distinct smell of iodine under the peat. Hints of banana, leather, and band-aid were also present. I found a couple of posts that say that the banana notes may have come from Bruichladdich's choice to use "American whiskey" barrels. Most of the time you see distillers say that their scotch was matured in "ex-bourbon barrels". Bruichladdich's choice to very specifically use the term "American whiskey" barrels may indicate they have aged this in old Jack Daniels's casks.
The mouth feel was very oily and nice. I found the main taste on the palate was smoke and dark chocolate, with a hint of nuts. Notes of lemon and baked brie were hidden under oily oak. The 50% ABV gave it a beautiful finish that was dominated by a vanilla, that had remained hidden until then. Watching us finish this bottle of Bruichladdich Port Charlotte 10 all I could think was: I am glad I didn't bring the other bottle. We would have drank that too.
Our Score: 84/100
Bottles on Hand: