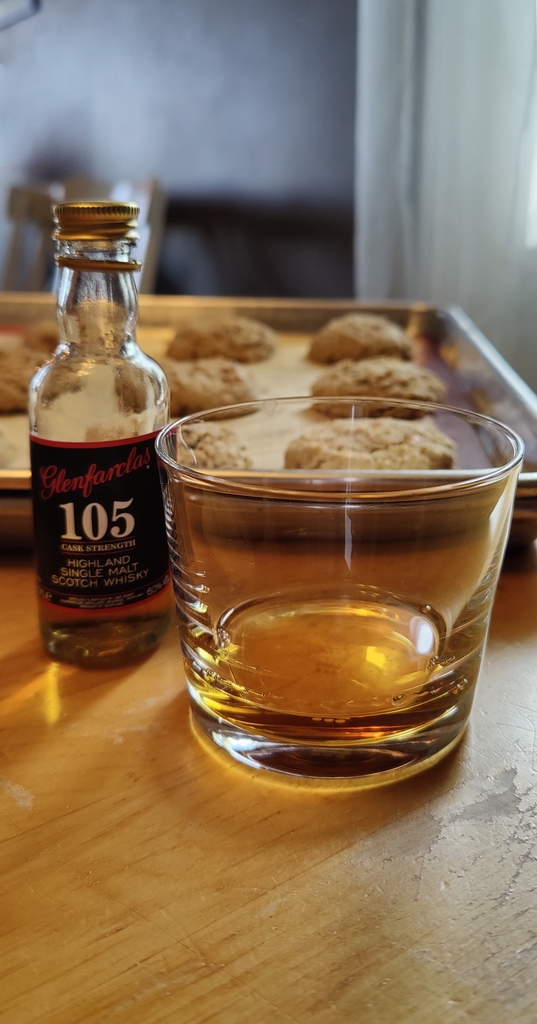 Tasting Date: 2021-06-01
Region: Scotch Whisky – Speyside
Type: Single malt
Age Statement: NAS
Size: 50ml
ABV: 60% ABV
Cask Type: Oloroso or fino sherry butts (500 l) or hogsheads (250 l)
Distiller: J & G Grant Glenfarclas Distillery
Location: Ballindalloch AB37 9BD, Speyside, Scotland
Bottler: J & G Grant Glenfarclas Distillery
Purchase Location: Chateau Louis Liquor Store 11450 117St NW Edmonton, Alberta, Canada
Purchase Date: April 26th 2021
Cost: $9.95 including GST & Deposit
Tasting Notes From The Glenfarclas Website:
NOSE: Complex, oaky, apples & pears and a tempting dark toffee sweetness.
FLAVOUR: Dry and assertive, develops quickly to reveal a rich spiciness, combined with a hint of oak and sherried fruit.
FINISH: Amazingly smooth for the strength, wonderful warming with a lingering spiciness, yet very rounded.
Colour: Deep peaty-gold
TransparentSmoke Review: Before you even ask, the cookies are Oatmeal Pecan Butterscotch, made by me, from scratch. I started baking cookies a couple years back, it's kinda a zen thing. I very much enjoy it, especially if I pour a nice dram to enjoy while I am baking.
Glenfarclas has been on my radar for quiet sometime. Mostly because I have never had it, and as a completionist, it just seems like a huge hole in my whisky journey to never have had even one tiny dram. So given the chance I paid 10$ for 50ml of Glenfarclas 105 Cask Strength to take a sample bottle home and go about planning to enjoy this.
I have to say this is a shrewd marketing ploy, making almost all of their portfolio available in sample bottles. The following Glenfarclas sample bottles are available at Chateau Louis Liquor Store: 40 year, 30 year, 25 year, 21 year, 15, year, 12 year and of course the Glenfarclas 105 Cask Strength. After having this one, I will be back to find my favourite, one sample bottle at a time.
While researching this whisky I ended up falling down a hole in regards to how proof is calculated. The name of this whisky is the proof of this whisky, but only if you understand the UK proof system. There are three systems in use around the world:
1) The US system in which proof is double ABV (40% ABV is 80 proof)
2) The French where ABV is equal to the proof (40% ABV is 40 proof)
3) The UK system that requires an explanation (40% ABV is 70.1 proof)
Back in 16th century England the Crown introduced a new tax on high alcohol spirits. To determine which spirits would be taxed they would pour the spirit in question on a pellet of gunpowder and if the gunpowder lit, that product was subject to the new tax. The burnt gunpowder would be used as 100 percent "proof" that tax was due. As you can guess this was notoriously inaccurate, and they attempted to fix it a couple of times over the years. The last time was in 1952 when they wrote into law that 100 proof in the UK is equal to 57.06% ABV. In 1980 they abandoned the proof system all together in favour of just labelling everything with ABV.
Glenfarclas 105 Cask Strength hangs on to this anachronism and has itself a neat little name and story to go along with it. That along with an ABV of 60% are truly its most interesting claims to fame, because the whisky itself is somewhat lack lustre.
The nose is mild with the smell of oak and some burnt sugar, that could be what they are referring to when they say toffee sweetness. The palate is flat and very dry. After the quick light smell of burnt sugar, I thought some would be left to sweeten the tongue, but I couldn't find it. Sherry does present strongly and holds through to the finish. The 60% ABV does have a wonderful finish for such a strikingly average dram. Glenfarclas 105 Cask Strength is worth it, if you can find it cheap enough, it's on sale right now for $64.99 at BSW. If you find it at decent price, I recommend you replace all of your Glenmorangie The Original with it.
Our Score: 76/100
Bottles on Hand: