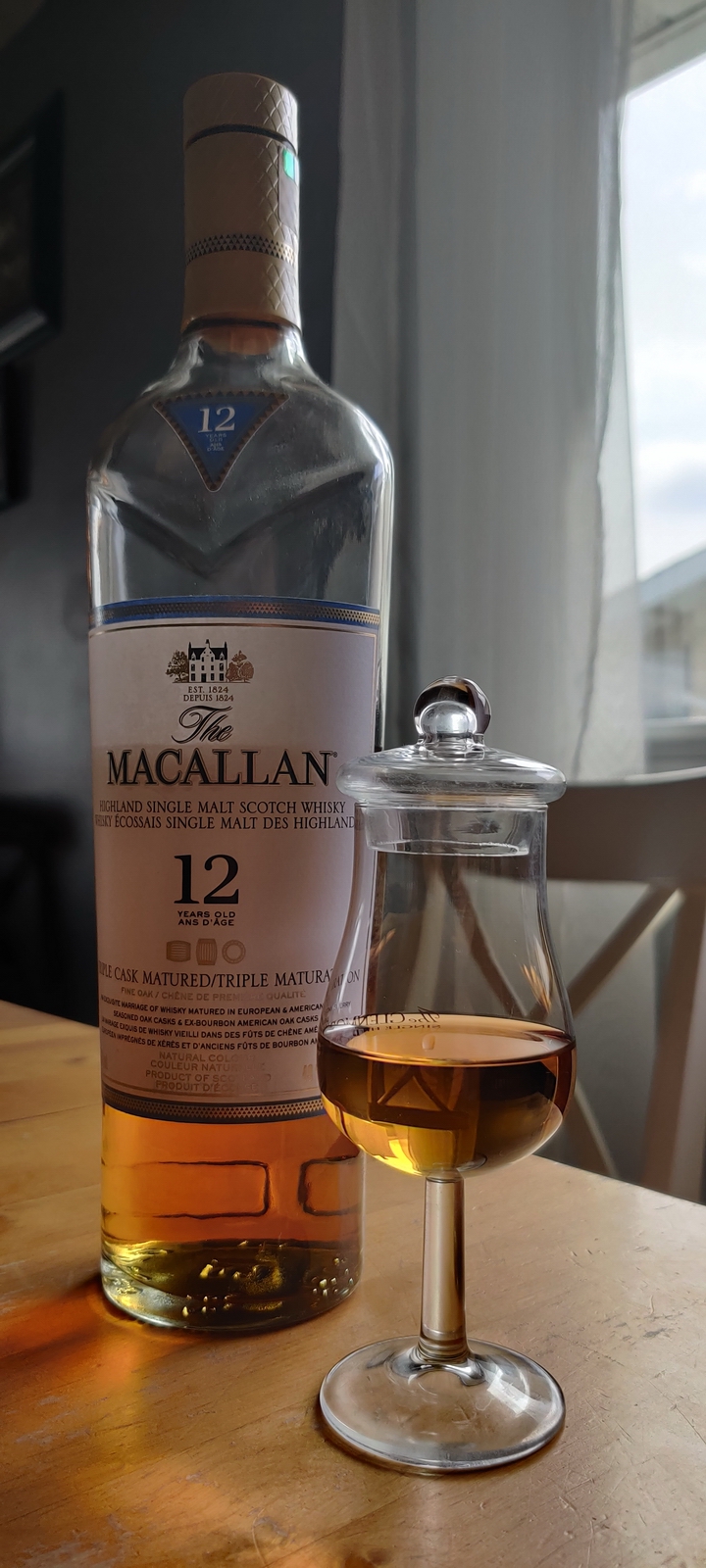 Tasting Date: 2021-05-15
Region: Scotch Whisky – Speyside
Type: Single malt
Age Statement: 12 Years
Size: 750ml
ABV: 40% ABV
Cask Type: European and American Sherry Seasoned oak casks and Ex Bourbon American oak casks
Distiller: The Macallan Distillers Ltd.
Location: Easter Elchies Craigellachie Scotland
Bottler: The Macallan Distillers Ltd.
Purchase Location: Costco Canada Liquor Nisku 2616 46th Ave East Nisku, Alberta, Canada
Purchase Date: November 10th, 2020 (Date code L0329B L02 17/07 08:44)
Cost: Approximately $60.00
Tasting Notes From The Macallan Website:
NOSE: Complex, with hints of vanilla, melon and lemon zest.
PALATE: Medium balanced with lemon citrus, vanilla and light toasted oak and nutmeg.
FINISH: Lingering with melon, papaya, fresh oak and oak spice.
Colour: Rich straw.
TransparentSmoke Review: The Macallan now has three different 12 year old offerings. There is the Macallan Double Cask 12 Years Old, the Macallan Sherry Oak 12 Years Old, and this bottling of the Macallan Triple Cask Matured 12 Years Old. To be honest, I had no idea what to expect, as it has been a long time since I have explored the world of Macallan. My last dram was back in March, when I opened my bottle of The Macallan Sherry Oak 18 Years for the first time in a decade. So when a good friend came through with lending me this bottle I jumped at the chance to try so soon after that last tasting.
The triple cask matured is very interesting and there is a lot here that is similar to the sherry 18. That being the sherry, it is front and centre in this whisky. The nose is complex with oak and a hint of bourbon sugars, that compete with the flavours from the sherry seasoned casks. When they say the casks were "sherry seasoned" I think it means the casks were created for them and never really held drinking sherry. The palate makes me think that the sherry casks they used were extremely wet with seasoning sherry when they put the whisky in. I can taste that not quite ready sherry in the whisky. It then pops with oak and nutmeg as I swallow. The finish is nice but not dramatic at only 40% ABV.
Tasting this side by side with The Macallan Sherry Oak 18 Years I realize how much those 6 years stated on the bottle add, and how much my bottle has lost in the intervening decade on the shelf. But mostly I can see how good a bottle of Macallan 12 is in comparison.
This whisky was bottled on July 17th 2020. The date code under the front label reads L0329B L02 17/07 08:44. Based on information I found on the internet I believe the second letter is the year code, the table below will help you determine which year your bottle is from.
2001 = A
2002 = B
2003 = C
2004 = D
2005 = E
2006 = F
2007 = G
2008 = H
2009 = J
2010 = K
2011 = M or N
2012 = P
2013 = R
2014 = S
2015 = T
2016 = W
2017 = Y
2018 = Z (New bottle introduced)
2019 = A
2020 = B
Our Score: 86/100
Bottles on Hand: