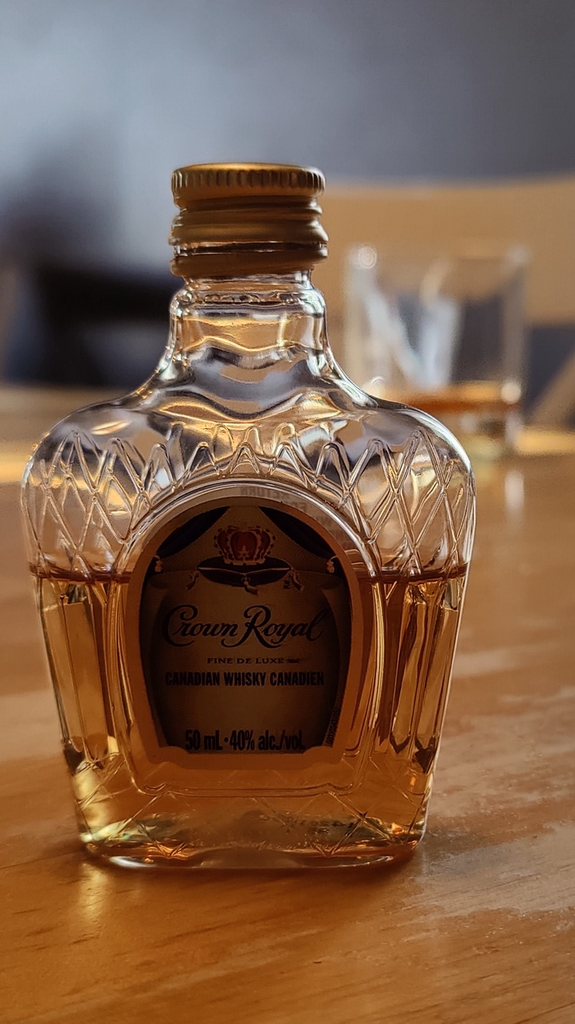 Tasting Date: 2021-06-04
Region: Canadian Whisky
Type: Blended (A blend of 50 different whiskies from five different mash bills)
Age Statement: NAS
Size: 50ml
ABV: 40% ABV
Cask Type: unknown exactly, but is known to be varried
Distiller: The Crown Royal Distilling Co.
Location: Nestled on the edge of Lake Winnipeg, Crown Royal's distillery is in Gimli, Manitoba, Canada.
Bottler: Diageo Canada Inc. in Amherstburg, Ontario, Canada.
Purchase Location: Crown Liquor Store 14626 50 St NW, Edmonton, Alberta, Canada
Purchase Date: 2021-05-07
Cost: $3.25 including GST & Deposit
Tasting Notes From The Crown Royal Website:
NOSE: Rich and robust, with slight hints of vanilla and fruit.
PALATE: Delicately smooth and creamy with hints of oak and vanilla flavour.
FINISH: Long and lingering.
Colour: Pale caramel
TransparentSmoke Review: OMG! Pure Crown Royal Fine De Luxe!
I have drank so much of this product over the years that I could not bring myself to buy a full sized bottle for this review. Truth be told, I can't remember the last time I actually bought a bottle. I have to admit that this is the whisky that you take used to a party at a friends to pour a couple "Crown and Cokes" and then you leave the bottle. Most likely they will end up bringing it to the next get together and leaving it there. And so on and so on. Until the bottle is finished and another magically appears at your place the next time you host.
A staple at Canadian parties, it is almost never ordered straight. Instead ordered on ice with Coke or Ginger Ale. Mostly the whisky's vanilla accents add to the Coke for a vanilla Coke like flavour or the rye spice adds to the spicy burn of good Ginger Ale.
As I am writing this I keep thinking that there are so many little things that need to cleared up, so we are all talking about this product with the same understandings.
No one calls it Crown Royal Fine De Luxe. It is just called "Crown", maybe "Crown Royal" if you are being all fancy. Mostly ordered as a "Crown and Coke" or a "Crown and Ginger". Some bars just use Crown even if you order as a "Rye and Coke". (PS: I didn't even know the De Luxe was two separate word till I started writing this review)
Invented in 1939 as a gift for a visit by King George VI. What we drink today is most likely nothing like the original except for the number of barrels mixed to create the end product.
In Canada we call it rye whisky. Yet it contains just an unknown tiny bit of rye whisky. We have no real rules as to naming whiskies rye, except that it must contain some.
Canadian whiskies only need to be 90.91% whisky, the rest can be other stuff for flavour. No one knows the true mix, but wine is very likely part of the flavour profile.
It is a blended whisky, supposedly made of a blend of 50 different whiskies, but ultimately as long as all of the parts that make up the 90.91% have spent 3 years in a barrel, it can just be referred to just as "whisky".
Bottles in Canada don't come with the cool velvet bags anymore. We buy so much Crown Royal Fine De Luxe that they don't need to set themselves out as different on the shelf anymore.
Now that the little points are out of the way, lets talk about what Crown is like in a glass, neat. It is boring. There is barely a smell, maybe a little vanilla if you are doing the whole open mouth smelling thing in an attempt to accentuate the nose of this whisky. On the palate the rye spice does come out as you finish. Just a little burn and definitely nothing strong enough to scare anyone away.
So neat in a glass you just find the two things this does well.
1. Adds vanilla accents for a good "Crown and Coke"
2. Adds a little spice for a nice "Crown and Ginger".
Our Score: 64/100
Bottles on Hand: