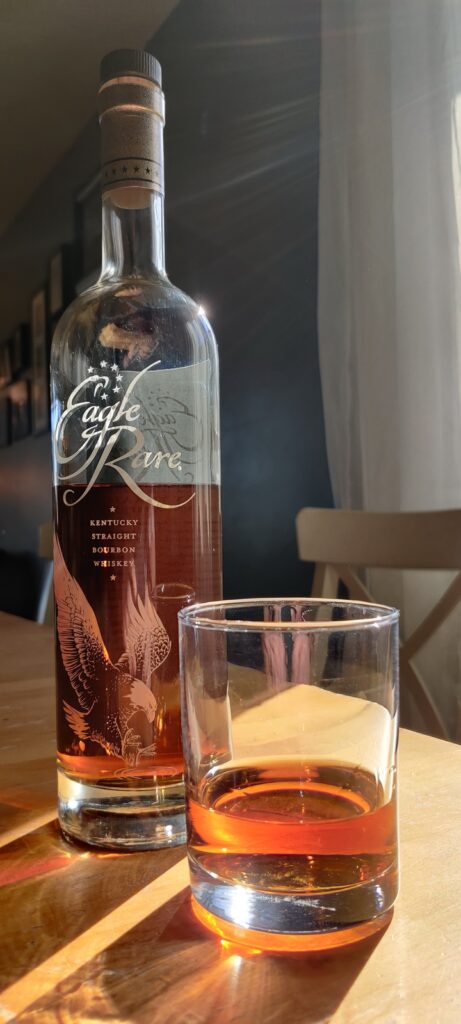 Tasting Date: 2021-04-13
Region: American Whiskey
Type: Bourbon
Age Statement: 10 Years
Size: 750ml
ABV: 45% ABV
Cask Type: New charred American oak
Distiller: Buffalo Trace Distillery
Location: 113 Great Buffalo Trace, Frankfort, Kentucky, USA
Bottler: Buffalo Trace Distillery
Purchase Location: Keg n Cork Liquor 3845 99 St NW, Edmonton, Alberta, Canada
Purchase Date: March 5, 2021
Cost: $73.56 including GST & Deposit
Tasting Notes From The Eagle Rare Website:
NOSE: Complex aromas of toffee, hints of orange peel, herbs, honey, leather and oak.
TASTE: Bold, dry, oaky flavors with notes of candied almonds and very rich cocoa.
FINISH: Dry and lingering.
Colour: Amber Gold
TransparentSmoke Review: Eagle Rare 10 Year Old is one of those bottles everyone says you should have in you collection if you drink bourbon. For a long time I avoided buying a bottle because I was worried I was going to like it so much that I wouldn't like my cheaper, go to bottles. Having finally found a bottle near MSRP. All I have to say is, just make sure you have an extra tall shelf. I have found that the higher end a bourbon thinks it is, the taller the bottle ends up being. I'm looking at you Booker's in a wood box and you Colonel E.H. Taylor, and this is a tall bottle. (Same thing with Tequila BTW, but I forgive you Don Julio 1942)
So is it as good as the size of bottle thinks it is? Well lets talk about that. The nose is filled with wet sawdust and brown sugar. Nose it long enough and all of a sudden you will realize that's what they are calling oak. Once I was able to find the oak, I found Mincemeat. Which I suppose is an odd way to say baking spices and dried fruits. The taste is easy and a bit dry (by that I mean without sweetness). Followed by a short finish and nice spread of warmth across the chest. So yes it's a good bourbon. I just think it should understand, it is a bourbon that should be an inch or two shorter, so it fits on my regular bourbon shelf.
The laser engraved bottling date code says L21004 0103:23B REF IA 5¢ VT 15¢ Best I can determine on the interwebs, is that the L21 is the year. So 2021 and 004 is the day. So January 4th. So this bottle is new. Bottled on January 4th 2021 at 3:23am.
Our Score: 83/100
Bottles on Hand: