Tasting Date: 2021-04-12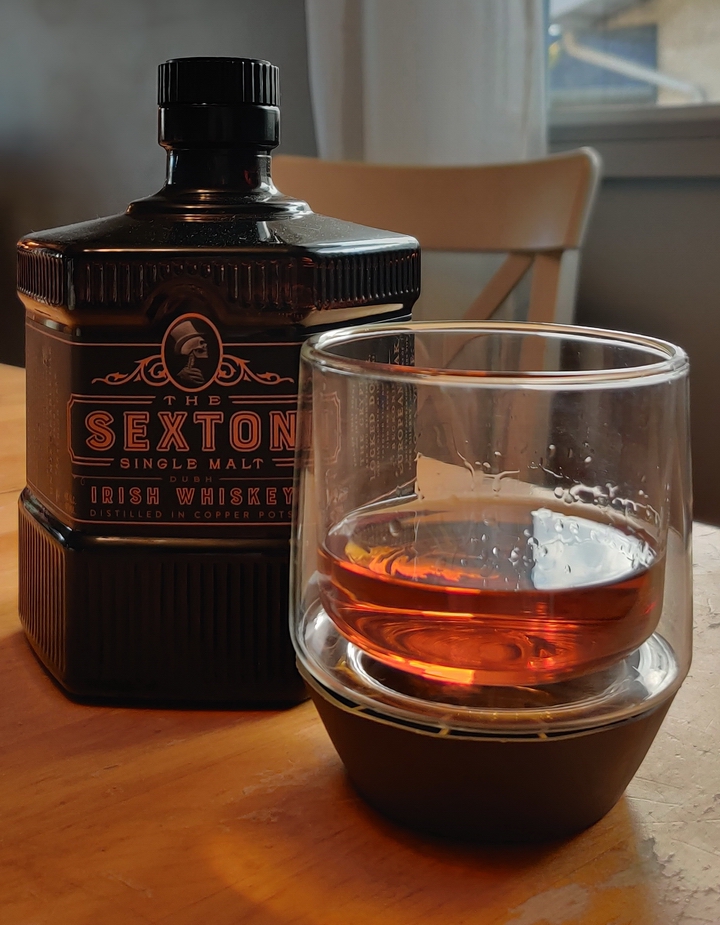 Region: Irish Whiskey
Type: Single malt, distilled in copper pots
Age Statement: NAS on bottle (Website says "Aged four years")
Size: 750ml
ABV: 40% ABV
Cask Type: First, second, and third fill Oloroso Sherry casks from Jerez, Spain. Sourced in France made of European Oak.
Distiller: Bushmills Distillery (This is the only distillery in County Antrim)
Location: Northern reaches of County Antrim, Northern Ireland
Bottler: Bushmills Distillery
Purchase Location: Chateau Louis Liquor Store 11450 117St NW Edmonton, Alberta, Canada
Purchase Date: January 2021
Cost: $44.95 including GST & Deposit
Tasting Notes From The Sexton Website:
TASTING NOTES: Dried Fruit, Nuts, Honeycomb
Colour: Deep orange
TransparentSmoke Review: Alex Thomas is the story behind this whiskey. A former Bushmills employee, who decided to make her own whiskey, without a distillery of her own. If the history of how this ended up on your table fascinates you, like it does me, you should read this article by Andy O'Connell at MasterOfMalt.com. That lucky guy got to drink with Alex Thomas and talk about how she dragged this single malt whiskey into being. Now she hasn't strayed too far from home, the distribution company on the back of a bottle of Sexton Irish Whiskey is Proximo Spirits. Proximo Spirits is owned and operated by the Beckmann family of Mexico. They just happen to own Jose Cuervo, which is the parent Company of Bushmills. I wonder who she knew to help her make a new whiskey from scratch?
Whether it happened like she says and it is through her own sheer force of will, or maybe somebody just believed in her a little and saw opportunity. It doesn't really matter. Sexton has made a place for itself on the shelves because people buy it. I have, this is my second bottle. I gave the first away to a friend for the birth of their third kid. I had to go get my own after they commented on how much they enjoyed it.
On my first taste I see what Alex has done. She took a drink we all think of as easy… Irish whiskey. And started to make it complicated. Sexton has those musty notes of earth and oak on the nose and the palate. But it is all covered in sherry sweetness and vanilla biscuits. But then you look at the packaging and you think dark and oaky. So those faint traces jump to the front of your subconscious. It's a really cool trick.
But if you are aware that the trick is being played, you can just dig deep and appreciate oak and butterscotch and spice. This one is worth a try, it drinks easy and it's not going to scare anyone even though there is a skeleton on bottle.
Our Score: 83/100
Bottles on Hand: