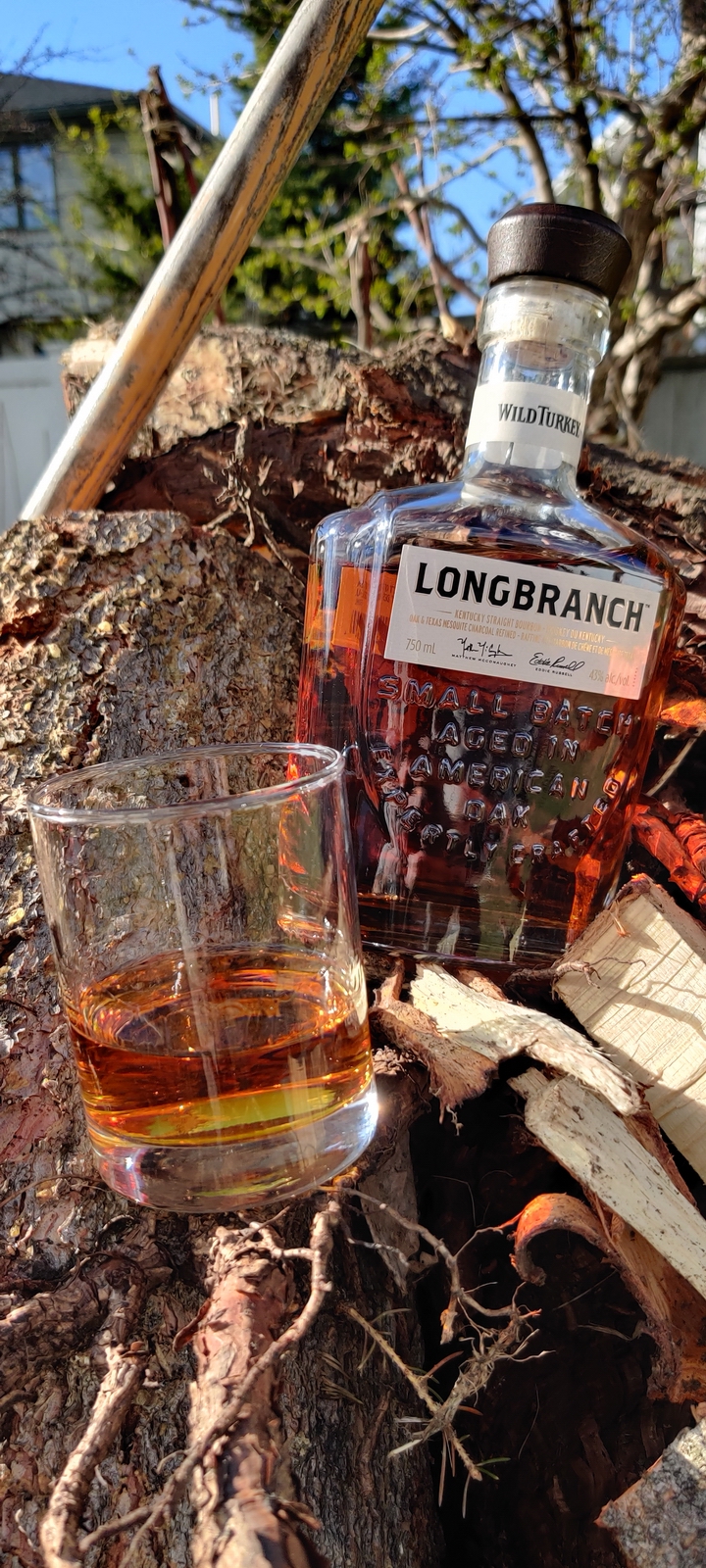 Tasting Date: 2021-05-13
Region: American Whiskey
Type: Straight Bourbon
Age Statement: NAS (Website description lists it as 8 years old)
Size: 750ml
ABV: 43% ABV
Cask Type: New charred American oak
Distiller: Wild Turkey Distilling Co.
Location: 1417 Versailles Rd, Lawrenceburg, Kentucky, USA
Bottler: Wild Turkey Distilling Co.
Purchase Location: Sherbrooke Wine & Spirits & Oodles Of Beer 9271-50 Street Edmonton, Alberta, Canada
Purchase Date: May 13th 2021
Cost: $63.20 including GST & Deposit
Tasting Notes From The Wild Turkey Website:
We're proud to introduce Wild Turkey Longbranch: 8 year old Kentucky Straight Bourbon made in small batches and refined with Texas Mesquite and American Oak charcoals. This unique process results in an extraordinarily balanced and smooth sipping whiskey with subtle hints of smoky sweetness.
Colour: Burnished Amber
TransparentSmoke Review: Decided to take all of next week off, also the youngest three kids got vaccinated today. All in all, it seemed like a Thursday to spoil myself. Turns out the wife had the same idea, she bought me this bottle to review and enjoy.
Longbranch by Wild Turkey. The first bottle from Wild Turkey to have someone other than Jimmy's and Eddie's signatures on it. That signature is none other than Matthew McConaughey's. As the story goes, Matthew decided that while he was serving as brand ambassador for Wild Turkey, it would be prudent if he convinced them to create a Texas influenced Bourbon. Of course it's all marketing and advertising, but the one thing they didn't get wrong was the idea. Matthew was right, and his tasting notes are exactly on point. He had identified a hole in the Wild Turkey line up, they needed a sweeter bourbon, with hints of cinnamon finished in Texas mesquite. What a wonderful idea.
I like the burn of the higher proof of Wild Turkey 101 more. The 43% ABV in Longbranch just burns enough to make the grade. I also like the stronger spice on the Wild Turkey 101 (when all you are doing is tasting to do a review, that is). But the truth is, I'm on my fourth glass of Longbranch writing this right now, and that says something about what Eddie and Matthew have created. The lack of spice is no detraction from pouring glass after glass. The lack of ABV is just fine as you realize you'd be under the table, instead of dancing on it, because you have been drinking it straight all night.
Wild Turkey Longbranch feels like it's already a mixed drink. I get orange peel, brown sugar, toffee and vanilla on the nose with a woody spice and cinnamon on the palate. The finish is short and yet delightful, with nothing to scare off the newcomer. I really like this one, Slàinte everyone.
Edit date code info: This bottle is from January 19th 2021
LL\ZZ###### Format (c.2013–current)
"Beginning in 2014, Wild Turkey moved its bottling back to Lawrenceburg, KY and began to use a date code with format LL/ZZ######. This date code will be laser coded directly on the bottle below the back label toward the base of the bottle. This date code will be laser coded directly on the bottle below the back label toward the base of the bottle.
This date code uses a new alphanumeric date format. The first letter after the slash corresponds to the year of bottling, where "C" corresponds to 2014, "D" corresponds to 2015, "E" corresponds to 2016, etc. The second letter after the slash corresponds to the month of bottling, where "A" corresponds to January, "B" corresponds to February, "C" corresponds to March, etc. The next two numbers correspond to the day of the month of bottling. The final four digits are the time of bottling in 24-hour time format. For example, a date code of LL/DF021000 corresponds to 10:00 a.m. on June 2, 2015."
Our Score: 85/100
Bottles on Hand: