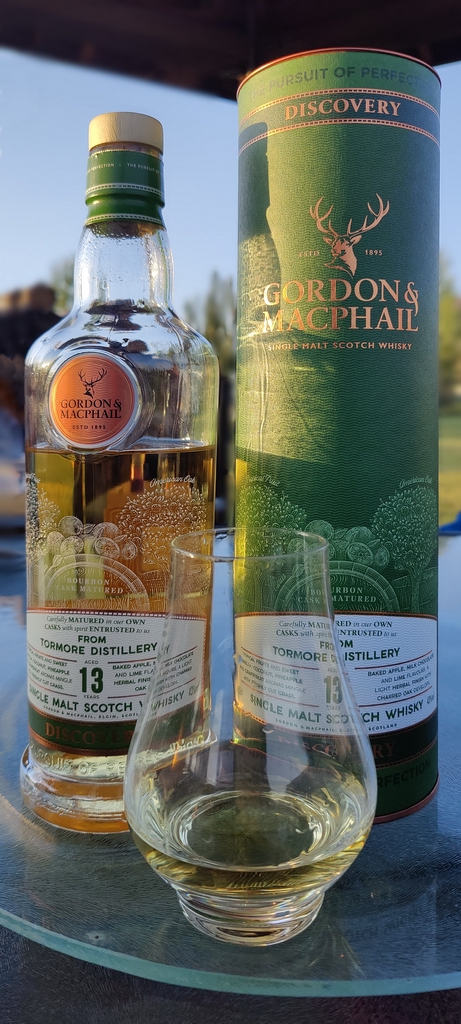 Tasting Date: 2021-07-23
Region: Scotch Whisky – Speyside
Type: Single malt
Age Statement: 13 Years
Size: 700ml
ABV: 43% ABV
Cask Type: Bourbon
Distiller: Tormore
Location: Richardson Road, Advie, Grantown-on-Spey, Moray, Scotland
Bottler: Gordon & MacPhail
Purchase Location: Edmonton
Purchase Date: December 2020
Cost: Unknown (Currently sells for ~$95.00 )
Tasting Notes From The Gordon & MacPhail Website:
NOSE: Fruity and lively: abundant tropical fruit notes of pineapple, grapefruit, coconut, and freshly squeezed lime weave with hints of freshly cut grass and toasted malt.
TASTE: Creamy, the sweetness of the vanilla, velvety milk chocolate, and baked apple are perfectly balanced by zesty citrus peel. Undertones of plump apricot and juicy mango develop.
FINISH: Delightfully delicate with gentle lingering herbal tones finish with nuances of charred oak.
Colour: Lightest Gold
TransparentSmoke Review: A friend of mine brought this bottle of Tormore 13 Year – Gordon & MacPhail Discovery Series to our whisky night. It was a surprise to see because a quick Googling shows it was intended for the Asia & Oceania markets. I also learned that it was a few years old as it was bottled in 2018 by Gordon & MacPhail. He assured me it was purchased here in Edmonton and that he had received it as a gift for Christmas 2020.
The nose was very fruity and mostly smelled of apple. It tastes overwhelmingly like apple juice, vanilla and hints of sweet bourbon….. and that was the extent of the notes I took. We were drinking other things and I got distracted. It is a very unique bottle and I am glad I got to have a glass or two.
Our Score: 82/100
Bottles on Hand: