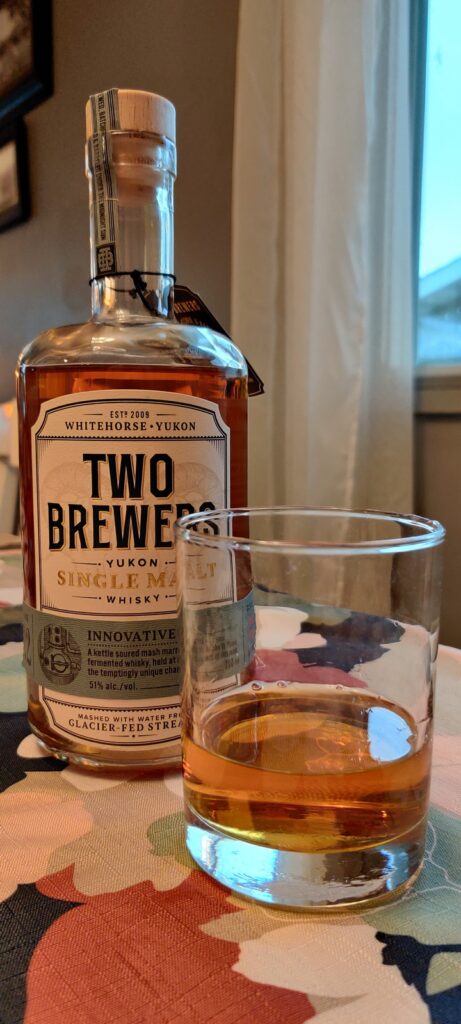 Tasting Date: 2021-04-10
Region: Canadian Whisky
Type: Single malt
Age Statement: NAS
Size: 750ml
ABV: 51% ABV
Cask Type: From their FAQ page:
6) What kind of barrels has the whisky been in?
American Oak, some new and some previously containing bourbon. By definition, bourbon can only be made in new barrels, providing a source of 'once used' barrels for whisky makers. We are probably using a higher proportion of new barrels compared to most whisky producers as we look for different flavours.
Distiller: Two Brewers Distillery
Location: 102 Copper Rd, Whitehorse, Yukon, Canada
Bottler: Two Brewers Distillery
Purchase Location: Wine and Beyond MacTaggart Ridge 5962 Mullen Way, Edmonton, Alberta, Canada
Purchase Date: March 2021
Cost: $105.09 including GST & Deposit
Tasting Notes From The Two Brewers Website:
None. There are no hints of how it tastes on the website.
From the bottle: The nose finds honeyed spice beneath the sparkling edges of summer straw. A light, dry entry moves briskly onto the palate, brown sugar, cinnamon, mingled in the peppery personality. The swallow brings warmth, sweet wisps with white pepper in a prolonged finish
Colour: Golden Amber
TransparentSmoke Review: This little brewery out of Whitehorse, Yukon has been WOWing me for a while. Under their sister company / alternate branding name: Yukon Brewing, they produce craft beers. Beers so good I actually have to pick them up and try new releases when I find them, There are not many breweries that have me actively looking for their new content. So when I saw that new whiskies had appeared on the shelf here in Alberta, released by Two Brewers Distillery. I had to try one, just to be faithful.
I had thought, once again wrongly, that these newer Canadian companies must be sourcing whisky and just using it to flavour casks for their craft beer, or something. But I couldn't be further from the truth. Two Brewers is making this stuff from scratch and making it well. This particular whisky the Two Brewers Release No. 22 (Innovative) has won two Gold medals One called the 2021 Canadian Whisky Awards GOLD Award and the other 2021 Canadian Whisky Awards Best Single Malt Whisky. I didn't know this when I got the bottle, in actual fact, my older kids picked it at random for me. I think the deciding factor was "We went with the higher ABV.", a perfect birthday present none the less.
First thing about this whisky are the legs. I did not expect such a thick dram. It sticks to the side of the glass like they used maple syrup, but seriously that's a different release (Release no. 20). Second thing was this remarkable smell of sweet straw. Sweet straw and oak if you dig deep enough. Then on first sip I got Root beer! Root beer and brown sugar and what I would have said was hint of rye. Their tasting notes from the bottle say pepper and I will give them that, if it actually doesn't have rye in it, but to me it's this subtle rye note, that I can't call rye if there is no rye in it. And finally on swallow it takes 10 seconds for the whisky to warm outwards into your chest. This is a remarkable feeling and part of why this scores so high.
A tiny distillery with a 820 bottle release, just became the 4th highest review I have ever given. If you can find it, go out and buy it now. This stuff is truly amazing.
Our Score: 93/100
Bottles on Hand: